Thursday Deals – Introducing Triple Foil BLITZKRIEG Stamp!
Our weekend of disc golf deals begins on Thanksgiving with all MVP and Axiom discs on sale. Unlike most other disc golf brands, MVP/Axiom discs are substantially different than other golf discs that use a single uniform plastic. Maple Valley Plastics uses something called "Gyro" technology, where the outside rim of the discs is more dense than the flight plate creating different flight patterns and tendencies. If you haven't tried MVP or Axiom Discs before, this is a great opportunity to try a unique new disc while they are on sale.
Triple Foil BLITZKREIG Stamp
Not only will Thursday's deals get you an even better price than our already low MVP prices, but we will also be introducing our Triple Foil Blitzkrieg Bomber stamp. Inspired by our popular bomber stamp, the Blitzkrieg utilizes three different foils.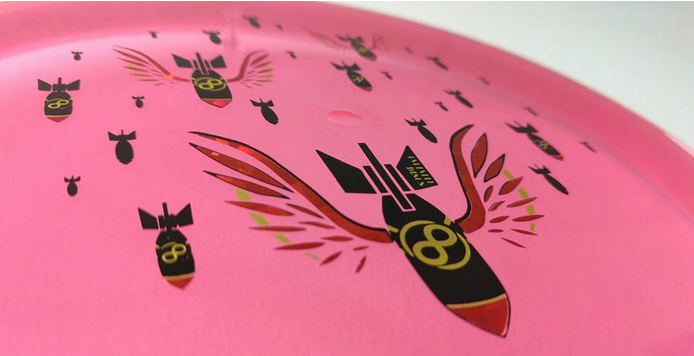 This is a LIMITED edition disc and there were only 1000 total discs made. On Thanksgiving day only, these Blitzkrieg stamp discs will also be priced on sale well below market value.
MVP & Axiom discs make a great gift as they provide something different for the disc golfer who has everything. Whether you're looking for an artistic collectible, or just something different, the Blitzkreig stamp is the perfect gift for the gift golf fanatic.
To search specifically for Blitzkreig Stamped discs, use our Advanced search.
Simply select "Extras" then stamp type "Infinite Discs Blitzkrieg"

All Weekend Deals
In addition to MVP being on sale, we have a number of doorbuster deals that will begin Thursday and will be available while supplies last. Check out this post for our deals on discs, bags, apparel, and accessories.