TOP 50 BEST SELLING DISCS OF OCTOBER 2021
Here is a look at the Top 50 best-selling discs for the last month. These are arranged in order by number of discs sold with #1 being the most. They are also broken down by plastic type, so the same disc model can appear multiple times with different plastic types. This way, you can see not only the most popular discs, but in which plastic types they were popular. Here we go…
Top 50 Best Sellers – October 2021
#1 – P-Blend ALPACA
#2 – Z Glow BUZZZ
#3 – Splatter S-Blend CHARIOT
#4 – Discraft Special Blend LUNA
#5 – Signature Metal Flake Glow C-Blend EXODUS
#6 – D-Blend ALPACA
#7 – Neutron HEX
#8 – Biz Z ANAX
#9 – Swirly S-Blend X-Out EMPEROR
#10 – StayPut ALPAS
#11 – C-Blend Glow X-Out CHARIOT
#12 – Z Line SCORCH
#13 – Supercolor BUZZZ
#14 – ESP BUZZZ
#15 – Star DESTROYER
#16 – Star WRAITH
#17 – Neutron PARADOX
#18 – Halo Star WRAITH
#19 – C-Blend Glow CHARIOT
#20 – Electron Soft NOMAD
#21 – Ethereal PRAXIS
#22 – Z Line NUKE SS
#23 – Metal Flake Glow C-Blend SCEPTER
#24 – ESP UNDERTAKER
#25 – Signature ESP ZEUS
#26 – DX AVIAR
#27 – Z Line BUZZZ
#28 – Swirly Star EAGLE
#29 – Electron Soft ENVY
#30 – Electron Firm ENVY
#31 – Titanium ZONE
#32 –Atomic PEKAPEKA
#33 – Halo Star DESTROYER
#34 – Biz G VULTURE
#35 – ESP ZONE
#36 – VIP Glimmer BOATMAN
#37 – Opto DIAMOND
#38 – P-Blend Glow ANUBIS
#39 – Splatter S-Blend MAYA
#40 – I-Plaztic ZINGBACK
#41 – Eclipse 2.0 INSANITY
#42 – ESP SURGE SS
#43 – Signature I-Blend EMPEROR
#44 – Star MAKO3
#45 – Gummy C-Blend MAYA
#46 – Cosmic PEKAPEKA
#47 – I-Blend EXODUS
#48 – Champion LEOPARD
#49 – I-Blend MAYA
#50 – Ancient TRICERATOPS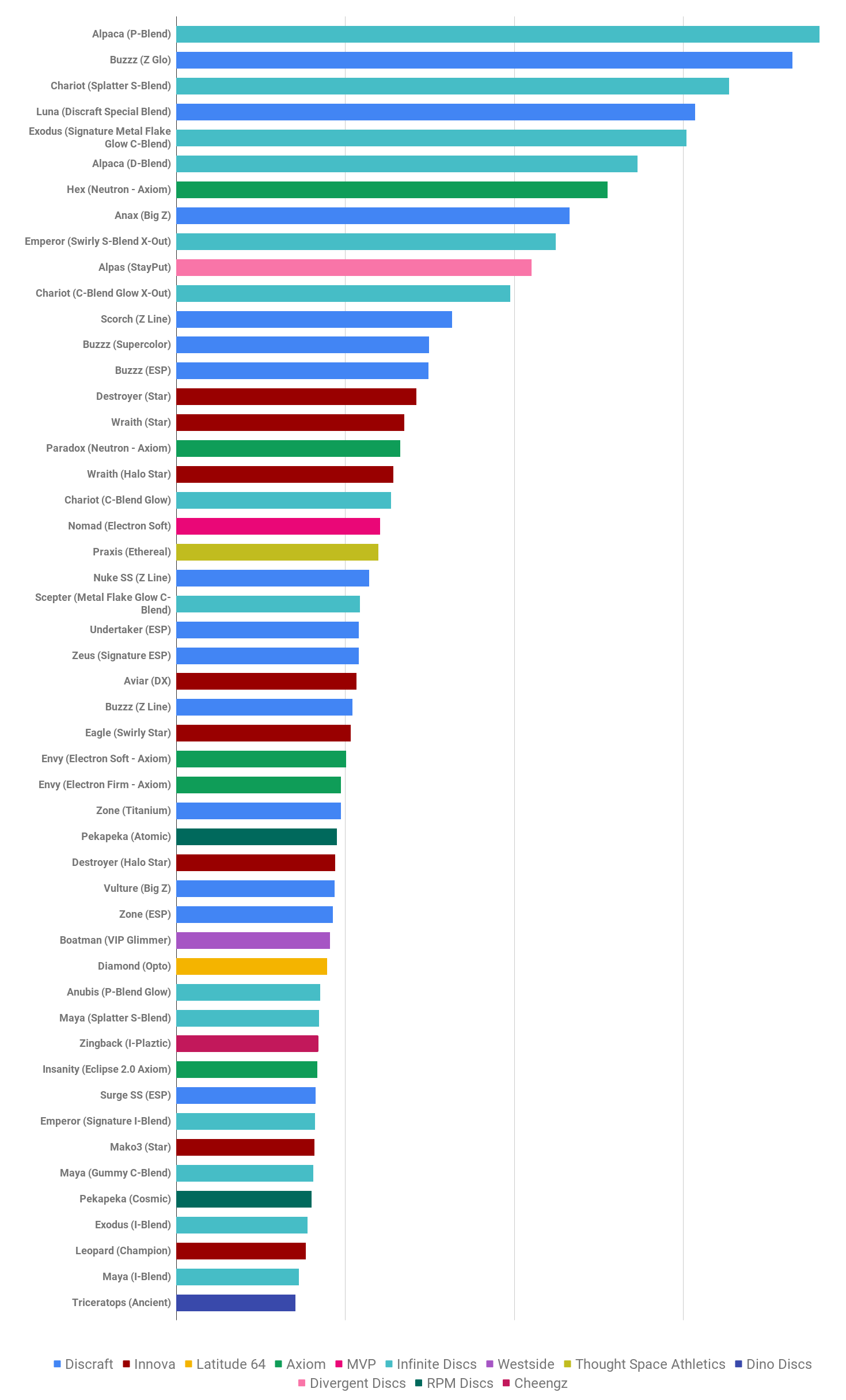 You can probably see a lot of blue on the chart, with a strong representation by Discraft in October, but also a lot of Infinite Discs models hitting the top 50. October is typically a slower month when it comes to disc sales, so it is interesting to see some of the brands that broke into the top 50 with new discs heading into the colder months. RPM hit the chart with the Pekapeka release, Cheengz with the Zingback, and Divergent held strong with the Alpas rubber disc.
Here is a look at how many times the different brands were in this month's chart: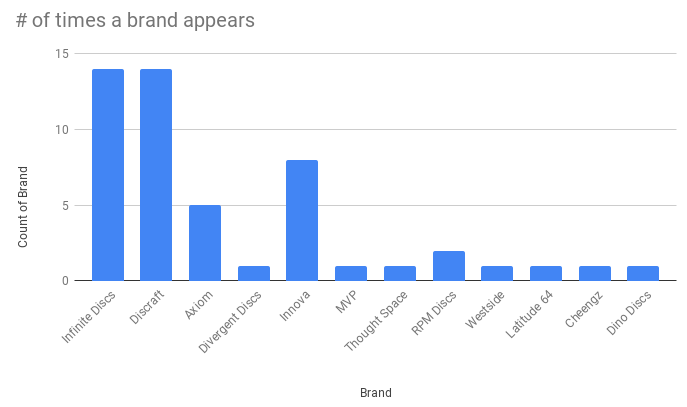 That's your run-down for last month's disc sales at Infinite Discs. Thanks for watching, and we hope you enjoy these charts and insights into the movements of the disc market as we see them. We'll keep bringing you the Top 50 best-sellers every month, plus other sales data from time to time.
For now, we're discontinuing the guessing game for each month, since interest has dropped in placing guesses. Thanks!