TOP TWENTY TUESDAY – APRIL 13TH 2021

Welcome to the Top 20 Tuesday chart! Every week we take a look at the twenty top-selling discs on the Infinite Discs website, broken down by plastic type as well. So these are the top sellers for the last seven days in order.
Top Twenty Tuesday for April 13th 2021
#1 – Star X-Out DESTROYER
#2 – Z Line ZONE
#3 – Signature Splatter S-Blend PHARAOH
#4 – Elevation Rubber INTERCEPTOR
#5 – ESP BUZZZ
#6 –  Star DESTROYER
#7 – ESP AVENGER SS
#8 – Star WRAITH
#9 – Egg Shell PTERODACTYLUS
#10 – Prime Burst JUDGE
#11 – ESP STALKER
#12 – Egg Shell TRICERATOPS
#13 – Champion X-Out FIREBIRD
#14 – I-Blend X-Out PHARAOH
#15 – Champion FIREBIRD
#16 – Splatter S-Blend X-Out PHARAOH
#17 – Egg Shell STEGOSAURUS
#18 –Star X-Out LEOPARD
#19 – DX CLASSIC AVIAR
#20 – I-Blend X-Out SPHINX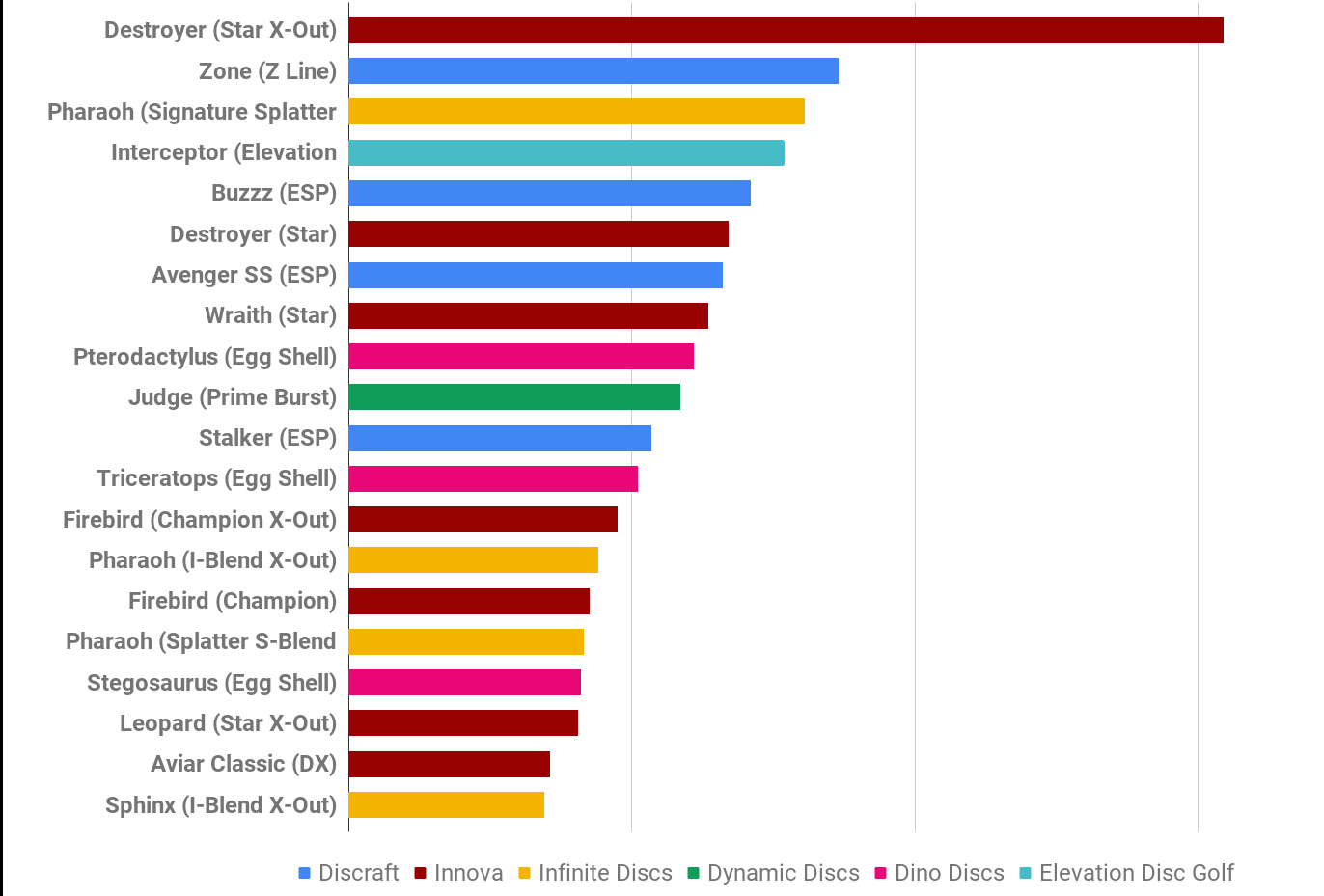 The chart this week reflects what happens when inventory begins to drop very low on some of the top molds. We see several X-Outs on the chart, since those are the discs still available for some popular models. The Allison Haggett Signature Splatter PHARAOH had a strong debut at the #3 spot, trailing the #1 Star X-Out Destroyer and the #2 Z Line Zone. There were three Dino Discs in the mix this week as well.
We expect some new releases in the coming week so we'll see more of a battle for the top spots. Here is a look at how many times the different brands appeared on this week's chart: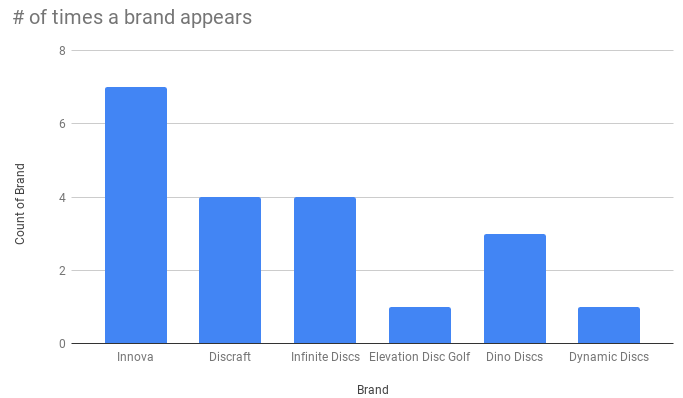 –> Each week we'll invite you to leave a prediction for a certain chart position on next week's TOP TWENTY TUESDAY report. The person to predict that chart position correctly in the comments will win a $10 gift card for the Infinite Discs website.
WINNER – This week the #7 spot is the ESP Avenger SS, which was guessed by the same guy who picked last week's correct disc…Jared. Two weeks in a row. Great job!
NEXT WEEK: Guess the #8 spot for next week. The first person to get it right (include the disc model and plastic type) will win!
THANKS FOR READING AND WATCHING EACH WEEK!