TOP TWENTY TUESDAY – APRIL 14th 2020

It is time once again for our look back at the last week of sales. This weekly chart is generated from the sales figures at Infinite Discs – the purchases made by our customers are the only contributing factor to the statistics. We break the results down by disc model and plastic type so you can see which plastic types are selling the most. Here we go…
Top Twenty Tuesday for APRIL 14th, 2020
#1 – Discraft Special Blend LUNA
#2 – D-Line P2
#3 – Star DESTROYER
#4 – Signature ESP ZEUS
#5 – DX AVIAR
#6 – Z Line ZONE
#7 – Z Line FORCE
#8 – Discraft Prototype Putter Blend FIERCE
#9 – Z Misprint ZONE
#10 – ESP ZONE
#11 – Signature ESP ANAX
#12 – Champion Colored Glow FIREBIRD
#13 – Star WRAITH
#14 – ESP Misprint MALTA
#15 – XT NOVA
#16 – Z Line BUZZZ
#17 – Big Z BUZZZ
#18 – Jawbreaker ZONE
#19 – ESP BUZZZ
#20 – KC Pro KC AVIAR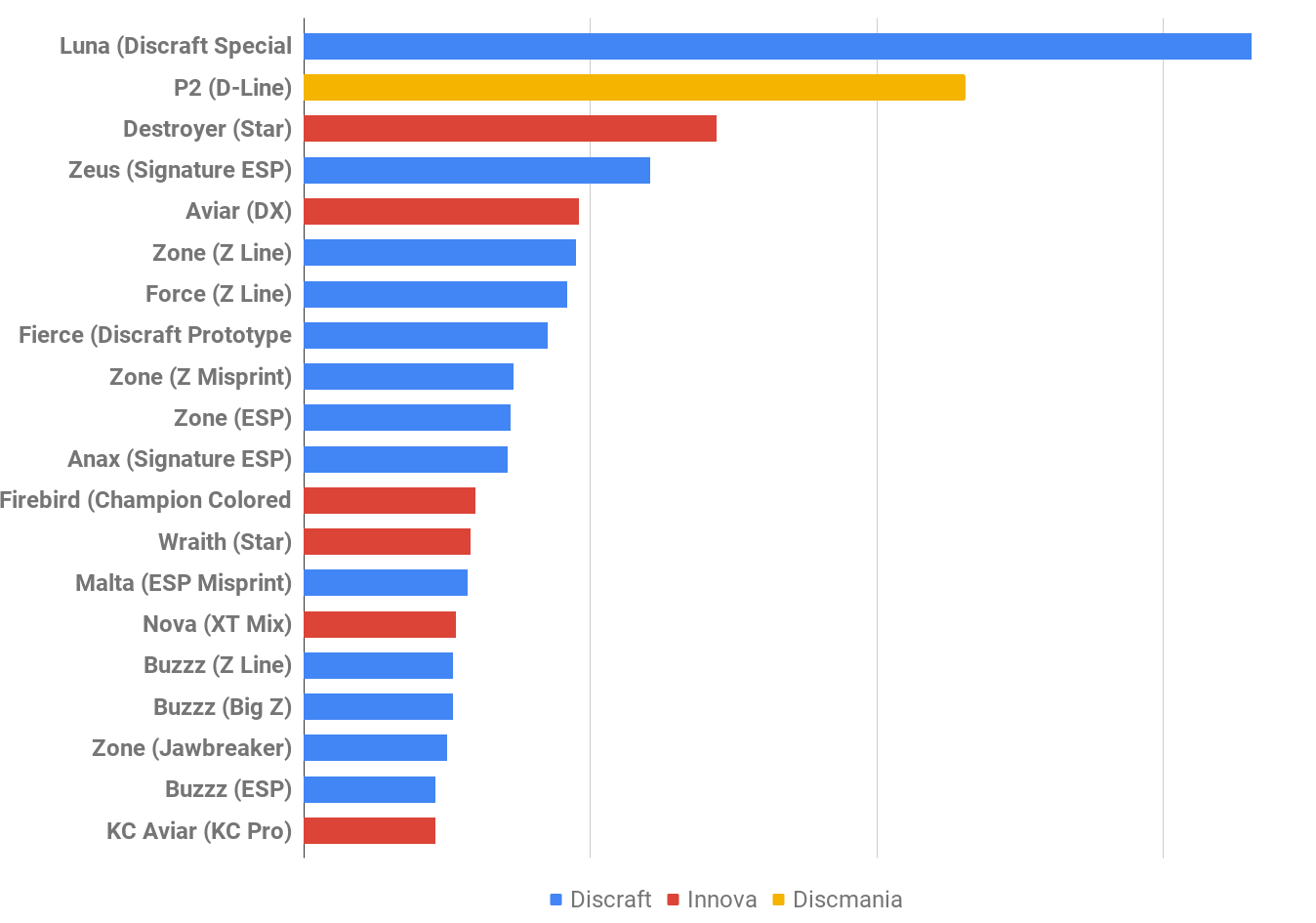 It is still a strong chart this week for putters. The Discraft LUNA took the #1 spot with the Discmania D-Line P2 taking #2. The Innova DX Aviar took the #5 spot with the Zone, Fierce, Nova, and KC Aviar also hitting the chart. The Buzzz was on there in several plastic types, along with the Zone, making another Discraft-heavy chart this week.
Here is a look at how many times different brands appeared on this week's chart, and it is a rare week because only three brands touched the chart: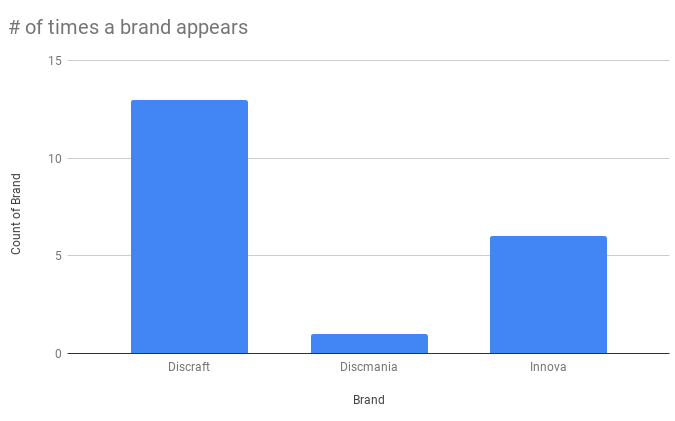 –> Each week we'll invite you to leave a prediction for a certain chart position on next week's TOP TWENTY TUESDAY report. The person to predict that chart position correctly in the comments will win a $10 gift card for the Infinite Discs website.
WINNER – The #9 spot this week was taken by the Z Misprint Zone, which is an oddball on the chart because those sales all happened within a few minutes in the middle of the night. If you were sleeping, like most people do at night, you probably had no idea that anything happened when those hit the online store. Since that doesn't feel very fair, we're going to give the win this week to Kyle who guessed Z Line Zone (pretty close).
GIFT CARD PREDICTION FOR NEXT WEEK:  Leave your comment below to guess the #10 spot for next chart.  It will go to the FIRST person to get it right. Good luck!