TOP TWENTY TUESDAY – APRIL 16TH 2019

Infinite Discs is happy to present another Top 20 Tuesday chart, looking back at the discs that sold the most during the last week. We break these charts down by plastics as well so you can see which plastic types are most popular for each disc. New discs will often spike in the chart as other top sellers shuffle position. It can be fun to see which discs keep up the pace.
Here we go…
Top Twenty Tuesday for April 16th, 2019
#1 – ESP KONG
#2 – Swirly Star EAGLE
#3 – Discraft Special Blend LUNA
#4 – Star CORVETTE
#5 – D-Line P2
#6 – Star DESTROYER
#7 – Active Baseline GUARDIAN LION
#8 – Signature C-Line Colored Glow FD2
#9 – ESP BUZZZ
#10 – Active Baseline SUN CROW
#11 – Active Baseline FOX SPIRIT
#12 – Jawbreaker Glo ZONE
#13 – Champion Colored Glow FIREBIRD
#14 – Signature ESP BUZZZ
#15 – Z Color Shift BUZZZ
#16 – ESP COMET
#17 – Elite Z RAPTOR
#18 – Active Baseline SPRING OX
#19 – Full Foil Super Color NUKE
#20 – Champion FIREBIRD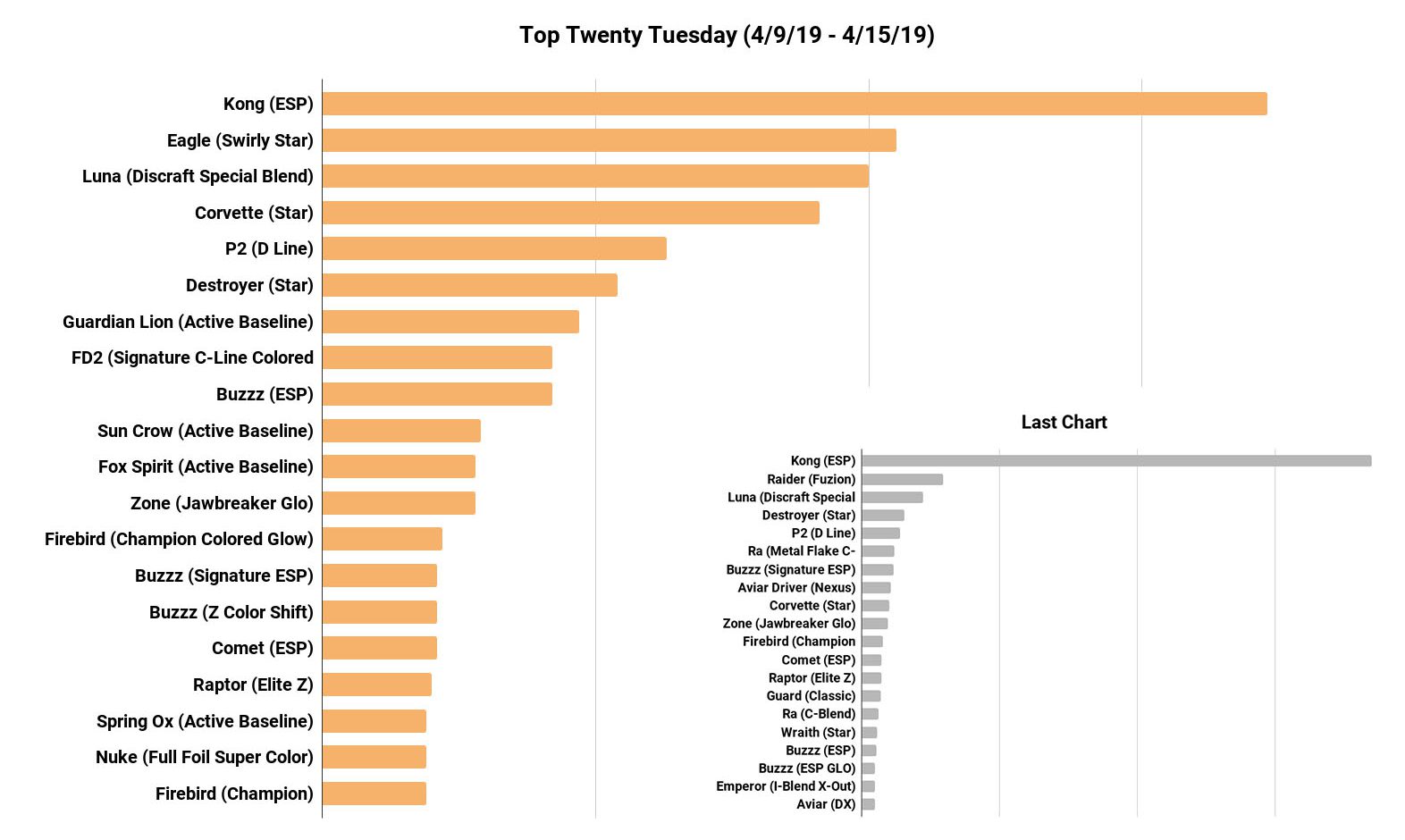 The KONG held onto the #1 spot this week and it will be interesting to watch how long it can hold onto that position…probably for as long as the inventory is available for the prototype run. Coming in at the #2 spot was the new signature Gregg Barsby Swirly Star EAGLE which came into stock and sold out quickly at Infinite Discs. The LUNA putter held the #3 spot with the new Star CORVETTE taking #4. The Corvette sales were boosted by a 2-foil limited edition that was released by Innova.
Also note the presence of all but one of the new Active Baseline discs by Discmania. The GUARDIAN LINE was the highest on the chart at #7, with the SUN CROW at #10, FOX SPIRIT at #11, and the SPRING OX at #18.  The remaining disc in that new line is the SEA SERPENT, which would have come in at #21 (just missed the chart by a one disc margin).
It is also interesting to see that the BUZZZ mid-range by Discraft took three spots on this week's chart, with the Signature ESP edition, regular ESP edition, and the Z Color Shift Ledgestone edition as well. Here is how the brands stacked up this week when counting the number of times their discs appeared on the chart, with only three brands dominating all the spots: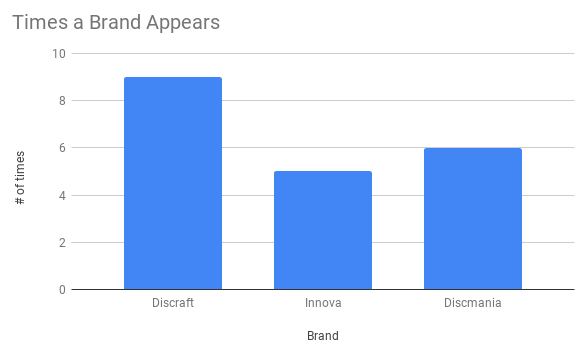 –> Each week we'll invite you to leave a prediction for a certain chart position on next week's TOP TWENTY TUESDAY report. The person to predict that chart position correctly in the comments will win a $10 gift card for the Infinite Discs website.
WINNER – The #10 spot this week was the Active Baseline SUN CROW, one of the new base plastic discs by Discmania.  There were some good guesses, including somebody who guessed the Swirly Star Eagle which hadn't been released yet (very good forward-looking guess!) but nobody seems to have seen those Active Baseline discs coming. Keep in mind that you have a good chance of guessing right if you pick something that you know is coming up soon.
GIFT CARD PREDICTION FOR NEXT WEEK:  Leave your comment below this blog to predict the #3 spot for next week's chart. Remember to think about what new disc releases might spike!