Welcome back to the Top 20 Tuesday chart! We waited since November 19th to bring back the chart so that it would more accurately reflect the total sales for all of our Black Friday week-long sales. Now that the dust is settled, here is a look at what sold the most at Infinite Discs since November 19th:
Top Twenty Tuesday for November 20th – December 10th 2019
#1 – ESP BANGER GT
#2 – ESP BUZZZ GT
#3 – XT Mix NOVA
#4 – R-Pro PIG
#5 – Star DESTROYER
#6 – Metal Flake C-Line FD
#7 – Metal Flake Glow C-Blend AZTEC
#8 – Tournament Burst MAIDEN
#9 – Champion THUNDERBIRD
#10 – ESP XL
#11 – Discraft Special Blend LUNA
#12 – Star WRAITH
#13 – Lucid X Chameleon JUDGE
#14 – 350G PA-3
#15 – S-Blend PHARAOH
#16 – Aura MANTRA
#17 – D-Line P2
#18 – Royal PROFIT
#19 – ESP ZEUS
#20 – Star THUNDERBIRD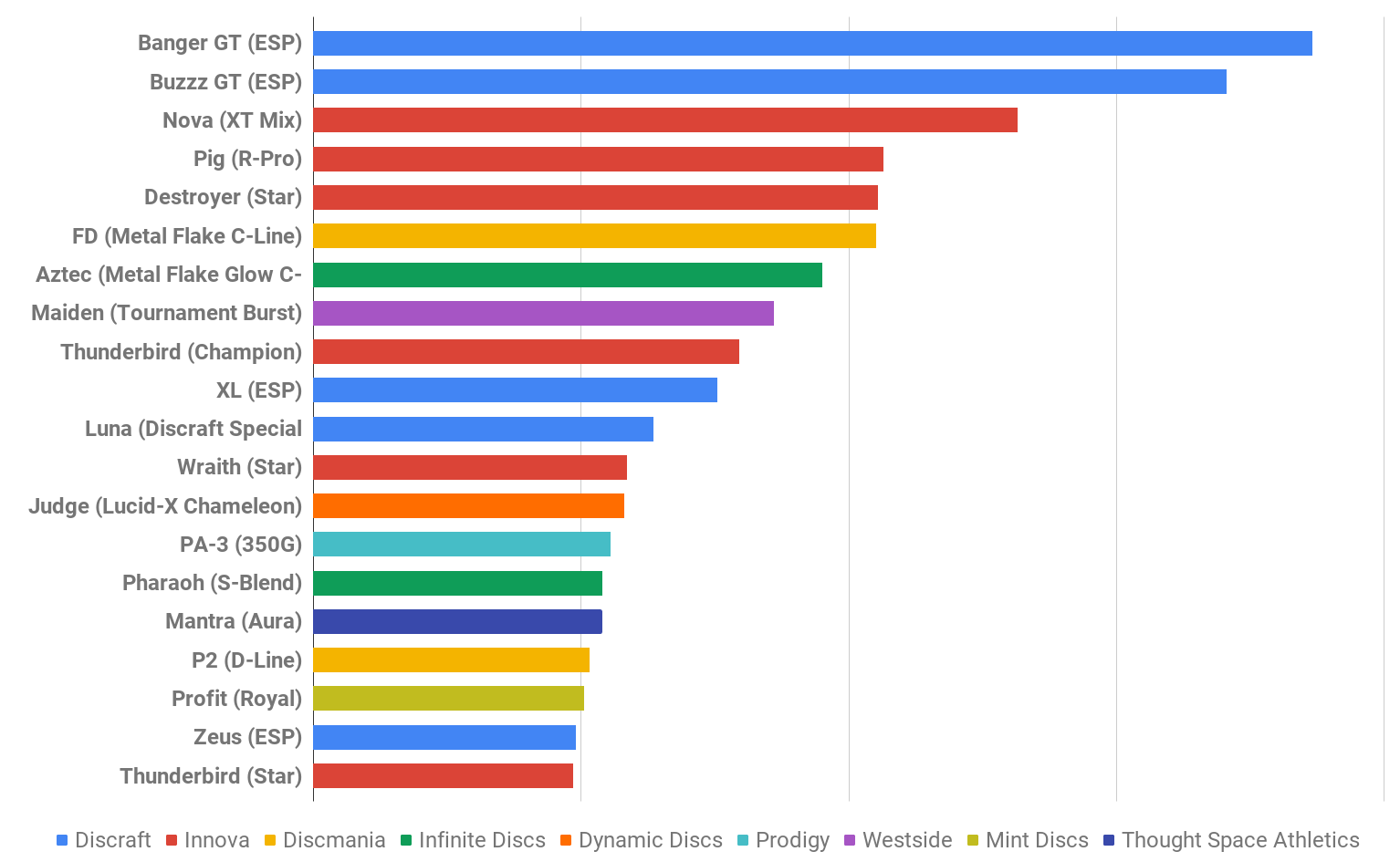 It goes without saying that this chart is abnormal, since the results are driven largely by the special releases and exclusive discs offered during the sale. But it is still interesting to see how the sales panned out. The Banger GT and Buzzz GT by Discraft took the top 2 spots, punctuating a growing interest in Discraft in 2019. The XT Nova took the #3 spot because of the run of "Black and White" Novas that we featured in our ad, followed by the Innova PIG which has had a very strong year, thanks to Ricky Wysocki using it as his primary upshot disc. The Star Destroyer did well, as expected, followed by the Metal Flake FD by Discmania in the 6th spot.
The AZTEC by Infinite Discs enjoyed a debut release with the Alien Aztec stamped glow edition jumping up on the chart. The Tournament Burst MAIDEN by Westside also did well, as this was its first time in a premium, durable plastic blend.
Here is a look at how many times different brands appeared on the Top 20 chart: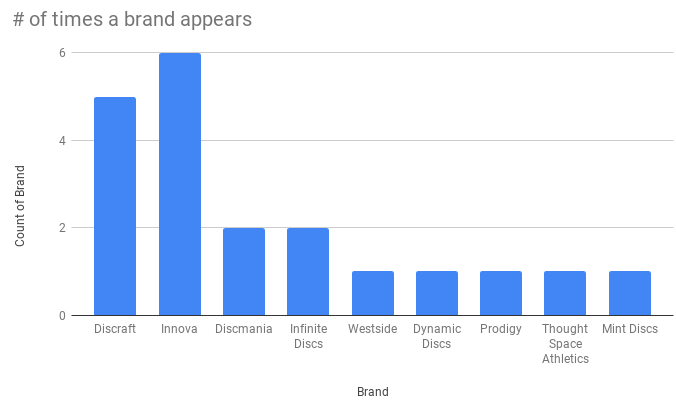 You can see the clash of the 2019 titans with Innova and Discraft appearing 6 and 5 times, with several appearances by other brands taking 1 or 2 spots each. Not showing on the chart, but coming very close were the Kastaplast Berg and Reko which sold very well, but barely missed the chart.
–> Each week we'll invite you to leave a prediction for a certain chart position on next week's TOP TWENTY TUESDAY report. The person to predict that chart position correctly in the comments will win a $10 gift card for the Infinite Discs website.
WINNER – We didn't do the usual guessing contest for this chart, since it was a longer period with a lot of previous unannounced special releases. But we'll resume for the coming week if you want to place your guess.
GIFT CARD PREDICTION FOR NEXT WEEK:  Leave your comment below to guess the #3 spot for next week. It will go to the FIRST person to get it right. Good luck!