TOP TWENTY TUESDAY – APRIL 23rd 2019

Infinite Discs is happy to present another Top 20 Tuesday chart, looking back at the discs that sold the most during the last week. We break these charts down by plastics as well so you can see which plastic types are most popular for each disc. New discs will often spike in the chart as other top sellers shuffle position. It can be fun to see which discs keep up the pace.
Here we go…
Top Twenty Tuesday for April 23rd, 2019
#1 – Neutron ENTROPY
#2 – ESP KONG
#3 – Fuzion RAIDER
#4 – Star ORC
#5 – Cosmic Neutron SL FLARE
#6 – Prism Plasma WRATH
#7 – Discraft Special Blend LUNA
#8 – Star DESTROYER
#9 – D-Line P2
#10 – Star CORVETTE
#11 – Electron Firm ENVY
#12 – DX AVIAR CLASSIC
#13 – S-Line FD
#14 – Hybrid WARDEN
#15 – Star TEEBIRD
#16 – Prism Proton INSANITY
#17 – Star WRAITH
#18 – XT Mix NOVA
#19 – Electron Soft ENVY
#20 – Metal Flake Glow C-Blend SPHINX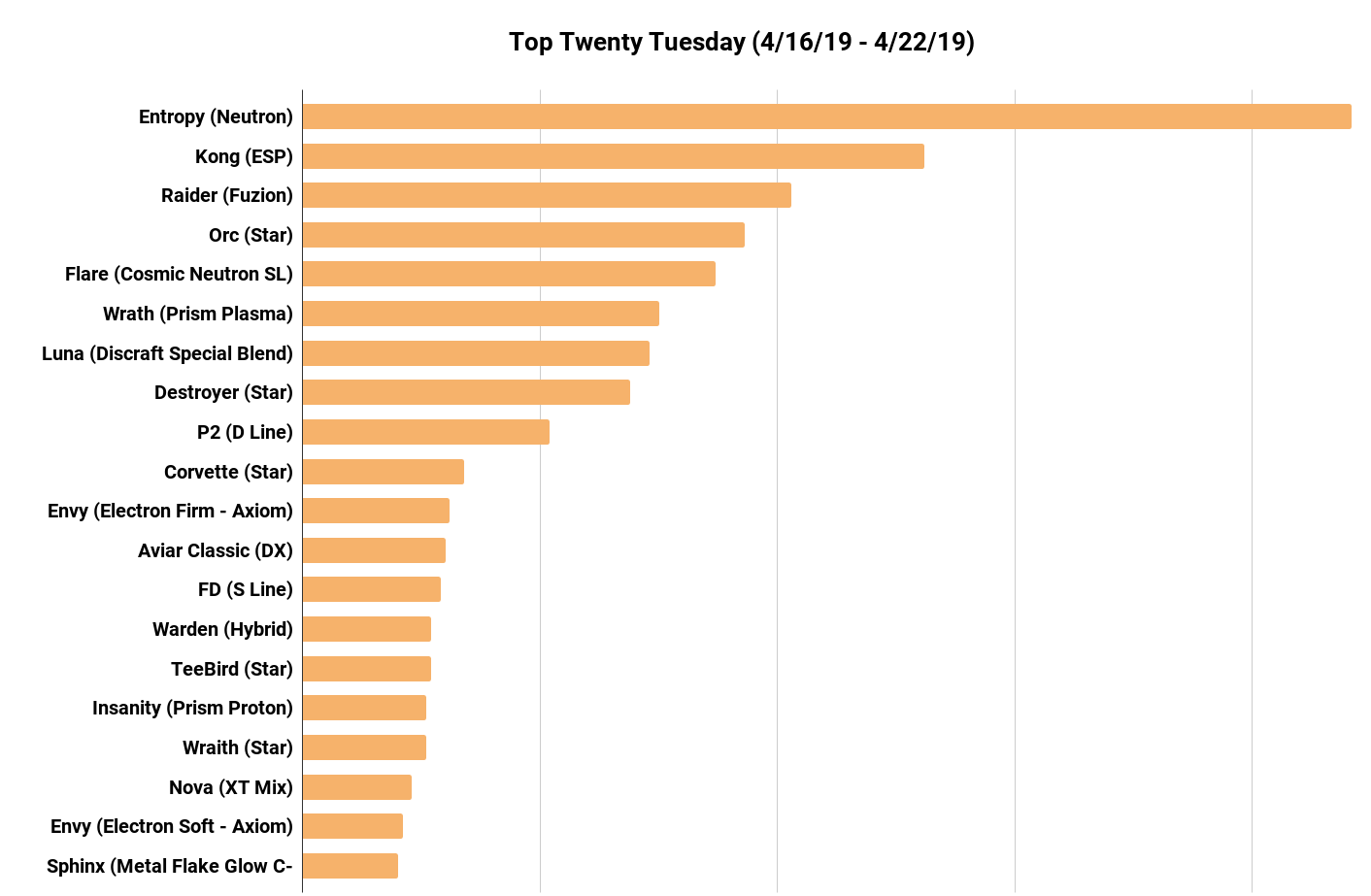 Some of the new releases by MVP / Axiom / Streamline really dominated the chart this last week, with the new MVP ENTROPY rocketing to the #1 spot as an overstable putt-and-approach disc. The ESP KONG remains strong at #2 with the new Fuzion RAIDER by Dynamic Discs taking the #3 spot as a solid long-range bomber for experienced players.  The Prism Plasma WRATH by Axiom also did well along with the Envy in two different plastics, and the Prism Proton INSANITY.
To see how the chart shook up over the last week, here is the chart from the previous week: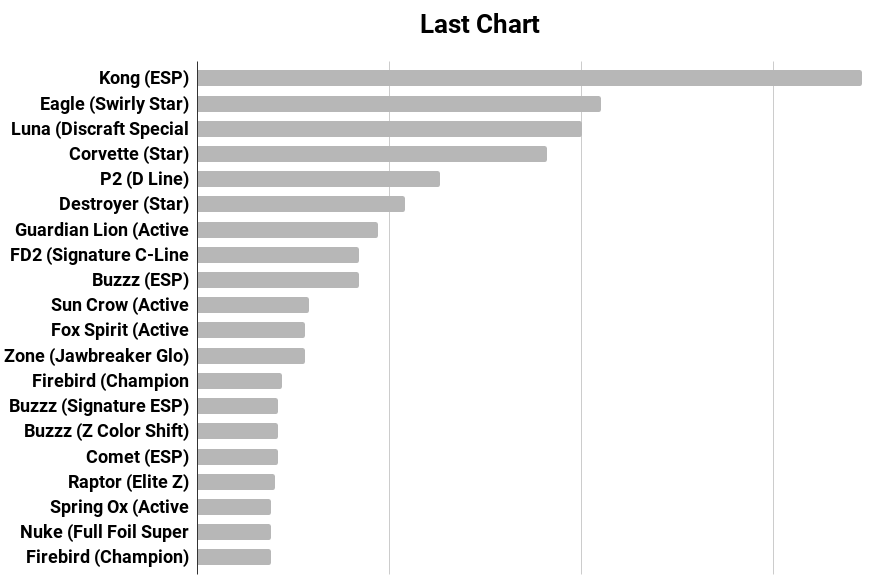 And here is a look at how many times different brands appeared on this week's chart: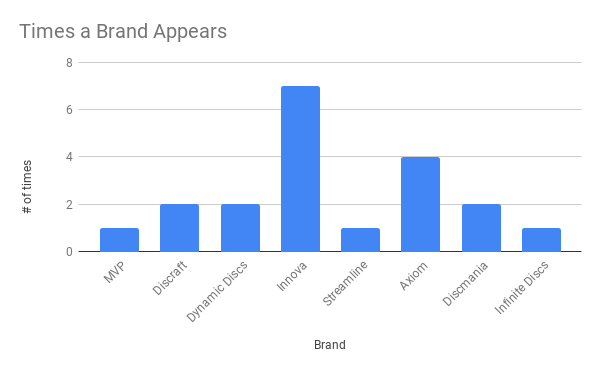 –> Each week we'll invite you to leave a prediction for a certain chart position on next week's TOP TWENTY TUESDAY report. The person to predict that chart position correctly in the comments will win a $10 gift card for the Infinite Discs website.
WINNER – The #3 spot went to the Fuzion Raider this week, which was first guessed by Michael– though he didn't say "Fuzion" (remember to guess the plastic type). But we'll give it to him since there is no other plastic type right now. We're also giving a win to Barrett who came in very close to Michael on the guess for the Raider, but mentioned Fuzion as the plastic type. Good job guys!
GIFT CARD PREDICTION FOR NEXT WEEK:  Leave your comment below this blog to predict the #5 spot for next week's chart.