Top Twenty Tuesday – Dec. 11th – 17th
Welcome back to another week of Top Twenty Tuesday! Every week, we take a look at the twenty top-selling discs on the Infinite Discs website from the past week, broken down by mold and plastic-type.
You also have a chance to win a $10 Infinite Discs gift card if you correctly guess one of the spots for next week (scroll down to see specifics for the weekly giveaway).
Here are the top sellers from last week in order –
#1 – Infinite Discs Halo S-Blend DYNASTY
#2 – Discraft ESP Swirl CAPTAIN'S RAPTOR
#3 – Infinite Discs Halo S-Blend EXODUS
#4 – Thought Space Athletics Nebula Aura PATHFINDER
#5 – Infinite Discs Halo S-Blend SLAB
#6 – Infinite Discs Halo S-Blend CZAR
#7 – MVP Neutron soft GLITCH
#8 – Finish Line Discs Forged PACE
#9 – Infinite Discs Halo S-Blend TOMB
#10 – Infinite Discs Signature P-Blend Glow ALPACA
#11 – Finish Line Discs Forged SUPRA
#12 – Discraft Z Line Misprint BUZZZ
#13 – Innova Star WRAITH
#14 – Thought Space Athletics Nebula Aura MANA
#15 – Infinite Discs D-Blend X-out ALPACA
#16 – Infinite Discs Metal Flake Glow C-Blend X-out DYNASTY
#17 – Discraft Special Blend LUNA
#18 – Kastaplast K3 Line BERG
#19 – Kastaplast K1 Line BERG
#20 – Infinite Discs Halo S-Blend PHARAOH
We had some speciality released Santa Hat stamped halo molds released last week! These molds haven't been officially released yet, so we hope you were able to get your hands on these speciality released molds.
The Captain's Raptor from Discraft is another popular mold that doesn't come around very often. This is a modified molds similar to the Raptor; it has a flatter top and is designed to be more overstable.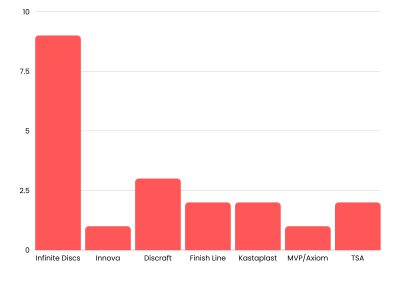 GUESSING GAME –> Each week we'll invite you to leave a prediction for a certain chart position on next week's TOP TWENTY TUESDAY report. The person to predict that chart position correctly in the comments will win a $10 gift card for the Infinite Discs website.
WINNER – The #9 spot this past week was the Infinite Discs Halo S-Blend Tomb. Not much needs to be said about this mold, is it one of the most popular putt & approach discs on the market! If you haven't tried it, you MUST. 
NEXT WEEK: Guess the #12 spot for next week. The first person to get it right (including the disc model and plastic type) will win!
THANKS FOR READING AND WATCHING EACH WEEK!
RECAP FROM LAST TIME – Dec. 3rd
The data before looked like this –