TOP TWENTY TUESDAY – APRIL 30TH 2019

Infinite Discs is happy to present another Top 20 Tuesday chart, looking back at the discs that sold the most during the last week. We break these charts down by plastics as well so you can see which plastic types are most popular for each disc. New discs will often spike in the chart as other top sellers shuffle position. It can be fun to see which discs keep up the pace.
Here we go…
Top Twenty Tuesday for April 30th, 2019
#1 – ESP KONG
#2 – D-Line P2
#3 – Star DESTROYER
#4 – Star LION
#5 – ESP ZONE
#6 – Fuzion RAIDER
#7 – Neutron ENTROPY
#8 – Discraft Special Blend LUNA
#9 – S-Line FD
#10 – Champion Colored Glow FIREBIRD
#11 – Star ORC
#12 – Star CORVETTE
#13 – Champion TEEBIRD3
#14 – DX AVIAR
#15 – Prism Plasma WRATH
#16 – S-Line CD2
#17 – Elite Z BUZZZ
#18 – Star WRAITH
#19 – Star VALKYRIE
#20 – C-Line FD
There was some more shuffling around in the top 20 chart for this week. The KONG reclaimed the #1 spot while the D-Line P2 by Discmania jumped up to 2nd place and the Star Destroyer moved back up to #3. The new Star LION by Innova took the #4 spot and the cool ESP ZONE putt-and-approach disc followed at #5.  The FUZION RAIDER by Dynamic Discs maintained a strong position in the #6 spot.
Here is a chart showing the number of times each brand appeared in this week's chart: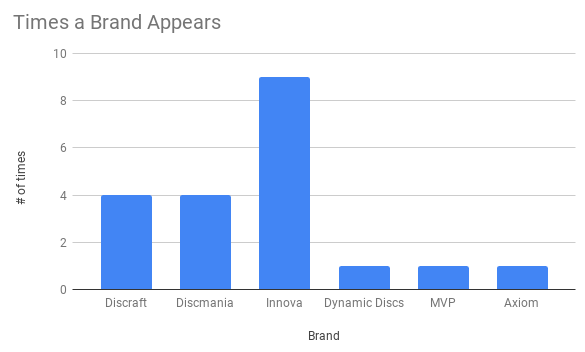 –> Each week we'll invite you to leave a prediction for a certain chart position on next week's TOP TWENTY TUESDAY report. The person to predict that chart position correctly in the comments will win a $10 gift card for the Infinite Discs website.
WINNER – The #5 spot went to the ESP ZONE by Discraft this week. We had a simple and sweet stamp put on some of those and people apparently liked it. It doesn't look like anybody guessed the ZONE in any type of plastic for #5, so no winner this week. But be sure to guess for next week!
GIFT CARD PREDICTION FOR NEXT WEEK:  Leave your comment below this blog to predict the #6 spot for next week's chart.