TOP TWENTY TUESDAY – APRIL 9TH 2019

Infinite Discs is happy to present another Top 20 Tuesday chart, looking back at the discs that sold the most during the last week. We break these charts down by plastics as well so you can see which plastic types are most popular for each disc. New discs will often spike in the chart as other top sellers shuffle position. It can be fun to see which discs keep up the pace.
Here we go…
Top Twenty Tuesday for April 9th, 2019
#1 – ESP KONG
#2 – Fuzion RAIDER
#3 – Discraft Special Blend LUNA
#4 – Star DESTROYER
#5 – D-Line P2
#6 – Metal Flake C-Blend RA
#7 – Signature ESP BUZZZ
#8 – Nexus AVIAR DRIVER
#9 – Star CORVETTE
#10 – Jawbreaker Glo ZONE
#11 – Champion Colored Glow FIREBIRD
#12 – ESP COMET
#13 – Elite Z RAPTOR
#14 – Classic GUARD
#15 – C-Blend RA
#16 – Star WRAITH
#17 – ESP BUZZZ
#18 – ESP Glo BUZZZ
#19 – I-Blend X-Out EMPEROR
#20 – DX AVIAR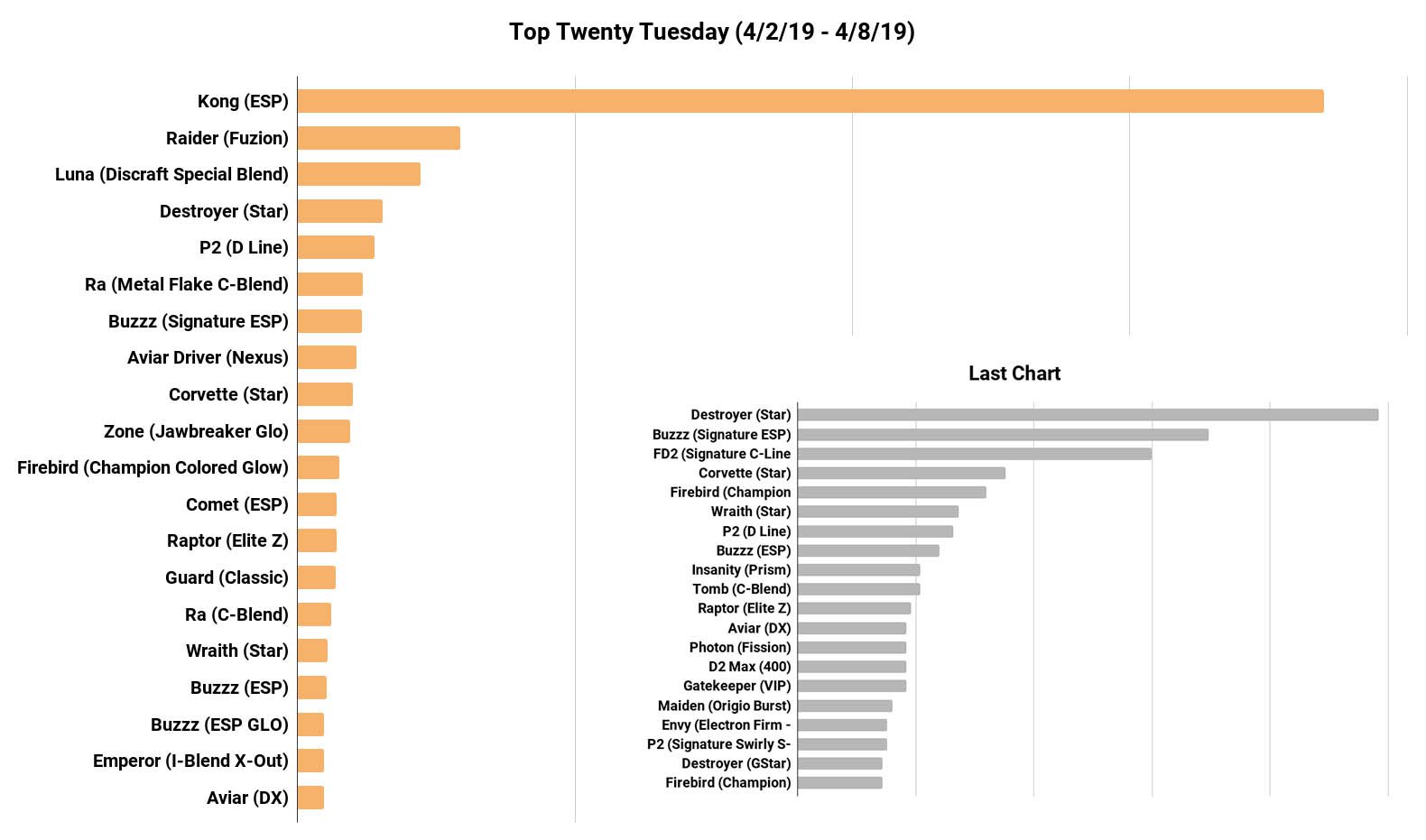 With a big restock of Discraft KONG discs hitting the Infinite Discs website, that disc rocketed to the top of the chart again, demolishing all of the competition. The 2nd place disc was the new first run Fuzion RAIDER by Dynamic Discs, and in all honesty, the sales of that disc would have been higher if we'd been prepared and had more of them in stock. The anticipation for the Raider was higher than we expected. The LUNA putter took 3rd place, pushing last week's #1 Destroyer back to #4.
Other honorable mentions go to the Infinite Discs RA which had a stock release and was on sale for the weekend, pushing it to #6 in Metal Flake C-Blend, and to #15 in C-Blend plastic.  The newest putter from Dynamic Discs, the GUARD also stands out at #14.
There were also two Ledgestone special edition discs from Discraft that pushed into the chart this week: the Jawbreaker Glo ZONE jumped in at the #10 spot while the ESP Glo BUZZZ took the #18 spot. The special edition ESP COMET stamp released by Infinite Discs pushed that mid-range to the #12 position, giving Discraft the edge again with number of times on the chart for this week: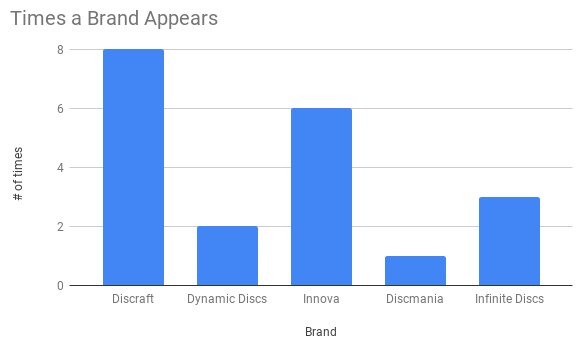 –> Each week we'll invite you to leave a prediction for a certain chart position on next week's TOP TWENTY TUESDAY report. The person to predict that chart position correctly in the comments will win a $10 gift card for the Infinite Discs website.
WINNER – The #4 spot this week was the Star Destroyer as it was pushed back by the hot-selling Kong, Luna, and new Raider. The first to guess Star Destroyer, according to comment time stamps, was JACK.  A few other guesses came in for Star Destroyer, but Jack was the first, so congratulations!
GIFT CARD PREDICTION FOR NEXT WEEK:  Leave your comment below this blog to predict the #10 spot for next week's chart.