TOP TWENTY TUESDAY – AUGUST 25TH 2020

It is time once again for our look back at the last week of sales. This weekly chart is generated from the sales figures at Infinite Discs – the purchases made by our customers are the only contributing factor to the statistics. We break the results down by disc model and plastic type so you can see which plastic types are selling the most. Here we go…
Top Twenty Tuesday for August 25th, 2020
#1 – Discraft Special Blend LUNA
#2 – Star WRAITH
#3 – Signature Swirly S-Line DD3
#4 – Z Line BUZZZ
#5 – Jawbreaker ZONE
#6 – Signature ESP MALTA
#7 – R-Pro PIG
#8 – Fission WAVE
#9 – Champion MAKO3
#10 – Star ROADRUNNER
#11 – ESP UNDERTAKER
#12 – DX AVIAR
#13 – ESP ZONE
#14 – Star DESTROYER
#15 – Champion TEEBIRD
#16 – Star MAMBA
#17 – DX LEOPARD
#18 – Z Line HEAT
#19 – BaseGrip P MODEL US
20 – Star MAKO3
The #1 spot this week was taken, once again, by the LUNA. Our supply has been sufficient to keep that putter at the top, while other popular releases sell out before they can gain too much momentum. The #2 Star Wraith was given a huge boost by the Solar Wraith stamped release, which might have sold more if we'd had them. The #3 spot with the DD3 was the "Cloud Breaker 2" release, which definitely would have charted at the top if there had been enough discs to meet demand. That release wreaked havoc on our website as hundreds of people tried ordering them all within a few minutes, when there were only a few to be had.
Other popular sellers are once again driven by supply– once they get in stock, they pop up on the chart, then they vanish once they are sold out until the next supply arrives.
Here is a look at how often different brands appeared on the chart this week, with Innova taking the largest number of spots: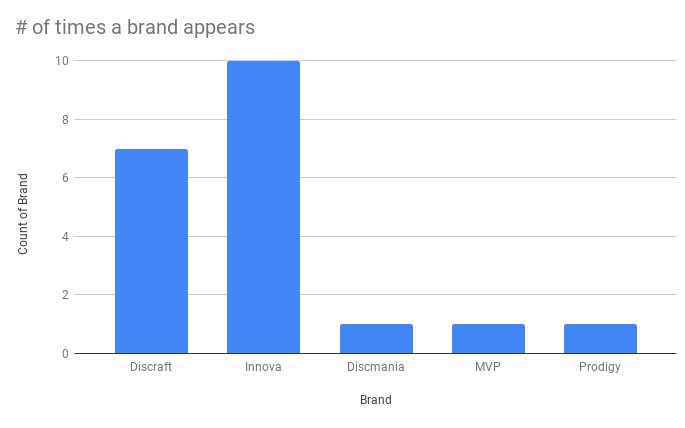 –> Each week we'll invite you to leave a prediction for a certain chart position on next week's TOP TWENTY TUESDAY report. The person to predict that chart position correctly in the comments will win a $10 gift card for the Infinite Discs website.
WINNER – The #6 spot last week was taken by the Signature ESP MALTA which was a restock for the week, boosting it up on the chart. There were a couple Signature ESP guesses, but not for the Malta, so there wasn't a winner this week. But give it a try for next time!
GIFT CARD PREDICTION FOR NEXT WEEK:  Leave your comment below to guess the #7 spot for next chart.  It will go to the FIRST person to get it right. Good luck!