TOP TWENTY TUESDAY – FEBRUARY 11TH 2020

It is time once again for our look back at the last week of sales. This weekly chart is generated from the sales figures at Infinite Discs – the purchases made by our customers are the only contributing factor to the statistics. We break the results down by disc model and plastic type so you can see which plastic types are selling the most. Here we go…
Top Twenty Tuesday for February 11th, 2020
#1 – Discraft Special Blend LUNA
#2 – Discraft Prototype Putter Blend FIERCE
#3 – K1 LOTS
#4 – ESP BUZZZ
#5 – Plasma ENVY
#6 – D-Line P2
#7 – Dyed S-Blend SPHINX
#8 – ESP ZEUS
#9 – Star DESTROYER
#10 – Z-Line ZONE
#11 – R-Pro PIG
#12 – ESP ANAX
#13 – X Soft BANGER GT
#14 – 500 FX-2
#15 – P-Line Soft P2
#16 – Titanium UNDERTAKER
#17 – ESP AVENGER SS
#18 – ESP BANGER GT
#19 – DX AVIAR
#20 – Star WRAITH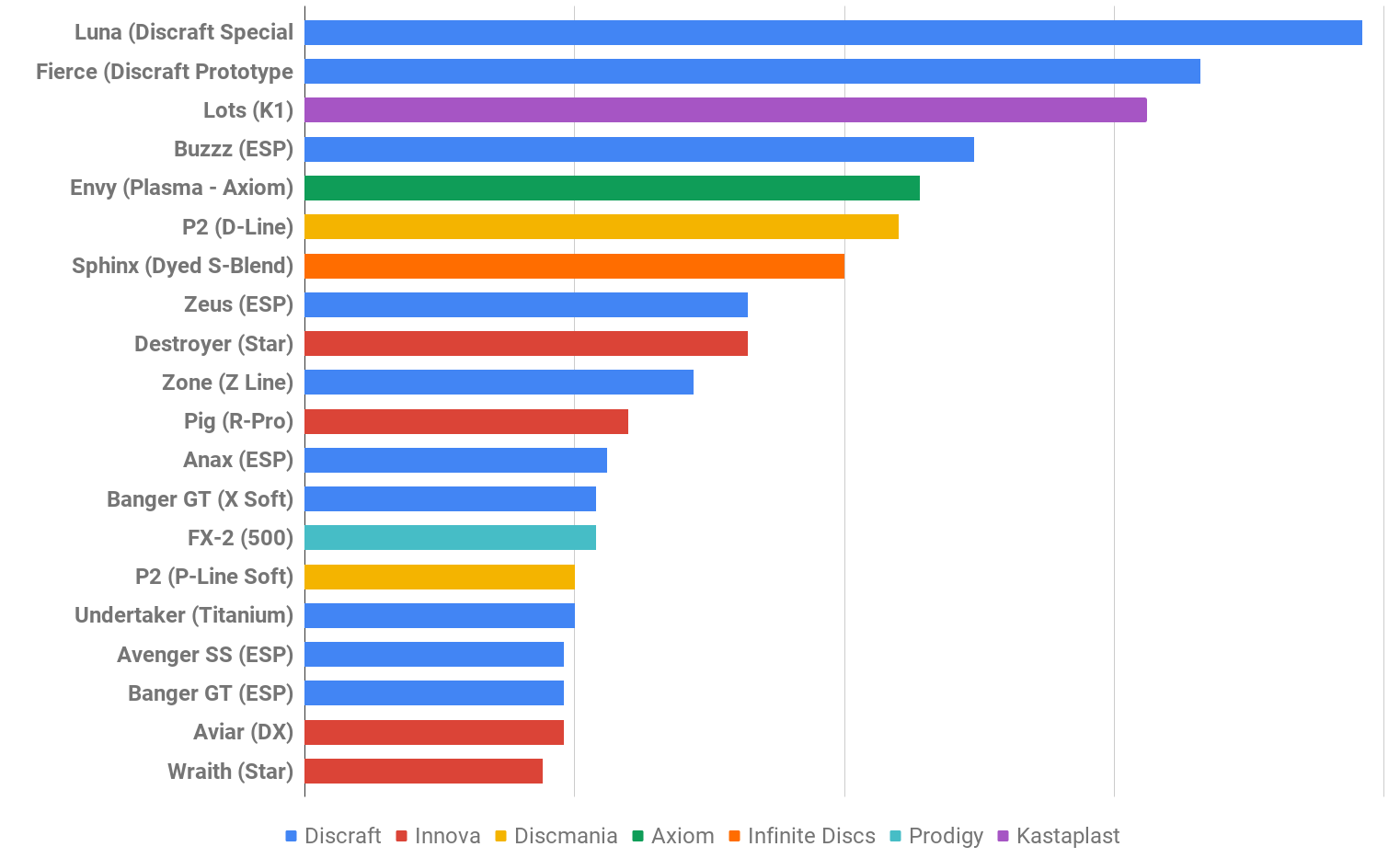 We've got another chart this week that is heavy on the blue lines, which equates to a lot of Discraft sales. The top-seller that last week was the LUNA putter, followed closely by the #2 FIERCE putter (Paige Pierce signature putter). Taking the #3 spot was the newest release from Kastaplast, the LOTS driver. That's a strong debut from Kastaplast! The Plasma Envy was riding high on the chart again this week because of some really pretty Plasma discs that we got in stock last week. The Dyed S-Blend SPHINX took the #7 spot as those turned out to have some really nice custom dye jobs!
Another debut disc which just released yesterday was the Prodigy FX-2 and the first run in "500 plastic" jumped into the #14 spot after just one day of sales. Let's take a look at how many times the different brands hit the chart this last week, with Discraft flexing once again: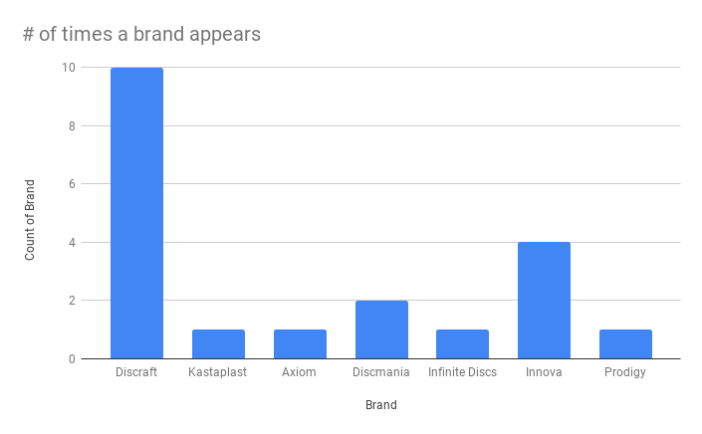 –> Each week we'll invite you to leave a prediction for a certain chart position on next week's TOP TWENTY TUESDAY report. The person to predict that chart position correctly in the comments will win a $10 gift card for the Infinite Discs website.
WINNER – The #9 spot this week was taken by the Star DESTROYER which is a long-time chart dweller, though it tends to move around more than it used to. It used to own a permanent home in the top 3 every week. We had some guesses for Star Destroyer, but Owen dished it out first by 3 minutes. Congrats Owen!
GIFT CARD PREDICTION FOR NEXT WEEK:  Leave your comment below to guess the #10 spot for next chart.  It will go to the FIRST person to get it right. Good luck!