TOP TWENTY TUESDAY – FEBRUARY 2ND 2021

Welcome to the Top 20 Tuesday chart! Every week we take a look at the twenty top-selling discs on the Infinite Discs website, broken down by plastic type as well. So these are the top sellers for the last seven days in order:
Top Twenty Tuesday for February 2nd 2021
#1 – Signature I-Blend EMPEROR
#2 – Rubber Blend ZONE
#3 – Star WRAITH
#4 – Signature ESP ANAX
#5 – ESP BUZZZ
#6 – Discraft Special Blend LUNA
#7 – ESP UNDERTAKER
#8 – Signature ESP HADES
#9 – ESP RAPTOR
#10 – Star DESTROYER
#11 – Ground Plastic RUNE
#12 – DX AVIAR
#13 – Signature ESP MALTA
#14 – ESP THRASHER
#15 – Star X-Out WRAITH
#16 – Base Grip P MODEL S
#17 – Z-Line ZONE
#18 – Swirly S-Blend PHARAOH
#19 – P-Blend ALPACA
#20 – Extinct SPINOSAURUS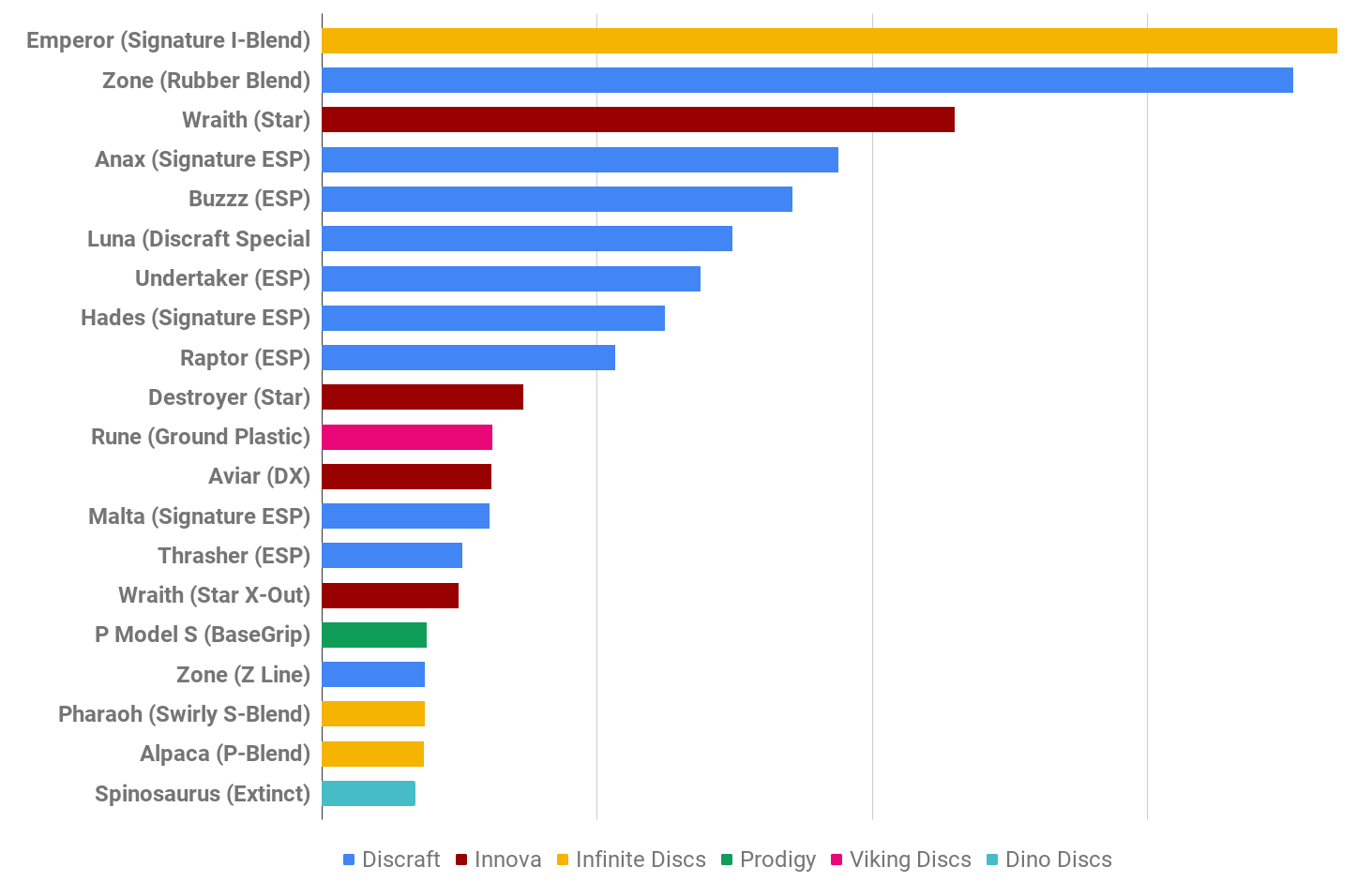 The Top 20 chart is still highly driven by restocks. Whatever is restocked during the week tends to jump to the top positions. But the #1 this week is the Kona Panis Signature I-Blend EMPEROR, which barely inched out the #2 best-seller, the Rubber Blend ZONE. The Star WRAITH came in #3, getting another boost with a quiet release of all black "Solar" stamped discs. Several other Discraft models filled the chart, with only a few rogues holding spots in the top 20, like the Ground RUNE by Viking Discs (a cool putter), the P Model S by Prodigy / Ace Line (another cool putter), and the Extinct SPINOSAURUS fairway drier from Dino Discs (ultra lightweight discs).
Here is a look at how many times the different brands appeared on this week's chart: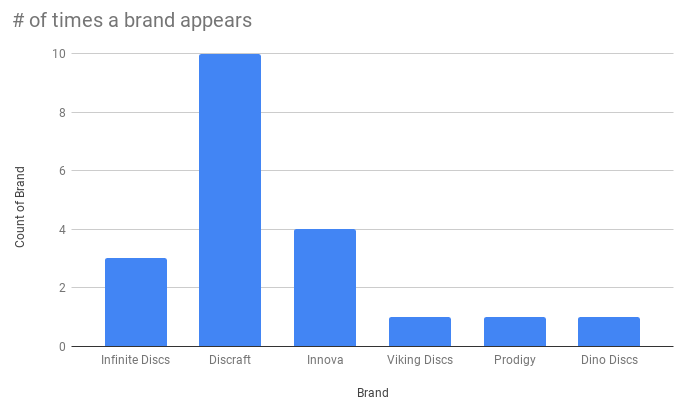 –> Each week we'll invite you to leave a prediction for a certain chart position on next week's TOP TWENTY TUESDAY report. The person to predict that chart position correctly in the comments will win a $10 gift card for the Infinite Discs website.
WINNER – The number 8 spot this week was taken by the Signature EPS HADES. Carson won again, having only a few weeks ago. Please be sure to check your email or Facebook message to get your gift card code.
NEXT WEEK: Guess the #9 spot for next week. The first person to get it right (include the disc model and plastic type) will win!
THANKS FOR READING AND WATCHING EACH WEEK!