TOP TWENTY TUESDAY – JANUARY 21ST 2020

It is time once again for our look back at the last week of sales. This weekly chart is generated from the sales figures at Infinite Discs – the purchases made by our customers are the only contributing factor to the statistics. We break the results down by disc model and plastic type so you can see which plastic types are selling the most. Here we go…
Top Twenty Tuesday for January 21st, 2020
#1 – Paige Pierce Prototype Putter
#2 – ESP AVENGER SS
#3 – Z-Line ZONE
#4 – ESP BUZZZ
#5 – Titanium UNDERTAKER
#6 – Z-Line FORCE
#7 – Sublime FREETAIL
#8 – C-Blend RUIN
#9 – D-Line P2
#10 – Star DESTROYER
#11 – ESP ZEUS
#12 – DX X-Out AVIAR
#13 – Atomic KEA
#14 – Apex FREETAIL
#15 – Tour ESP RATTLER
#16 – D-Plastic MJOLNER
#17 – R-Pro PIG
#18 – D-Plastic MIDGARD
#19 – C-Blend X-Out RUIN
#20 – Star THUNDERBIRD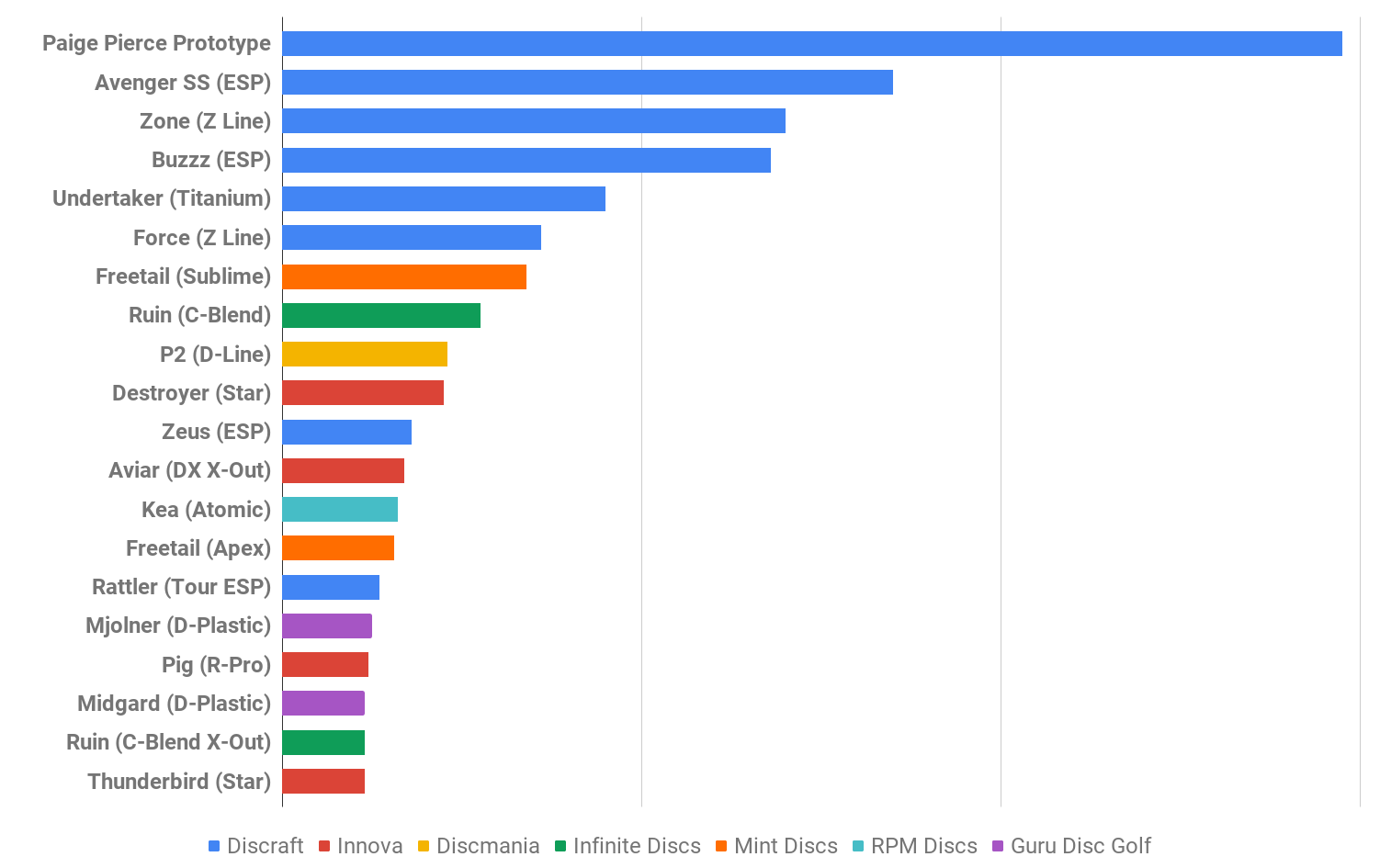 Well, Paige Pierce ruled the chart at the #1 spot this week with her Prototype Putter release from Discraft. It's an understable, low profile putter and we think a lot of people are going to love the feel and flight of this disc! Coming up right behind Paige on the chart were a slew of Paul McBeth signature editions with his new, limited edition 5X World Champion stamp. The AVENGER SS was added to his signature disc lineup and took the #2 spot while the Z-Line ZONE, ESP BUZZZ, Titanium UNDERTAKER, and Z-Line FORCE followed closed behind with those new signature editions.
There are also some smaller brands that made a splash on the charts this week. The new FREETAIL by Mint Discs took the #7 and #14 spots in two different plastics. The Infinite Discs RUIN jumped in at #8 and also showed up as an X-Out in the #19 position. The Atomic KEA by RPM Discs jumped onto the chart in the #13 position, and two discs by Norwegian brand, GURU DISCS, touched the chart with the MJOLNER at #16 and the MIDGARD at number #18.
It was a very interesting chart this week. Here is a look at the Discraft-dominated chart of how many times different brands appeared in the top 20 for the week: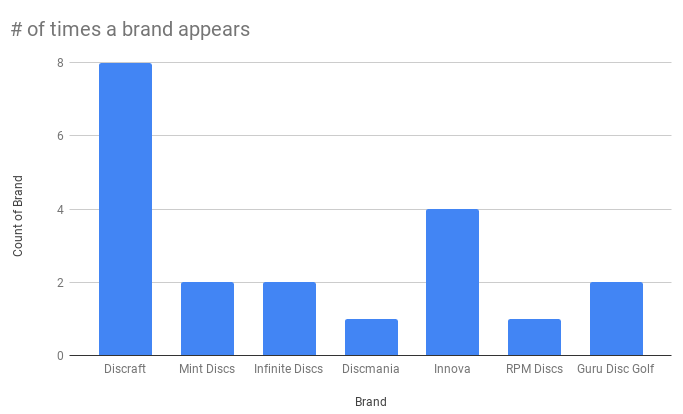 –> Each week we'll invite you to leave a prediction for a certain chart position on next week's TOP TWENTY TUESDAY report. The person to predict that chart position correctly in the comments will win a $10 gift card for the Infinite Discs website.
WINNER – The #12 spot this week was taken by the DX X-Out AVIAR. While we do see X-Outs jump onto the chart from time to time, it is pretty rare. Those spikes are usually fueled when we get in a large supply of X-Outs for a popular mold. There were a lot of excellent guesses this week for discs that are on the chart, but nobody picked an X-Out to hit #12. Give it a try for next week!
GIFT CARD PREDICTION FOR NEXT WEEK:  Leave your comment below to guess the #6 spot for next chart.  It will go to the FIRST person to get it right. Good luck!