TOP TWENTY TUESDAY – JANUARY 29TH 2019

Infinite Discs is happy to present another Top 20 Tuesday chart, looking back at the discs that sold the most during the last week. We break these charts down by plastics as well so you can see which plastic types are most popular for each disc. New discs will often spike in the chart as other top sellers shuffle position. It can be fun to see which discs keep up the pace.
Here we go…
Top Twenty Tuesday for JANUARY 29th, 2019
#1 – Signature ESP BUZZZ
#2 – ESP FORCE
#3 – Star DESTROYER
#4 – Signature Elite Z ZONE
#5 – Signature Titanium UNDERTAKER
#6 – D-Line P2
#7 – Metal Flake Glow C-Blend PHARAOH
#8 – I-Blend PHARAOH
#9 – XT BULLFROG
#10 – S-Blend TOMB
#11 – P-Line Soft P2
#12 – D-Blend TOMB
#13 – Neutron ION
#14 – KC Pro X-Out Aviar
#15 – Star WRAITH
#16 – I-Blend SPHINX
#17 – Signature Elite Z FORCE
#18 – Classic Burst WARDEN
#19 – S-Blend EXODUS
#20 – Champion FIREBIRD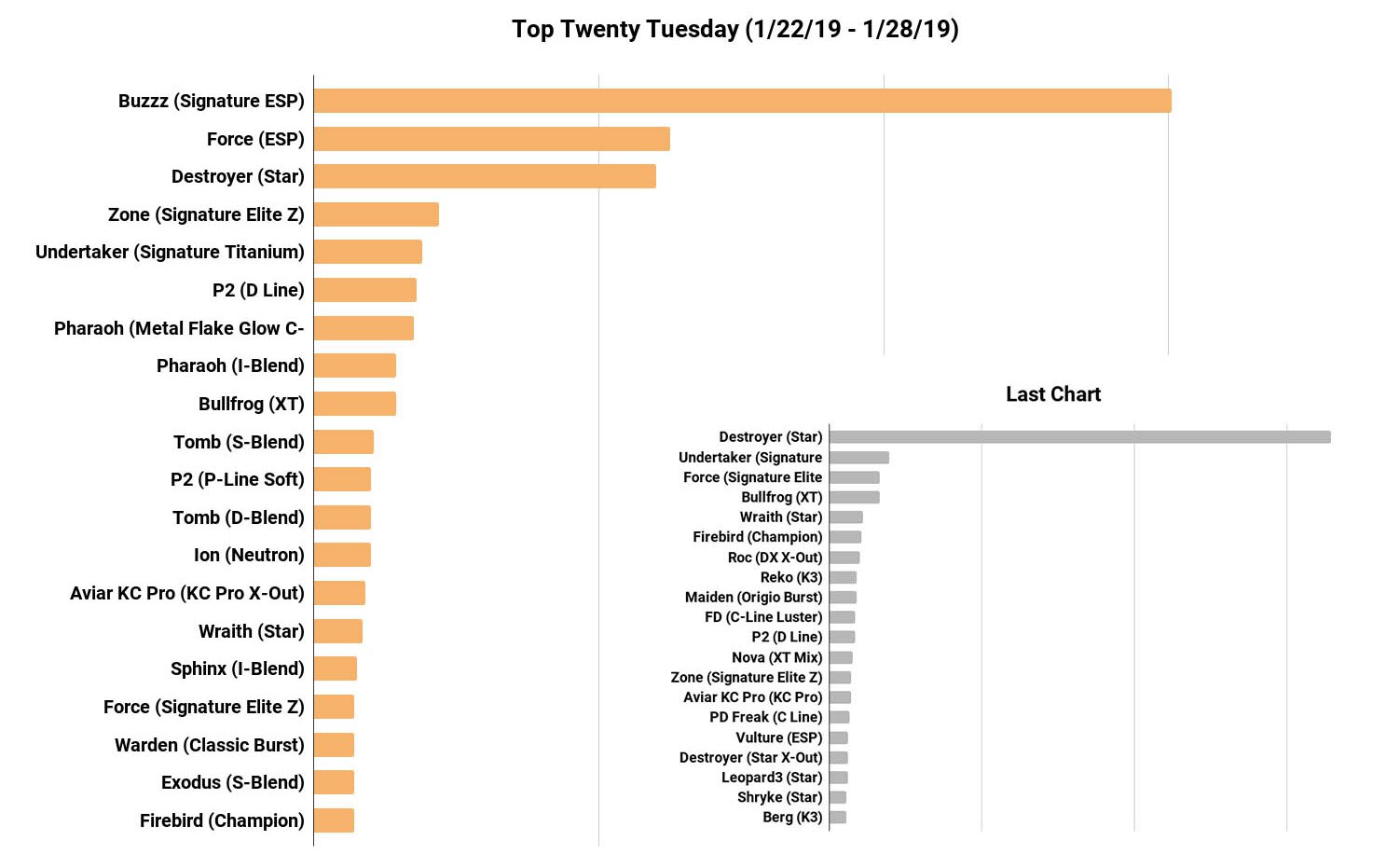 The first thing you may notice on this week's chart is that the Star Destroyer finally fell from the top spot. Yes, that happens from time to time, but it was crushed this week by the Signature Paul McBeth ESP Buzzz which, once restocked, sold like crazy. Other McBeth signature discs remain on the chart as well, including his signature editions of the Zone, Undertaker, and Force. Speaking of the Force, Infinite Discs put out a custom stamped edition on beautiful ESP plastic and it made a strong jump to the #2 spot. That left the Destroyer at #3.
Infinite Discs brand raided the chart this week due to a sale that ran for a few days last week. The Pharaoh took two spots in two different plastics as well as the Tomb flat-topped putt-and-approach disc taking two spots. In fact, Infinite Discs brand led the way in number of times appearing in the top 20 with Discraft and Innova tying with 5 spots each.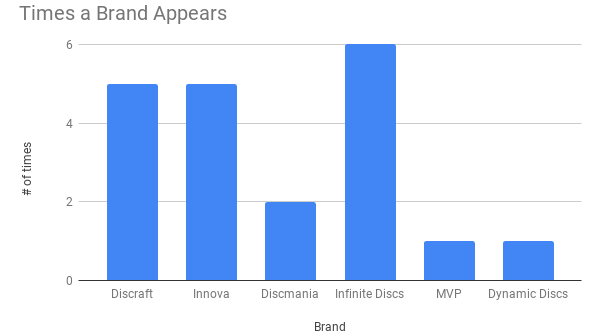 –> Each week we'll invite you to leave a prediction for a certain chart position on next week's TOP TWENTY TUESDAY report. The first three people to predict that chart position correctly in the comments will win a $10 gift card for the Infinite Discs website.
WINNER – The #20 spot is a hard one to pick, and it looks like nobody got it this time. Nobody guessed Champion Firebird as the #20 spot. I saw that somebody guess Neutron ION which is a valiant guess considering it had a special edition come out this last weekend, but that release pushed it beyond the #20 spot. Hopefully we get a winner next week!
GIFT CARD PREDICTION FOR NEXT WEEK:  Leave your comment below this blog to predict the #10 spot for next week's chart.