TOP TWENTY TUESDAY – JANUARY 8TH 2019

Well, we took longer to get back to the Top Twenty Tuesday chart than expected, thanks to the crazy holiday season. But here we go with a chart that represents everything since December 18th.
New discs will often spike in the chart as other top sellers shuffle spots. It can be fun to see which discs keep up the pace. These will also be broken down by plastic types, so the same model can show up in multiple plastics.
Here we go…
Top Twenty Tuesday for JANUARY 8th, 2019
#1 – Star DESTROYER
#2 – D-Line P2
#3 – XT BULLFROG
#4 – P-Line P2
#5 – C-Line Luster FD
#6 – Sirius SCORPIUS
#7 – Swirly ESP BUZZZ
#8 – Champion MAKO3
#9 – XT Mix NOVA
#10 – S-Line MD3
#11 – Signature C-Line P2
#12 – Star WRAITH
#13 – Eclipse DEFLECTOR
#14 – Swirly S-Line PD2
#15 – Tour Series Pro AVIAR
#16 – Star LEOPARD3
#17 – DX AVIAR CLASSIC
#18 – C-Line MD5
#19 – Full Foil Super Color BUZZZ
#20 – BT Hard Burst Moonshine MAIDEN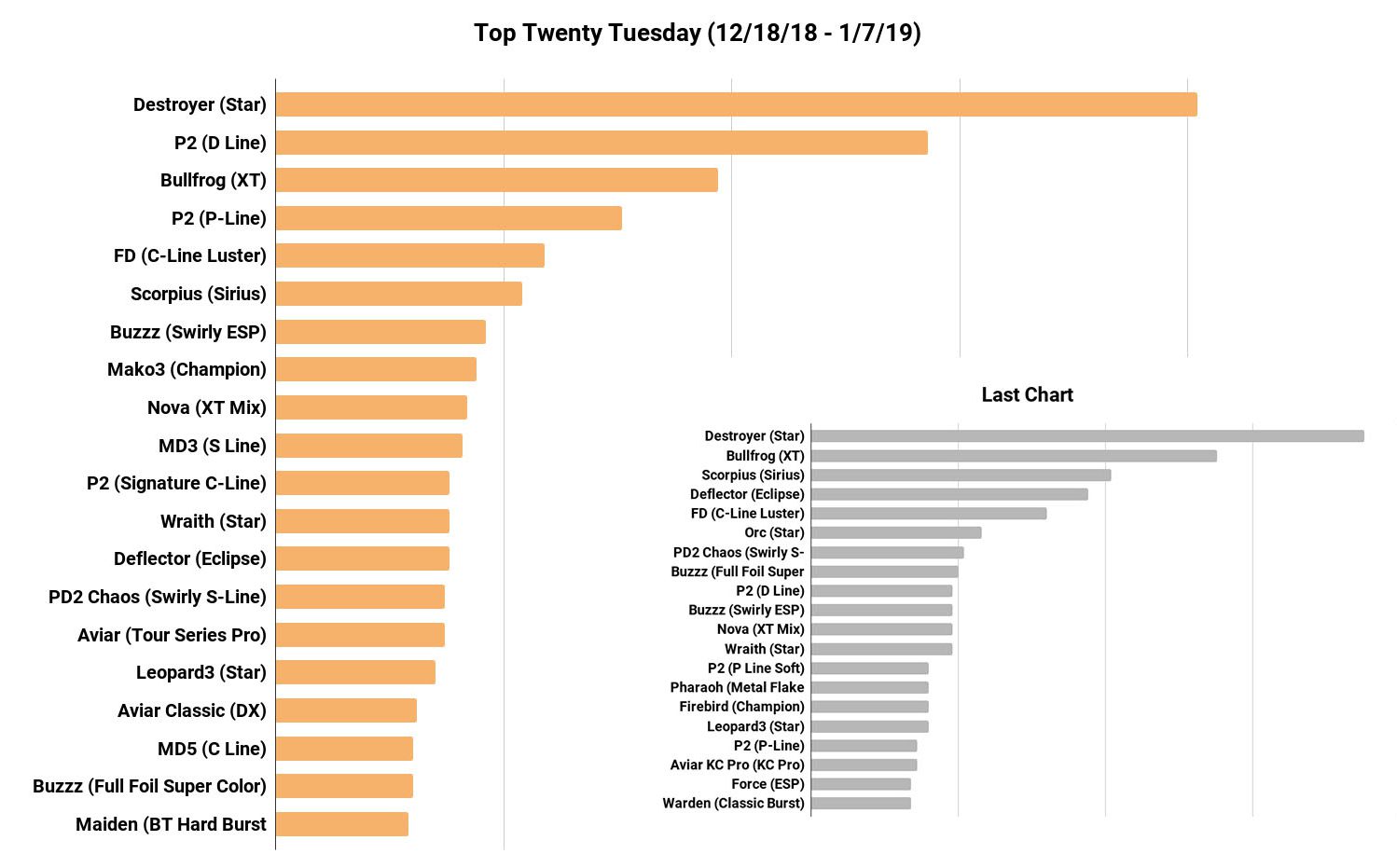 The P2 and Destroyer have kept a strong presence at the top of the chart through the holidays, and the new Bullfrog flat-topped putter from Innova moved to the number 3 spot. The Scorpius by Millennium discs is holding strong at number 6, thanks to Gregg Barsby's hot signature edition.  We can see a lot of discs hanging around that have been regulars in the chart, plus a few of the special editions still getting some love.
In case you are interested, here is a little chart that compares how many time each brand appeared on this week's chart.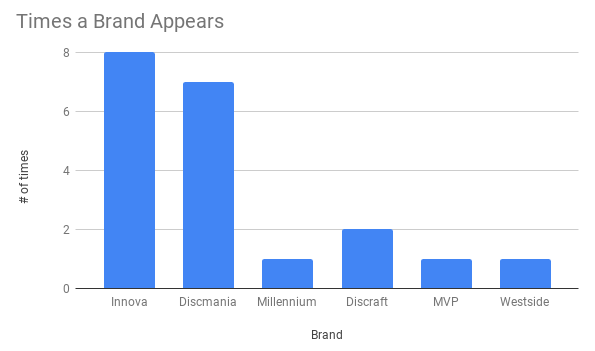 We expect to see some Discraft discs spiking the charts in the coming weeks as Paul McBeth signature discs are introduced to the market. With the holidays over, keep an eye on this blog for regular weekly charts.
–> Each week we'll invite you to leave a prediction for a certain chart position on next week's TOP TWENTY TUESDAY report. The first three people to predict that chart position correctly in the comments will win a $15 gift card for the Infinite Discs website.
WINNER – There were actually five people who guess the #3 position for this return chart. Since it has been three weeks, we'll go ahead and award all five with a gift card. Congratulations Steven, Matthew, Ryan, Kyle, and Matthew! The Bullfrog was the winning guess.
GIFT CARD PREDICTION FOR NEXT WEEK:  Leave your comment below this blog to predict the #7 spot for next week's chart.