TOP TWENTY TUESDAY – JULY 2ND 2019

Welcome to another Top 20 Tuesday sales chart. We break these charts down by plastics as well so you can see which plastic types are most popular for each disc. New discs will often spike in the chart as other top sellers shuffle position. The chart is created by sales figures that are pulled from all Infinite Discs sales for the previous week — our customers decide the results with their purchases.
Top Twenty Tuesday for July 2nd, 2019
#1 – Big Z LUNA
#2 – Prism Proton PYRO
#3 – ESP ZEUS (formerly the Kong)
#4 – Star DESTROYER
#5 – R-Pro PIG
#6 – Neutron STABILIZER
#7 – Cosmic Neutron STABILIZER
#8 – Cosmic Electron Firm ENVY
#9 – Cosmic Electron Medium ENVY
#10 – Swirly Star WRAITH
#11 – Fission PHOTON
#12 – Tour ESP BUZZZ
#13 – Star WRAITH
#14 – D-Line P2
#15 – Discraft Special Blend LUNA
#16 – DX AVIAR
#17 – K3 REKO
#18 – Cosmic Electron Soft ENVY
#19 – KC Pro ROC
#20 – Star SONIC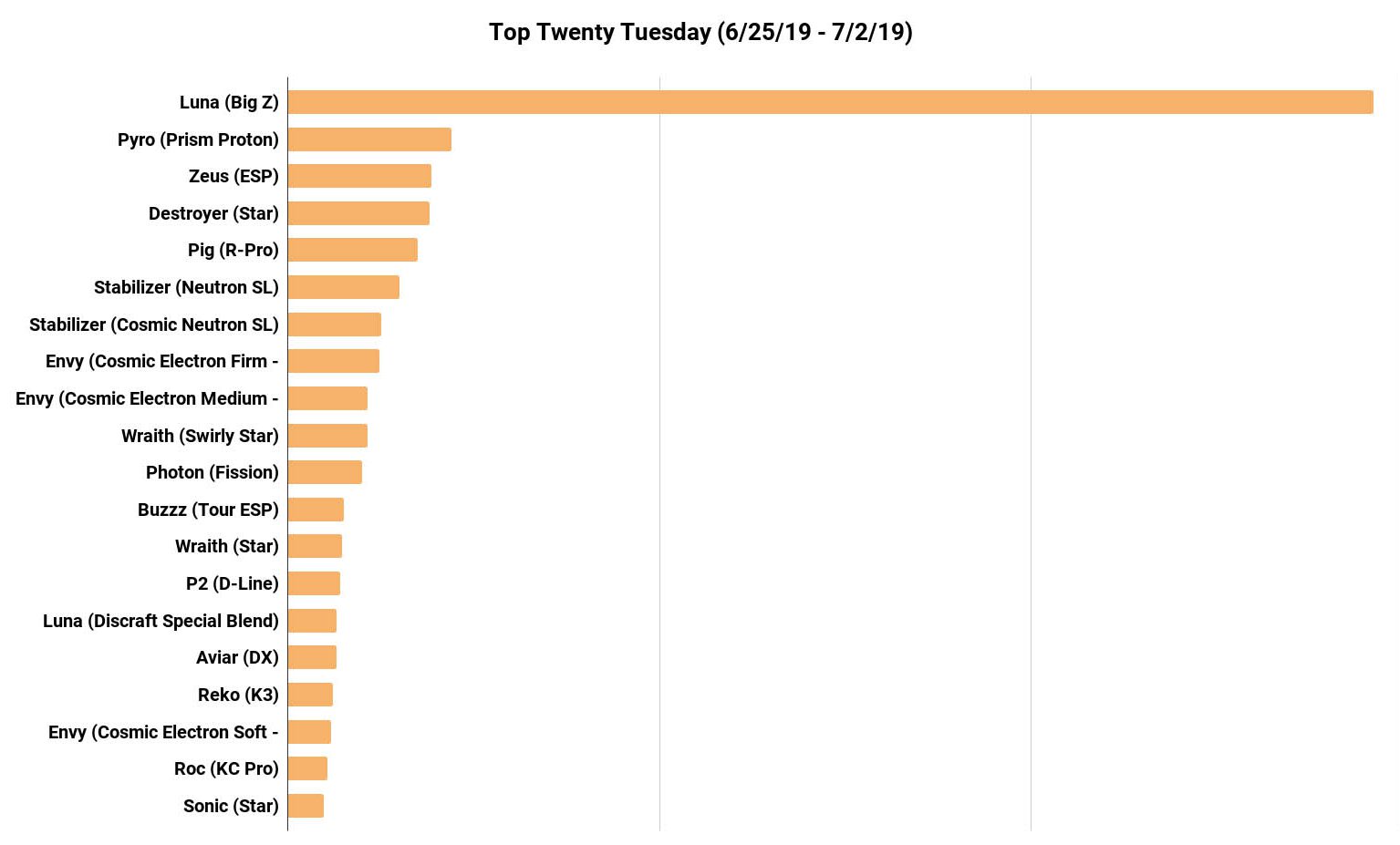 We saw almost a complete change-out of the entire top 20 chart from last week. Very few discs remained on the chart as new releases dominated this last week. The Big Z LUNA completely overshadowed everything else in terms of quantity sold. It was a popular limited edition release that got a lot of attention as Paul McBeth was seen bombing it for long distances in tournament play.
Then the new releases from Axiom, MVP, and Streamline really filled up the chart with the Stabilizer overstable putt-and-approach from Streamline taking two spots in two plastics, the Cosmic Electron Envy taking three spots with firm, medium, and soft, and the Prism Proton PYRO shooting on up to the #2 spot on the chart.
You'll notice that the name of the Kong changed to the ZEUS and took the #3 spot. The original prototypes are running out now as the official "first run" approaches. The Star DESTROYER held on strong with the #4 spot and the R-Pro PIG is still seeing love with the flying pig stamp and moved to #5 on the cart.
Here is how the brands looked this last week with the number of spots they claimed on the chart: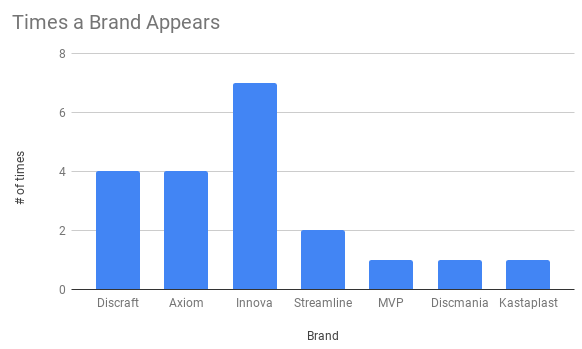 –> Each week we'll invite you to leave a prediction for a certain chart position on next week's TOP TWENTY TUESDAY report. The person to predict that chart position correctly in the comments will win a $10 gift card for the Infinite Discs website.
WINNER – The #20 spot was a hard one to guess. Nobody hit it right with the Star Sonic this week, which probably got a bump from Garrett Gurthie's weekend win. Congratulations to Garrett, but sorry to the guesses for the week.
GIFT CARD PREDICTION FOR NEXT WEEK:  Leave your comment below to guess the #10 spot for next week. Good luck!