TOP TWENTY TUESDAY – JULY 9TH 2019

Welcome to another Top 20 Tuesday sales chart. We break these charts down by plastics as well so you can see which plastic types are most popular for each disc. New discs will often spike in the chart as other top sellers shuffle position. The chart is created by sales figures that are pulled from all Infinite Discs sales for the previous week — our customers decide the results with their purchases.
Top Twenty Tuesday for July 9th, 2019
#1 – Prism Proton PYRO
#2 – Nexus FIREFLY
#3 – Neo METHOD
#4 – ESP ZEUS (formerly the Kong)
#5 – Star DESTROYER
#6 – Lucid RAIDER
#7 – Star ORC
#8 – Swirly S-Blend X-Out PHARAOH
#9 – R-Pro PIG
#10 – Star SONIC
#11 – DX VALKYRIE
#12 – Star WRAITH
#13 – D-Line P2
#14 – ESP BUZZZ
#15 – DX CONDOR
#16 – DX AVIAR
#17 – Metal Flake Glow C-Blend PHARAOH
#18 – Neo INSTINCT
#19 – Splatter S-Blend EMPEROR
#20 – Opto RIVER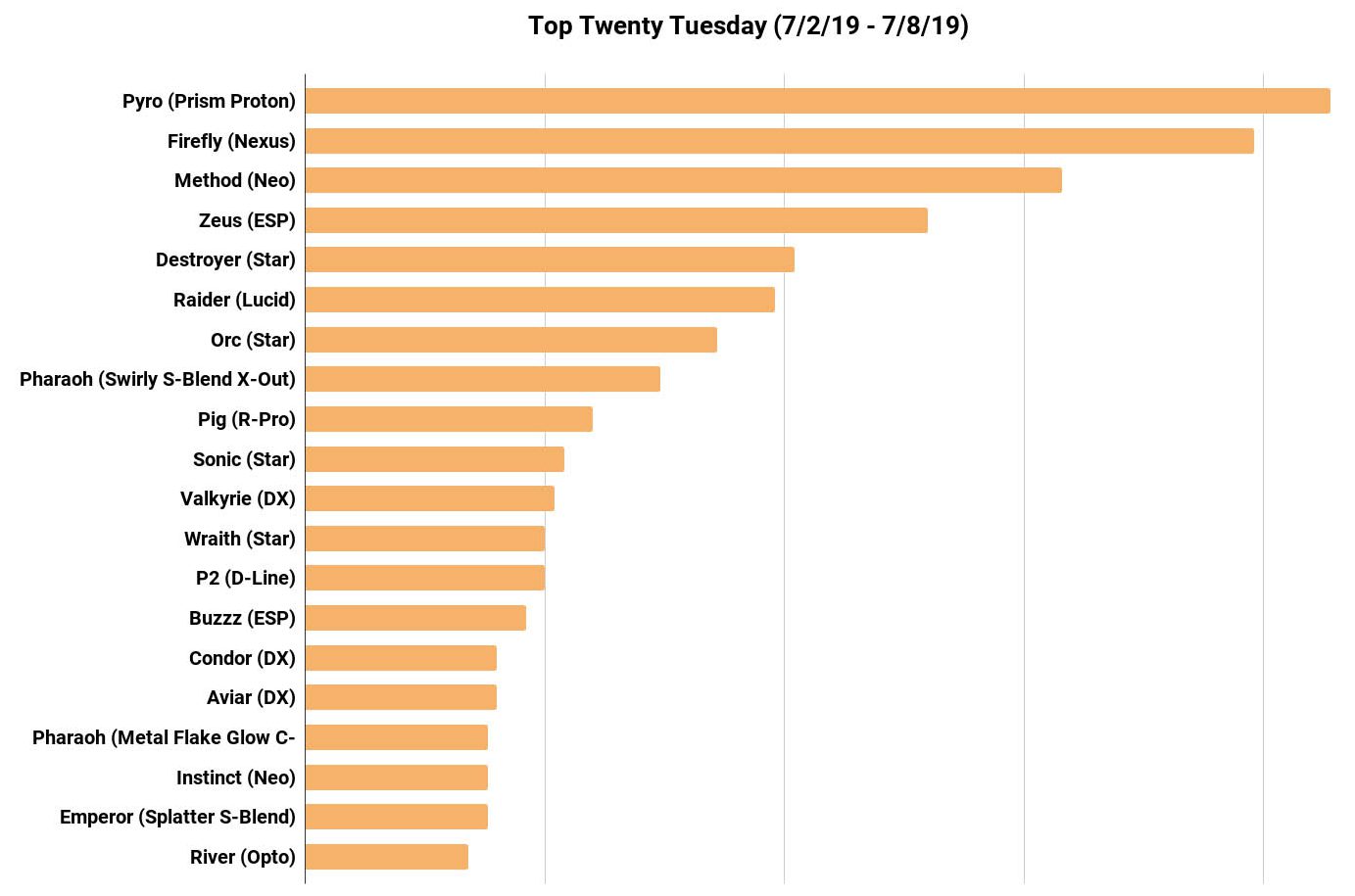 The new Prism PYRO by Axiom took the number one spot, followed by the Nexus FIREFLY which made its debut last week (Nate Sexton's new signature Putter). The Neo METHOD by Discmania is right up there at #3 with the Neo INSTINCT also hitting the chart at #18.
The Discraft ZEUS (used to be the KONG) is in 4th place as the prototype supply diminishes, and the Star DESTROYER holds strong at #5. The Lucid RAIDER, which has been a hard one to get in the general disc golf market, comes in at #6 in the special edition with the additional ring bottom-stamp. Much of the list seems made up of old favorites and stock editions, which means that the burst of new releases settled quickly.
–> Each week we'll invite you to leave a prediction for a certain chart position on next week's TOP TWENTY TUESDAY report. The person to predict that chart position correctly in the comments will win a $10 gift card for the Infinite Discs website.
WINNER – The #10 spot was snagged by the Star Sonic this week, which is Garrett Gurthie's signature Innova disc. We had one guess for the Star Sonic, so congratulations to Kester for getting it right!
GIFT CARD PREDICTION FOR NEXT WEEK:  Leave your comment below to guess the #5 spot for next week. Good luck!