TOP TWENTY TUESDAY – JUNE 9TH 2020

It is time once again for our look back at the last week of sales. This weekly chart is generated from the sales figures at Infinite Discs – the purchases made by our customers are the only contributing factor to the statistics. We break the results down by disc model and plastic type so you can see which plastic types are selling the most. Here we go…
Top Twenty Tuesday for JUNE 9TH, 2020
#1 – Tour Z Swirl LUNA
#2 – Z Misprint BUZZZ
#3 – Cosmic Electron PROXY
#4 – Signature Z Line XTREME
#5 – P-Line P2
#6 – Star DESTROYER
#7 – Z Line ZONE
#8 – Electron PROXY
#9 – Signature ESP Misprint MALTA
#10 – Discraft Prototype Putter Blend FIERCE
#11 – EXO Hard LINK
#12 – Neo ESSENCE
#13 – Z Misprint AVENGER SS
#14 – XT NOVA
#15 – Opto RIVER
#16 – Neutron SL FLARE
17 – Pro-D BUZZZ
#18 – Big Z BUZZZ
#19 – C-Line FD
#20 – Big Z BUZZZ SS.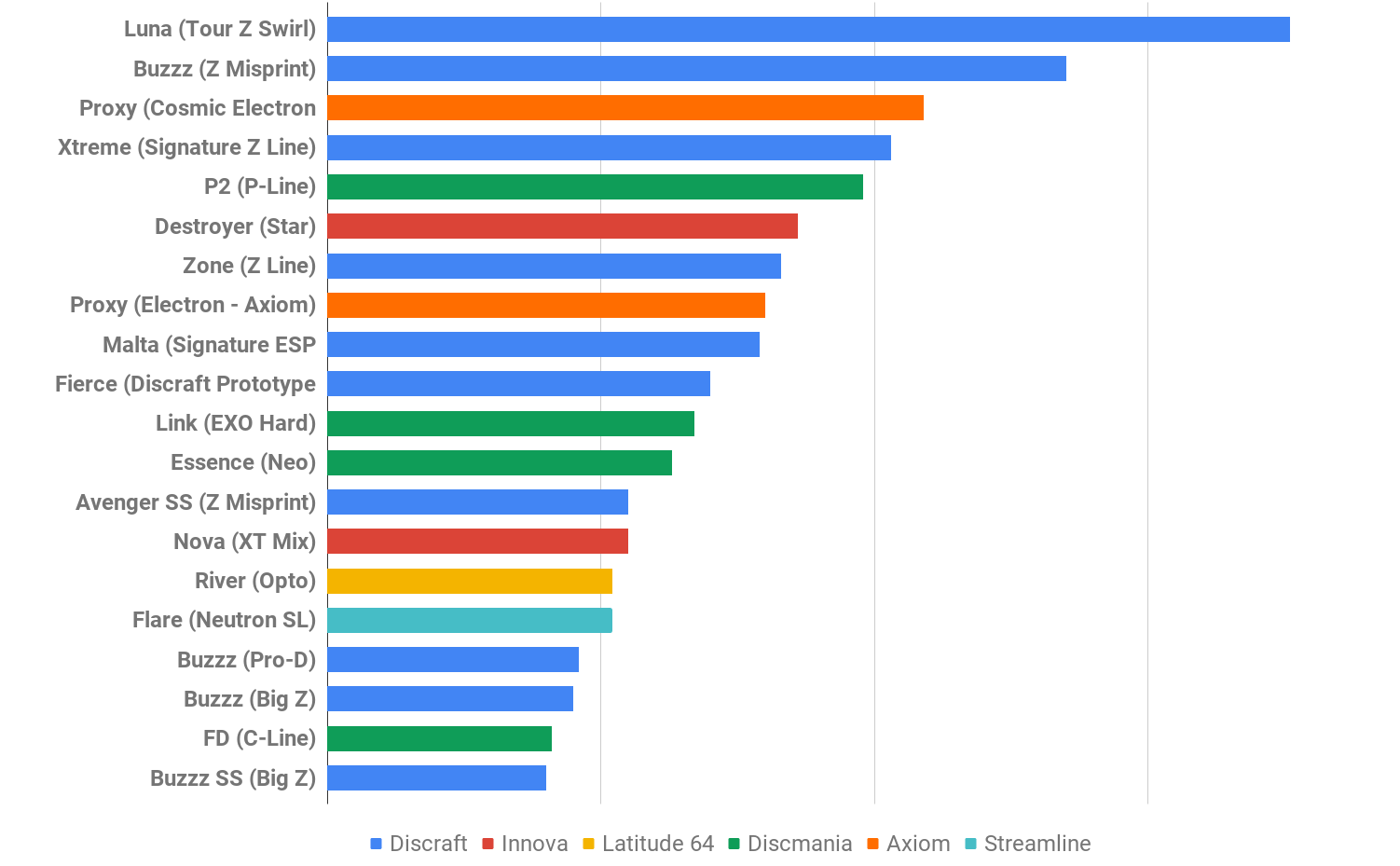 This week has a strange chart. The Tour Z Swirl LUNA is in high demand, but was limited in its sales by availability. The new Electron release of the PROXY hit the chart in two different plastic types, but was also limited by timely arrival of the new discs. So, with the lack of many of the most popular models, several misprints and infrequent top-sellers popped into the chart. It's a chart with more variety than some of the past, for sure.
Here is a look at how many times each brand appeared on the chart. With 6 different brands appearing, it's more variety than we've seen in a while, though Discraft still took half of the chart positions: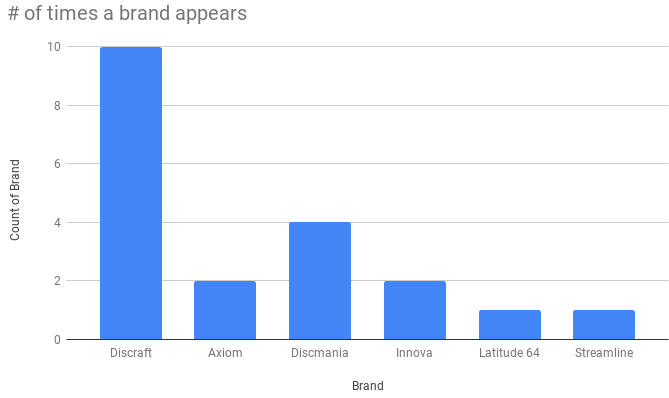 –> Each week we'll invite you to leave a prediction for a certain chart position on next week's TOP TWENTY TUESDAY report. The person to predict that chart position correctly in the comments will win a $10 gift card for the Infinite Discs website.
WINNER – The #5 spot this week was taken by the P-Line P2, probably because the more popular D-Line P2 sold out and that is the closest option. Nobody guessed it right this week. To get it right, it is going to take some creative guessing, picking what might sell well in the absence of the usual top sellers. At least until restock starts to come in. Hint: we do expect a huge Innova restock this week.
GIFT CARD PREDICTION FOR NEXT WEEK:  Leave your comment below to guess the #6 spot for next chart.  It will go to the FIRST person to get it right. Good luck!