TOP TWENTY TUESDAY – MARCH 12TH 2019

Infinite Discs is happy to present another Top 20 Tuesday chart, looking back at the discs that sold the most during the last week. We break these charts down by plastics as well so you can see which plastic types are most popular for each disc. New discs will often spike in the chart as other top sellers shuffle position. It can be fun to see which discs keep up the pace.
Here we go…
Top Twenty Tuesday for March 11th, 2019
#1 – Champion Colored Glow FIREBIRD
#2 – Star DESTROYER
#3 – D-Line P2
#4 – Signature ESP BUZZZ
#5 – Star ORC
#6 – ESP BUZZZ
#7 – Star WRAITH
#8 – Champion FIREBIRD
#9 – Metal Flake Glow C-Blend PHARAOH
#10 – ESP FORCE
#11 – Jawbreaker ZONE
#12 – Star TEEBIRD
#13 – Signature Elite Z ZONE
#14 – KC Pro AVIAR
#15 – Star SONIC
#16 – P-Line P2
#17 – Classic Blend Burst WARDEN
#18 – DX AVIAR
#19 – Champion FIRESTORM
#20 – Signature Elite Z FORCE
With our first shipment of the Nate Sexton Champion Colored Glow FIREBIRDS last week, that disc noticeably demolished all of the competition, making even the trusty Star Destroyer look like a very weak spot #2. The other contenders in this week's chart are familiar from previous charts, including three of the McBeth signature discs from Discraft and a couple version of the Discmania P2, among others.
This week we thought it would be fun to take a look at the chart of what was selling during the same week last year. In 2018, you can see that there were several new releases and special editions stealing the spotlight: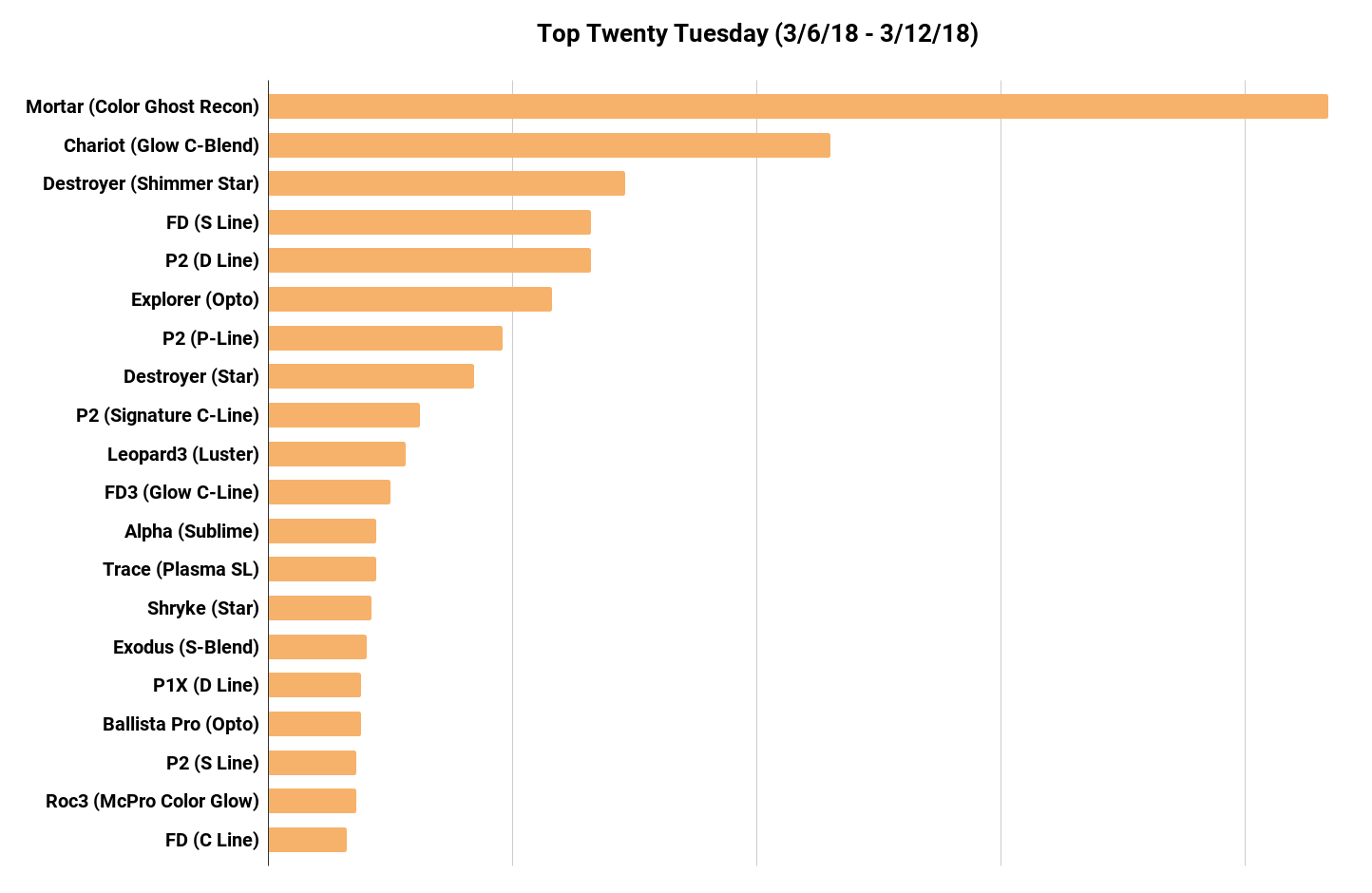 We'll continue to show the previous year's best-sellers from time to time, just for a walk down memory lane to see what was hot a year ago compared to what it hot today.
–> Each week we'll invite you to leave a prediction for a certain chart position on next week's TOP TWENTY TUESDAY report. The first three people to predict that chart position correctly in the comments will win a $10 gift card for the Infinite Discs website.
WINNER – The #11 spot this week ended up being a rogue entry with the Jawbreaker ZONE. While it was not previously on the chart, those sales must have been fueled by a big Discraft restock last week. Unfortunately, nobody guessed the Jawbreaker Zone, so we have no winners this week. But be sure to guess again fro next week's chart!
GIFT CARD PREDICTION FOR NEXT WEEK:  Leave your comment below this blog to predict the #8 spot for next week's chart.