TOP TWENTY TUESDAY – MARCH 17TH 2020

It is time once again for our look back at the last week of sales. This weekly chart is generated from the sales figures at Infinite Discs – the purchases made by our customers are the only contributing factor to the statistics. We break the results down by disc model and plastic type so you can see which plastic types are selling the most. Here we go…
Top Twenty Tuesday for March 17TH, 2020
#1 – Champion Colored Glow FIREBIRD
#2 – Discraft Special Blend LUNA
#3 – Signature ESP ZEUS
#4 – ESP SURGE
#5 – C-Blend Glow Hye8Dye AZTEC
#6 – Discraft Prototype Putter Blend FIERCE
#7 – Star DESTROYER
#8 –ESP BUZZZ
#9 – ESP ZONE
#10 – Cryztal FLX Sparkle ZONE
#11 – Jawbreaker ZONE
#12 – D-Line P2
#13 – Z-Line BUZZZ
#14 – Champion MAKO3
#15 – ESP HEAT
#16 – Signature Swirly S-Blend EMPEROR
#17 – Opto SAPPHIRE
#18 – Gold Line SAPPHIRE
#19 – Swirly S-Blend X-Out EMPEROR
#20 – ESP UNDERTAKER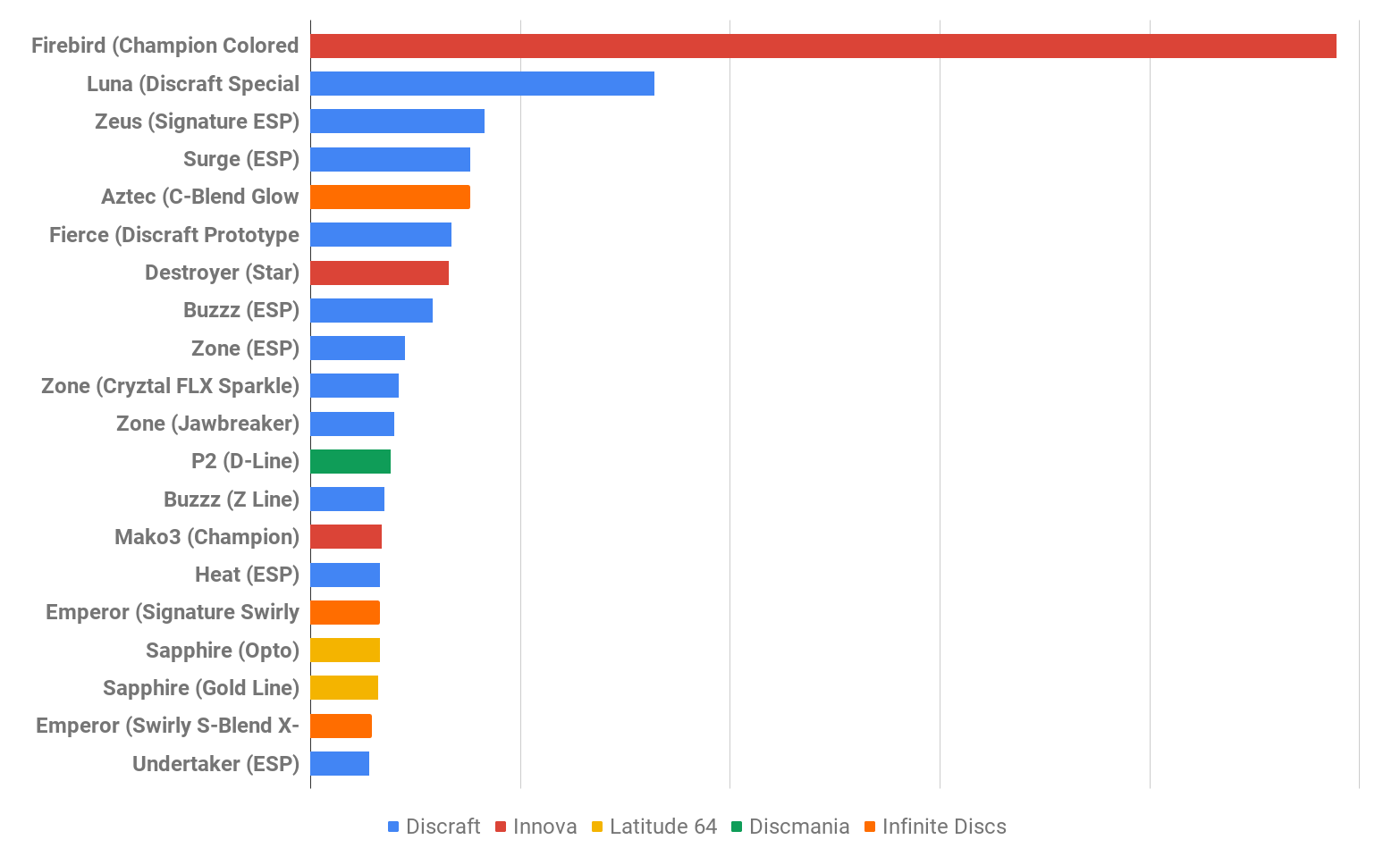 The Nate Sexton FIREBIRDS easily took the #1 spot last week as we finally got enough inventory so that everybody who wanted one could get one. Those should remain a popular seller throughout the year. The LUNA and ZEUS are still holding strong. Last week the ESP SURGE took the #4 spot as a special release at Infinite Discs. The extremely unique and impressive C-Blend Glow Hye8Dye AZTEC discs sold very quickly, giving them the #5 spot for the week.
Interestingly, the Discraft ZONE took three different spots in three different plastic types. That helped to boost the number of Discraft spots this week to 11, helping the brand to take over half the spots in the top 20. Here is a look at how many times each brand appeared on this week's chart: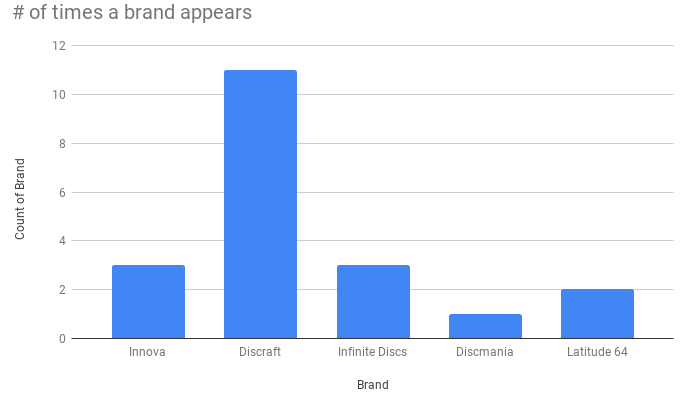 –> Each week we'll invite you to leave a prediction for a certain chart position on next week's TOP TWENTY TUESDAY report. The person to predict that chart position correctly in the comments will win a $10 gift card for the Infinite Discs website.
WINNER – The #5 spot this week was taken by C-Blend Glow Hye8Dye AZTEC. That was something of a surprise, since the disc is a pricey and unique one. But Aaron still managed to guess it right and is this week's winner!
PLEASE NOTE– all comments (including guesses) don't show up immediately when you make them, since all comments are approved by admin first. So you may not see the guesses that were made before yours until we approve a bunch of comments the next day. Sorry about that, but that's the way we can avoid spam or inappropriate comments. The time stamp is still valid, based on when the comment was made (not when it was approved).
GIFT CARD PREDICTION FOR NEXT WEEK:  Leave your comment below to guess the #6 spot for next chart.  It will go to the FIRST person to get it right. Good luck!