TOP TWENTY TUESDAY – MAY 4TH 2021

Welcome to the Top 20 Tuesday chart! Every week we take a look at the twenty top-selling discs on the Infinite Discs website, broken down by plastic type as well. So these are the top sellers for the last seven days in order.
Top Twenty Tuesday for May 4th 2021
#1 – Signature D-Blend Glow ALPACA
#2 – D-Blend ALPACA
#3 – Signature I-Blend ALPACA
#4 – Z Midnight ZONE
#5 –Star DESTROYER
#6 –  Discraft Special Blend LUNA
#7 – Star X-Out DESTROYER
#8 – Signature Swirly EMPEROR
#9 – Star WRAITH
#10 – Halo Star WRAITH
#11 – Tiger Line YAN
#12 –ESP ZONE
#13 – Champion X-Out FIREBIRD
#14 – DX AVIAR
#15 – Ethereal MANTRA
#16 – Cosmic Neutron VOLT
#17 – Prime Burst EMAC JUDGE
#18 – KC Pro AVIAR
#19 – Champion X-Out SIDEWINDER
#20 – KC Pro ROC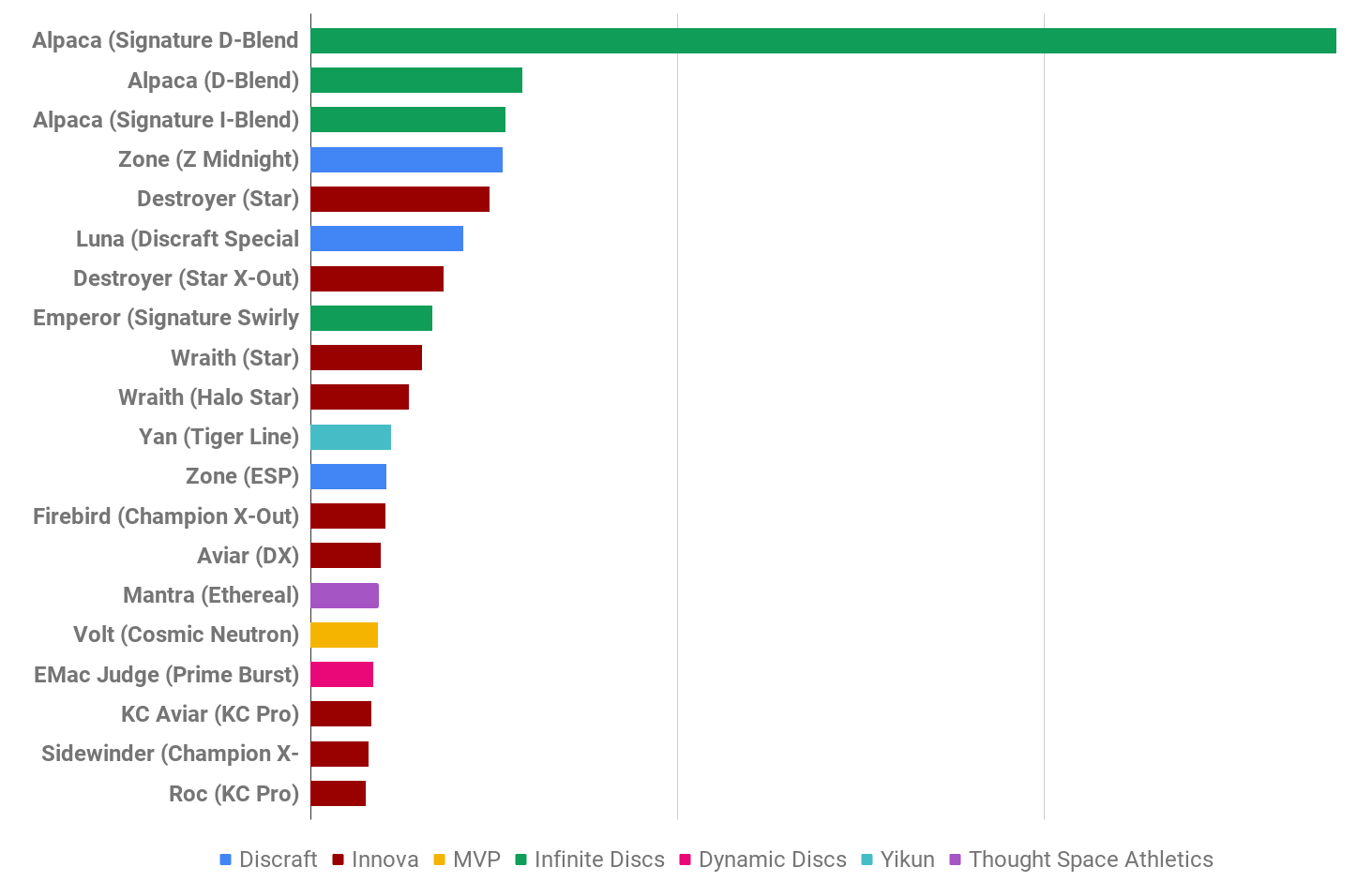 The top of the chart was dominated by the ALPACA putter last week with the Kona Panis Signature Glow D-Blend ALPACA taking the number one spot by a longshot as the limited supply instantly sold out on release day. The D-Blend Alpaca took the #2 spot while the Alex Tews Signature I-Blend Alpaca took the #3 spot. A lot of X-Outs made their way onto the chart again as the supply of regular stock editions dwindled. The new YAN by Yikun debuted at #11. Some other Pro Masters Worlds stamped discs hit the chart, like the Luna, Zone, and Volt.
Here is a look at how many times the different brands hit the chart this week: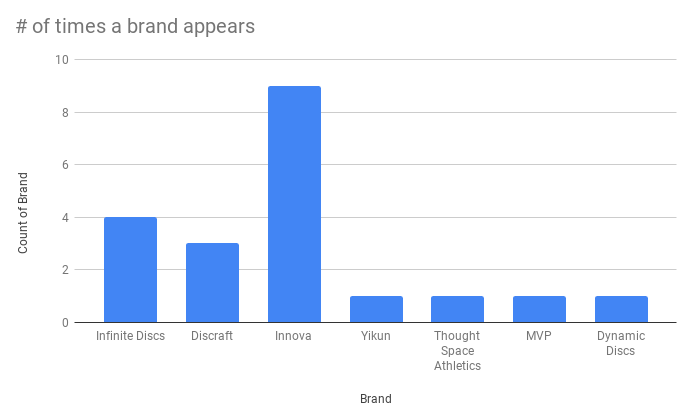 –> Each week we'll invite you to leave a prediction for a certain chart position on next week's TOP TWENTY TUESDAY report. The person to predict that chart position correctly in the comments will win a $10 gift card for the Infinite Discs website.
WINNER – This week the #10 spot was the Halo Star Wraith this week. It doesn't look like anybody picked that for the number ten spot this week, so we don't have a winner. But be sure to try again for next week!
NEXT WEEK: Guess the #11 spot for next week. The first person to get it right (include the disc model and plastic type) will win!
THANKS FOR READING AND WATCHING EACH WEEK!