TOP TWENTY TUESDAY – OCTOBER 8TH 2019

Welcome to another Top 20 Tuesday sales chart. We break these charts down by plastics as well so you can see which plastic types are most popular for each disc. New discs will often spike in the chart as other top sellers shuffle position. The chart is created by sales figures that are pulled from all Infinite Discs sales for the previous week — our customers decide the results with their purchases.
Top Twenty Tuesday for October 8th, 2019
#1 – Star DESTROYER
#2 – D-Line P2
#3 – ESP BUZZZ
#4 – DX ROC
#5 – ESP ZEUS
#6 – Champion Colored Glow FIREBIRD
#7 – Tortoise Line TOMAHAWK
#8 – Discraft Special Blend LUNA
#9 – ESP MALTA
#10 – Lucid VANDAL
#11 – DX AVIAR CLASSIC
#12 – ESP ANAX
#13 – P-Line Stiff P2
#14 – Pro PIG
#15 – Retro KEYSTONE
#16 – Nexus FIREFLY
#17 – Star WRAITH
#18 – Big Jerm Concrete SLAB
#19 – DX Golor Glow AVIAR
#20 – Flashflight LED PUTTER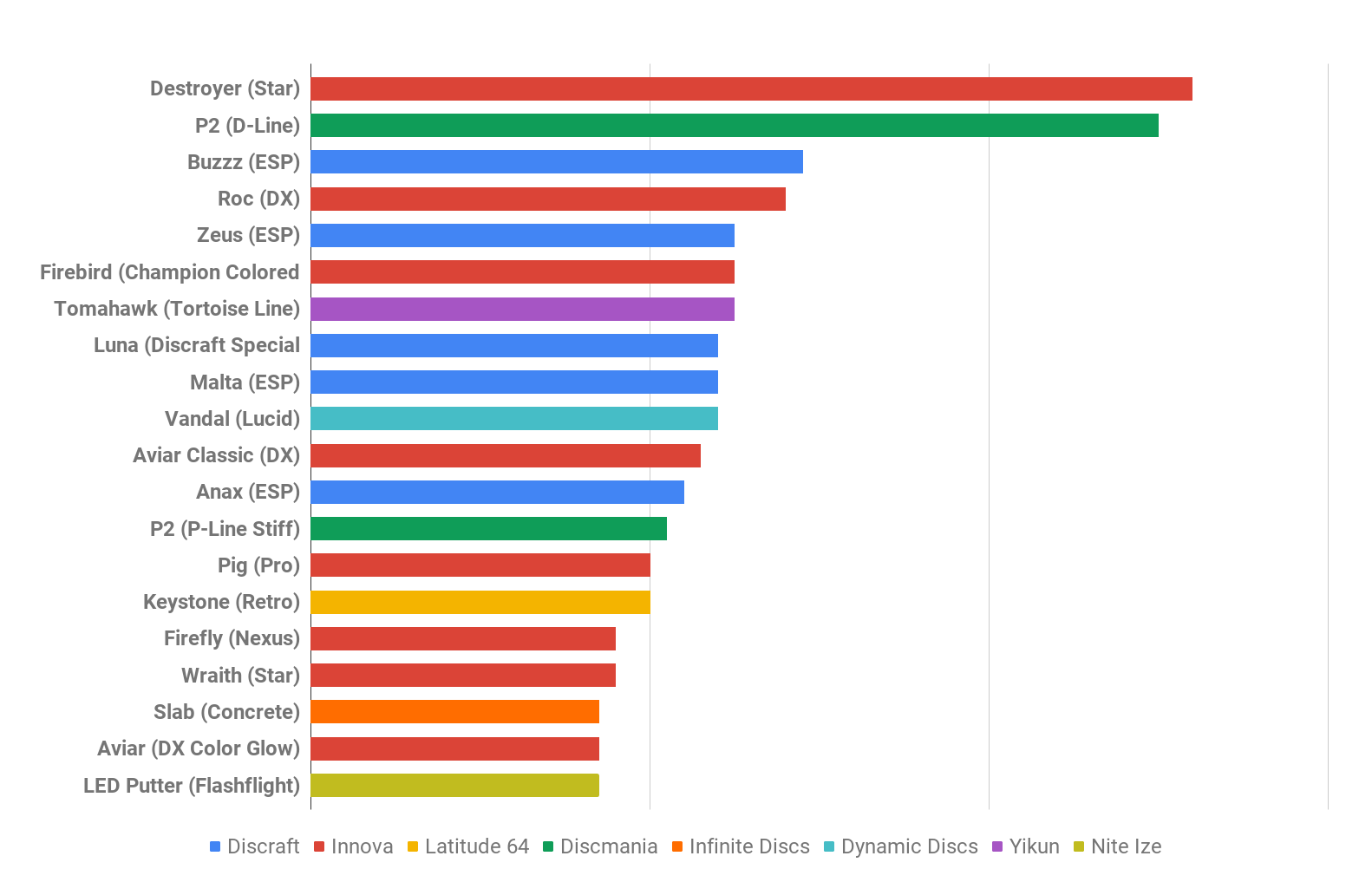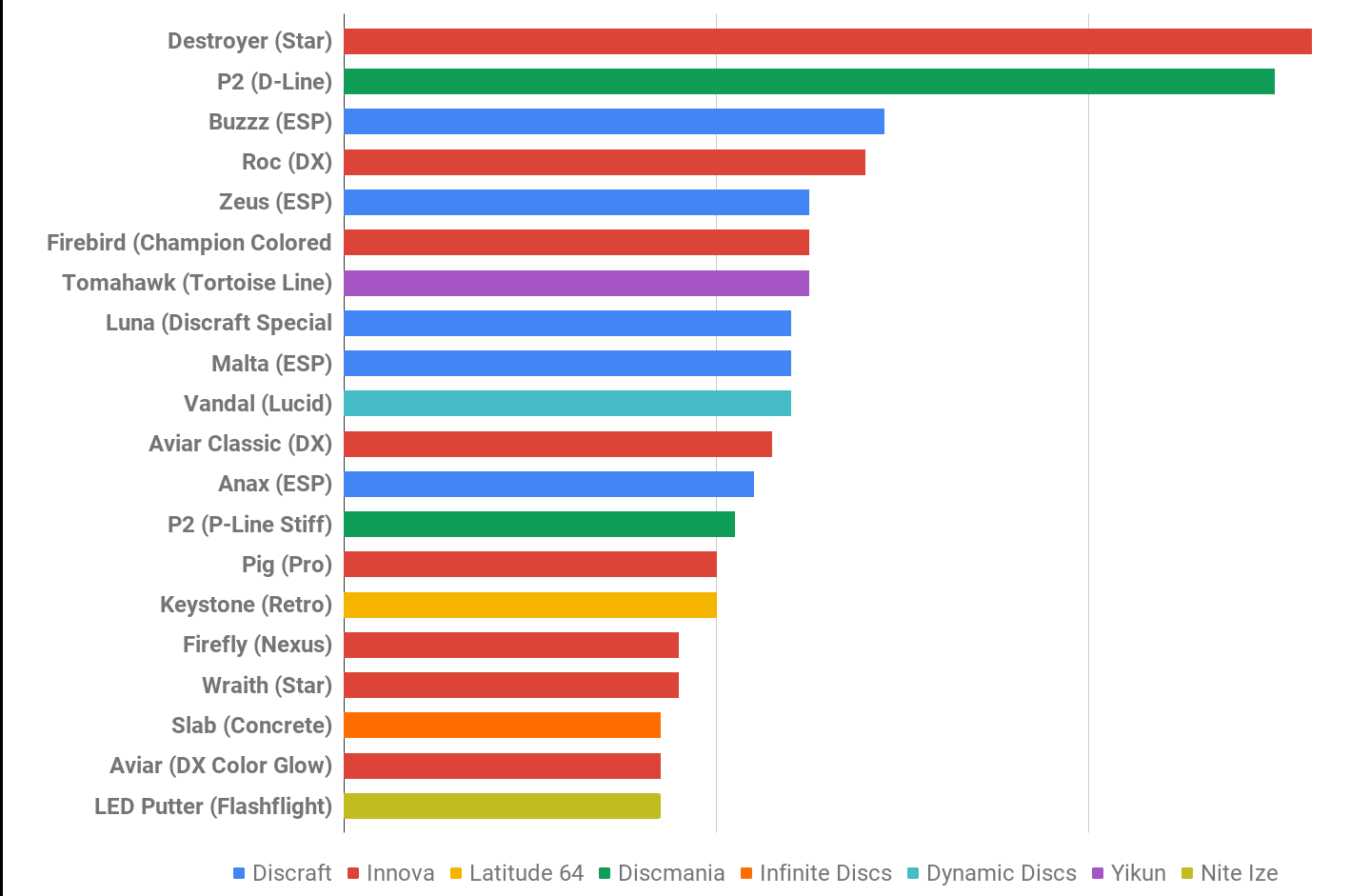 The charge understandably has the Star Destroyer, D-Line P2, and ESP Buzzz in the top three positions since we put those three discs on sale for this week. You can still get those at a discount price through Saturday the 12th of October. A lot of other regular sellers are on the chart this week with discs like the Aviar, Roc, and Wraith grabbing spots, and the usual Discraft Paul McBeth entries like the Zeus, Malta, Luna, and Anax. The Dynamic Discs VANDAL charted well in the #10 spot with the Latitude 64 KEYSTONE hitting at #15– both of those were Trilogy Challenge discs this year.
Also scraping the chart was the LED Putter by Nite Ize. As darkness comes earlier now, the Nite Ize discs have been selling well and have also been discounted. Just to reward you for reading this far, if you want to try the Nite Ize discs HERE and get an even crazier discount, then just use the discount code hiddencode before you checkout and you'll get a crazy discount on those LED discs. We just want to see if you kept reading to this point.
–> Each week we'll invite you to leave a prediction for a certain chart position on next week's TOP TWENTY TUESDAY report. The person to predict that chart position correctly in the comments will win a $10 gift card for the Infinite Discs website.
WINNER – The number 10 spot was taken by the Lucid VANDAL by Dynamic Discs. It looks like nobody picked the Vandal for that spot on the guesses. Sorry, no gift card this week, but be sure to post your guess for next week for another chance at a win!
GIFT CARD PREDICTION FOR NEXT WEEK:  Leave your comment below to guess the #7 spot for next week. It will go to the FIRST person to get it right. Good luck!