TOP TWENTY TUESDAY – OCTOBER 15TH 2019

Welcome to another Top 20 Tuesday sales chart. We break these charts down by plastics as well so you can see which plastic types are most popular for each disc. New discs will often spike in the chart as other top sellers shuffle position. The chart is created by sales figures that are pulled from all Infinite Discs sales for the previous week — our customers decide the results with their purchases.
Top Twenty Tuesday for October 15th, 2019
#1 – James Conrad Glow Pro AVIAR
#2 – D-Line P2
#3 – Star DESTROYER
#4 – ESP BUZZZ
#5 – Discraft Special Blend LUNA
#6 – P-Line Stiff P2
#7 – ESP ZEUS
#8 – Nexus FIREFLY
#9 – ESP MALTA
#10 – Plasma WAVE
#11 – Special Blend Swirly RIFT
#12 – ESP ANAX
#13 – R-Pro PIG
#14 – Z Line BUZZZ
#15 – Star WRAITH
#16 – K3 REKO
#17 – Signature Glow C-Line MD3
#18 – S-Line DD3
#19 – C-Blend SCEPTER
#20 – Prime WARDEN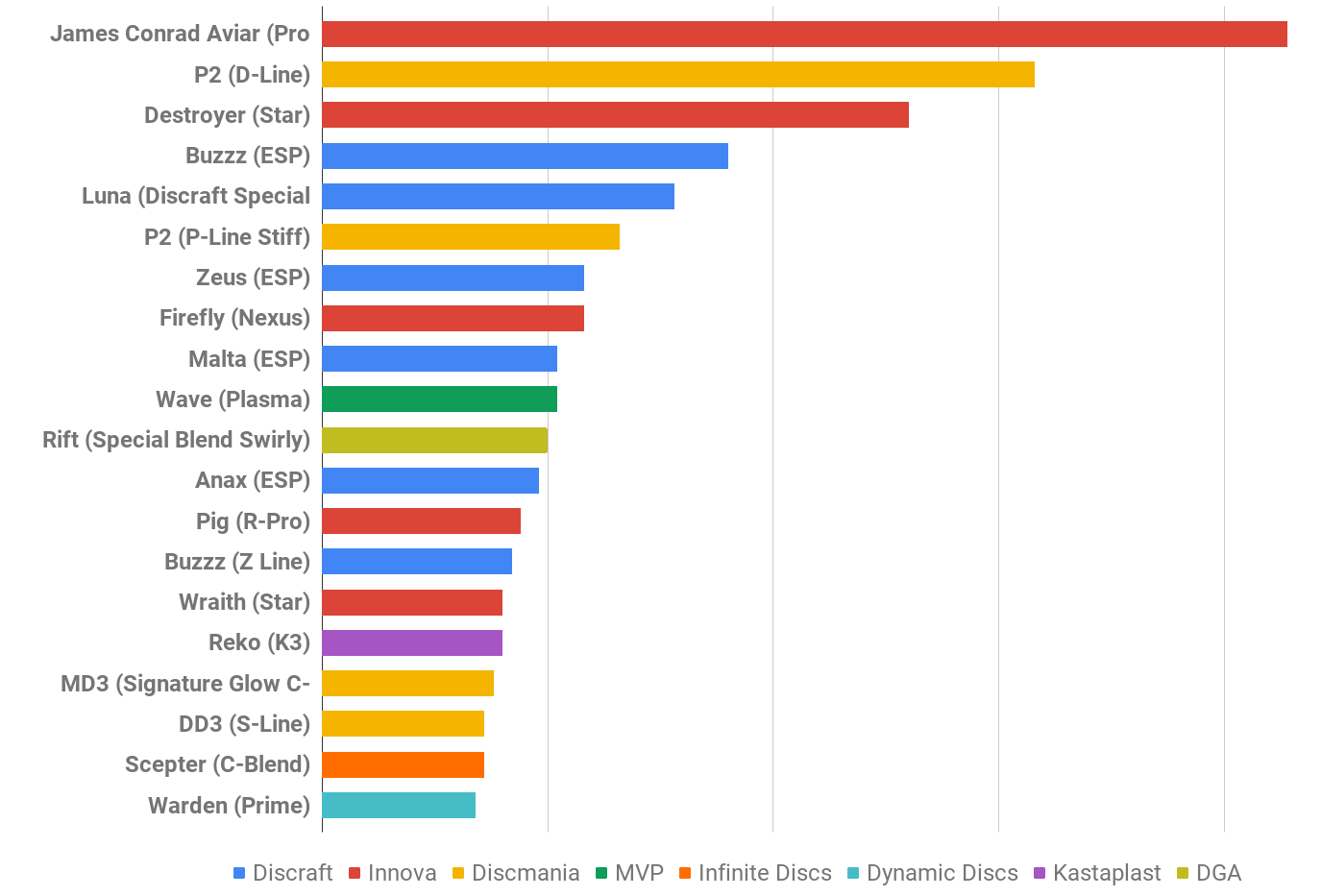 James Conrad took the #1 spot this last week with his USDGC championship commemorative AVIAR which sold out right away. Then the #2 spot went to the trusty D-Line P2 with the P-Line Stiff P2 grabbing the #6 spot as well.  The Star DESTROYER took the #3 spot as it always hangs out near the top, with the ESP BUZZZ taking the #4.
The Plasma WAVE entered the chart to the #10 spot, just on the strength of a restock. The Special Blend Swirly RIFT by DGA hit the #11 spot as it was a Focus Friday featured disc and grabbed some positive attention. Other discs on the chart are regulars while the C-Blend SCEPTER touched the chart in the #19 spot with a new stock stamp. If you want to try a Scepter, here is a secret discount code for reading this far– hiddencode.  Put that in the discount code box for an extra 20% off any Scepter in your shopping cart.
Here is a look at how many times different brands were on this week's chart: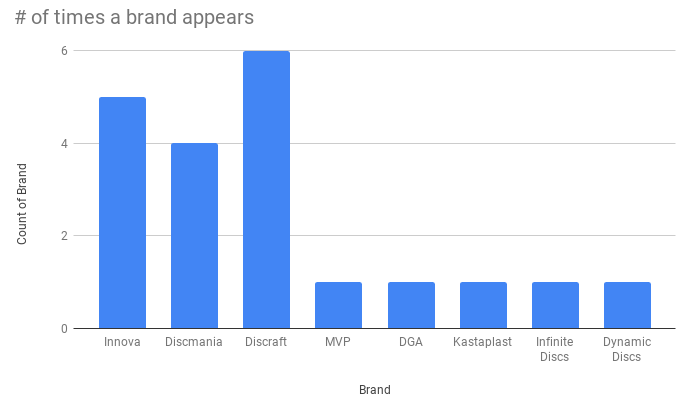 –> Each week we'll invite you to leave a prediction for a certain chart position on next week's TOP TWENTY TUESDAY report. The person to predict that chart position correctly in the comments will win a $10 gift card for the Infinite Discs website.
WINNER – The number 7 spot was taken by the ESP ZEUS by Discraft. That's one of the lower placements it has had on the chart for a while. A couple of guys guessed it right, but the first to guess the ESP Zeus for #7 was Daniel. Congrats on the win!
GIFT CARD PREDICTION FOR NEXT WEEK:  Leave your comment below to guess the #20 spot for next week. It will go to the FIRST person to get it right. Good luck!