TOP TWENTY TUESDAY – OCTOBER 22ND 2019

Welcome to another Top 20 Tuesday sales chart. We break these charts down by plastics as well so you can see which plastic types are most popular for each disc. New discs will often spike in the chart as other top sellers shuffle position. The chart is created by sales figures that are pulled from all Infinite Discs sales for the previous week — our customers decide the results with their purchases.
Top Twenty Tuesday for October 22nd, 2019
#1 – Star DESTROYER
#2 – Discraft Special Blend LUNA
#3 – D-Line P2
#4 – Star WRAITH
#5 – S-Line PD FREAK
#6 – Splatter S-Blend X-Out PHARAOH
#7 – DX X-Out LEOPARD
#8 – K2 BERG
#9 – Swirly S-Blend PHARAOH
#10 – Star TEEBIRD
#11 – Star VALKYRIE
#12 – Tortoise Line METEOR HAMMER
#13 – Tortoise Line TOMAHAWK
#14 – ESP MALTA
#15 – Nexus FIREFLY
#16 – Electron Firm PILOT
#17 – Star X-Out DESTROYER
#18 – R-Pro PIG
#19 – DX AVIAR
#20 – Star SHRYKE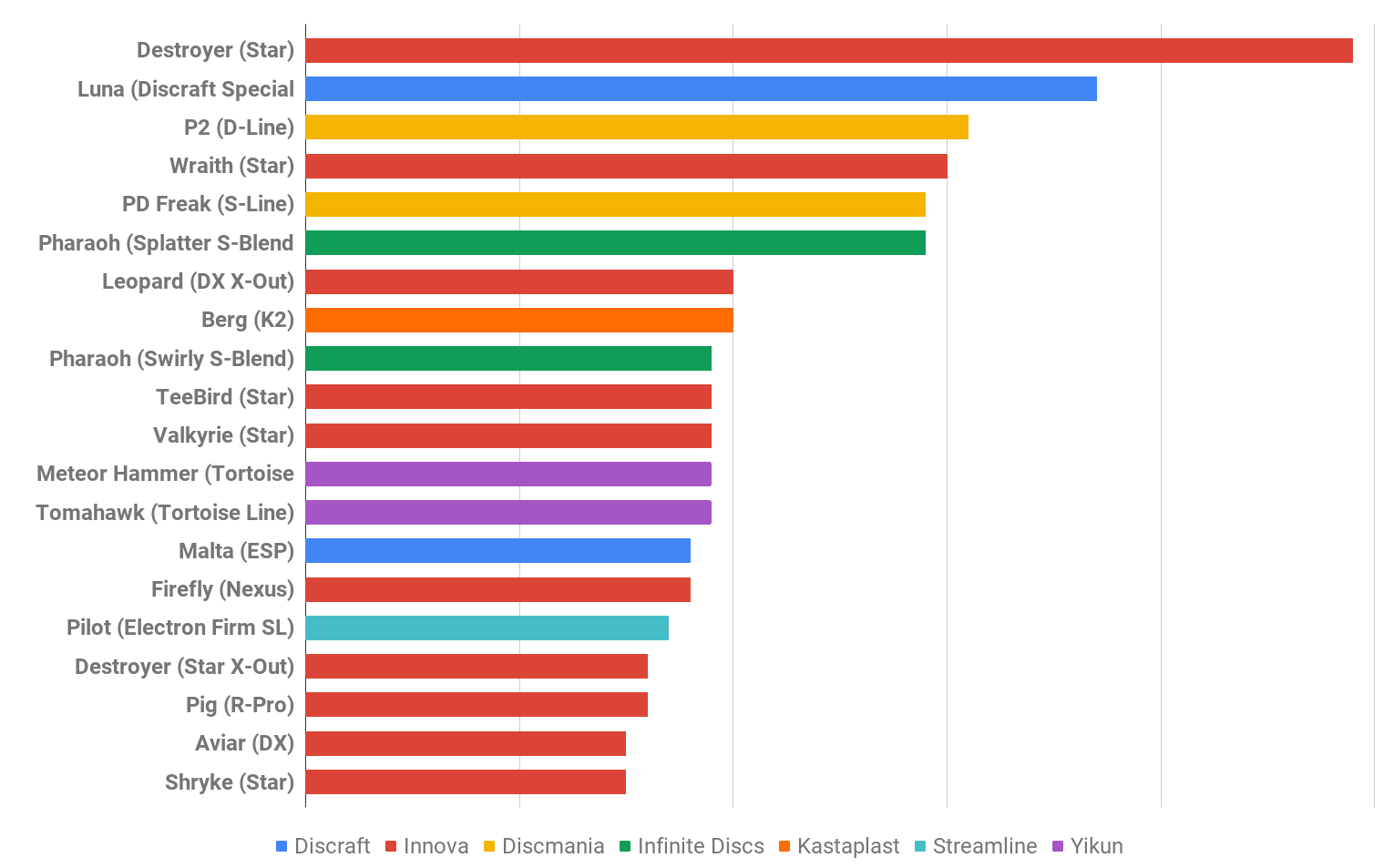 Most of the chart completely switched-out this week with only 7 of the discs from last week's chart still holding onto a spot in the Top 20. That is very rare. The Innova X-Out sale from last week did shake things up a little, but we see other oddities in this chart as well. For example, the ZEUS disappeared completely from the chart, which we haven't seen happen for months! The Star DESTROYER jumped back to its old, familiar 1st position, followed by the LUNA which is still selling well. I'm sure we'll see the Zeus back on the chart soon enough.
The Splatter S-Blend X-Out PHARAOH jumped to #6 as buyers took the opportunity to test that new run early with the factory 2nd discs. The two newest Tortoise Line discs from YIKUN also jumped onto the chart with the METEOR HAMMER and TOMAHAWK still getting a lot of attention with each restock.
Innova ran away easily with the most spots on this week's chart with that x-out sale and some of their other strong sellers like the Star Wraith, R-Pro Pig, Nexus Firefly, etc. Here is a look at how many times the different brands placed on the chart this week: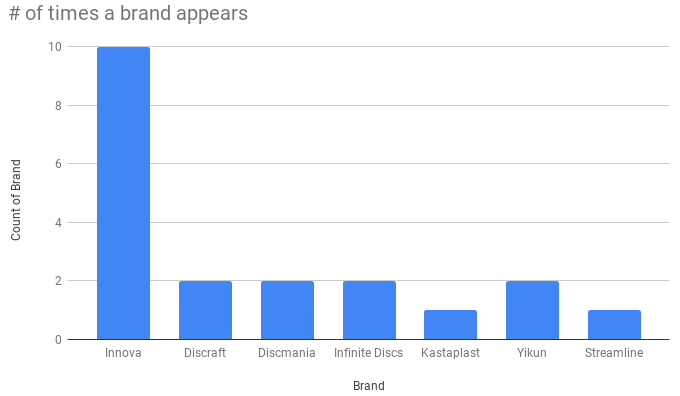 –> Each week we'll invite you to leave a prediction for a certain chart position on next week's TOP TWENTY TUESDAY report. The person to predict that chart position correctly in the comments will win a $10 gift card for the Infinite Discs website.
WINNER – The number 20 spot is the hardest to guess of them all, since the lower the position on the chart, the more shuffling there is. Nobody guessed Star Shryke, though there were some close guesses for other discs near the bottom. Try again for next week!
GIFT CARD PREDICTION FOR NEXT WEEK:  Leave your comment below to guess the #10 spot for next week. It will go to the FIRST person to get it right. Good luck!