TOP TWENTY TUESDAY – SEPTEMBER 17TH 2019

Welcome to another Top 20 Tuesday sales chart. We break these charts down by plastics as well so you can see which plastic types are most popular for each disc. New discs will often spike in the chart as other top sellers shuffle position. The chart is created by sales figures that are pulled from all Infinite Discs sales for the previous week — our customers decide the results with their purchases.
Top Twenty Tuesday for September 17th, 2019
#1 – Electron MATRIX
#2 – Neo ENIGMA
#3 – Discraft Special Blend LUNA
#4 – Star DESTROYER
#5 – R-Pro PIG
#6 – D-Line P2
#7 – Eclipse PILOT
#8 – Nexus FIREFLY
#9 – Opto DIAMOND
#10 – Swirly S-Blend PHARAOH
#11 – ESP ANAX
#12 – Star WRAITH
#13 – ESP ZEUS
#14 – Eclipse STABILIZER
#15 – ESP BUZZZ
#16 – Star FIREBIRD
#17 – Gold Line Burst RIVER
#18 – Neutron ATOM
#19 – Electron Firm PILOT
#20 – Special Blend Swirly RIFT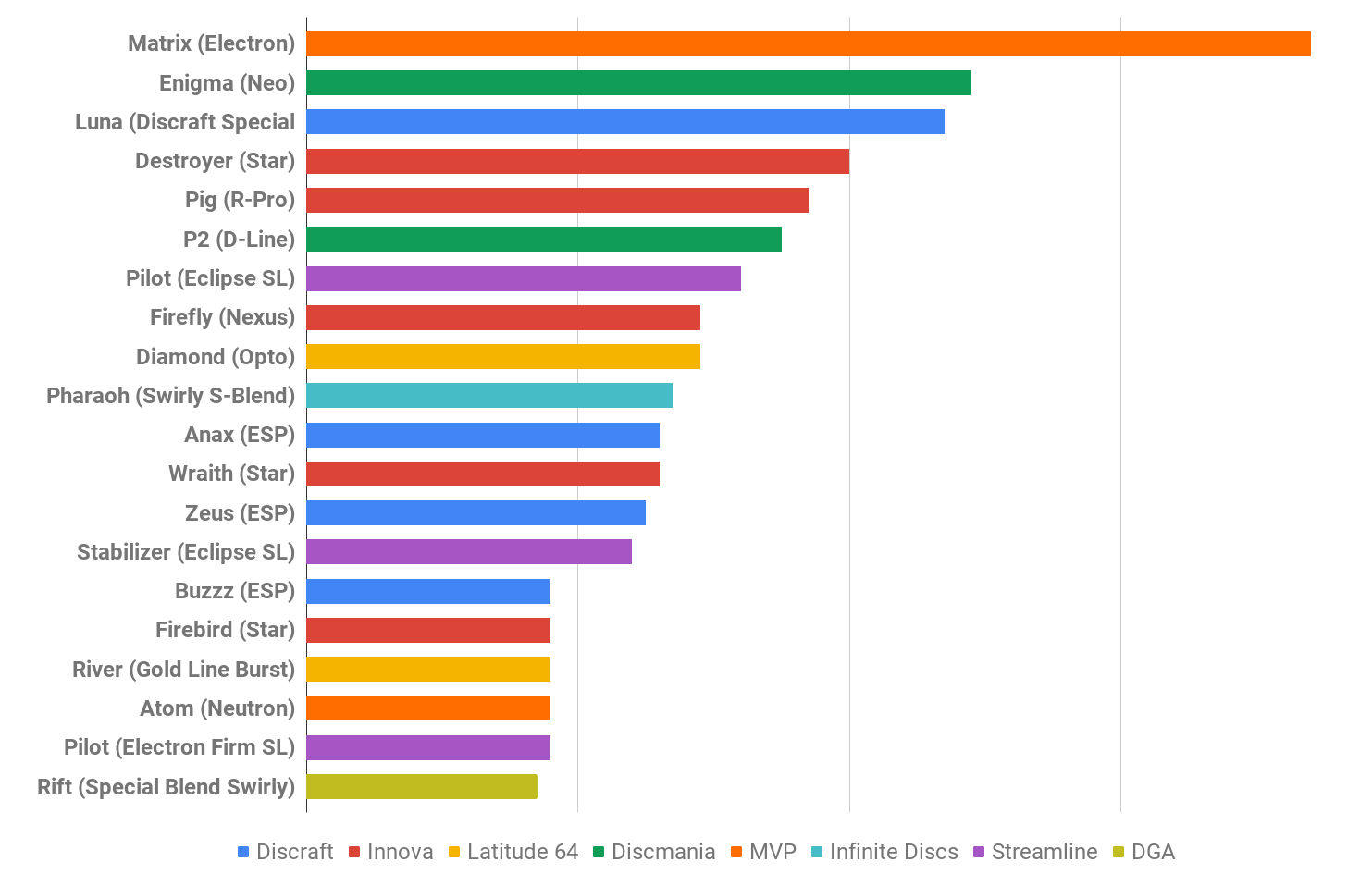 The new releases from MVP and Streamline found their way onto the chart this week with the Electron MATRIX strongly taking the number one spot. The glow-in-the-dark Eclipse PILOT and Eclipse STABILIZER both hit the Top 20 in the #7 and #14 spots. The NEO ENIGMA by Discmania took the #2 spot this week as a new distance driver release and we saw a restock of the popular LUNA by Discraft which enabled it to take the #3 spot.
Eight different brands hit the Top 20 chart this week, which is a pretty diverse representation. Here is a look at how many times different brands showed up in the chart this week: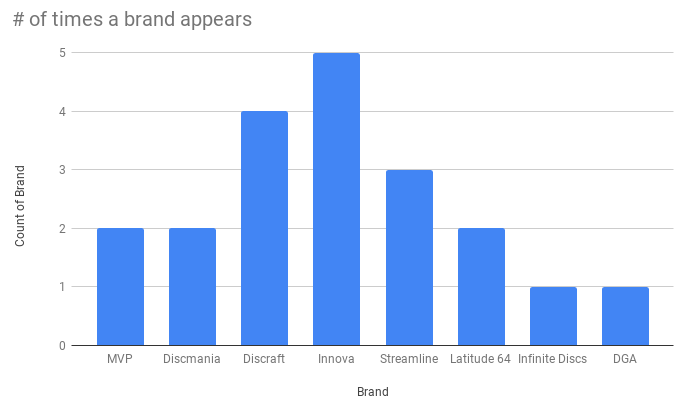 –> Each week we'll invite you to leave a prediction for a certain chart position on next week's TOP TWENTY TUESDAY report. The person to predict that chart position correctly in the comments will win a $10 gift card for the Infinite Discs website.
WINNER – The number 4 spot was claimed by the Star Destroyer this week, which is a disc that usually hangs out at the top. It looks like that was also the very first guess that was launched for this chart, and the winner is Dustin. Good guess!
GIFT CARD PREDICTION FOR NEXT WEEK:  Leave your comment below to guess the #14 spot for next week. It will go to the FIRST person to get it right. Good luck!