TOP TWENTY TUESDAY – SEPTEMBER 29TH 2020

It is time once again for our look back at the last week of sales. This weekly chart is generated from the sales figures at Infinite Discs – the purchases made by our customers are the only contributing factor to the statistics. We break the results down by disc model and plastic type so you can see which plastic types are selling the most. Here we go…
Top Twenty Tuesday for September 29th 2020
#1 – Halo Star WRAITH
#2 – R-Pro PIG
#3 – Halo Star SHRYKE
#4 – Halo Star TEEBIRD3
#5 – Star WRAITH
#6 – Star MAKO3
#7 – Z Line ZONE
#8 – ESP ZONE
#9 – R-Pro RHYNO
#10 – DX AVIAR
#11 – Ground Plastic RUNE
#12 – Star DESTROYER
#13 – Prime JUDGE
#14 – Jawbreaker ROACH
#15 – Star ROC3
#16 – GStar LEOPARD
#17 – Champion RHYNO
#18 – 300 PA-3
#19 – S-Line FD
#20 – Neo ORIGIN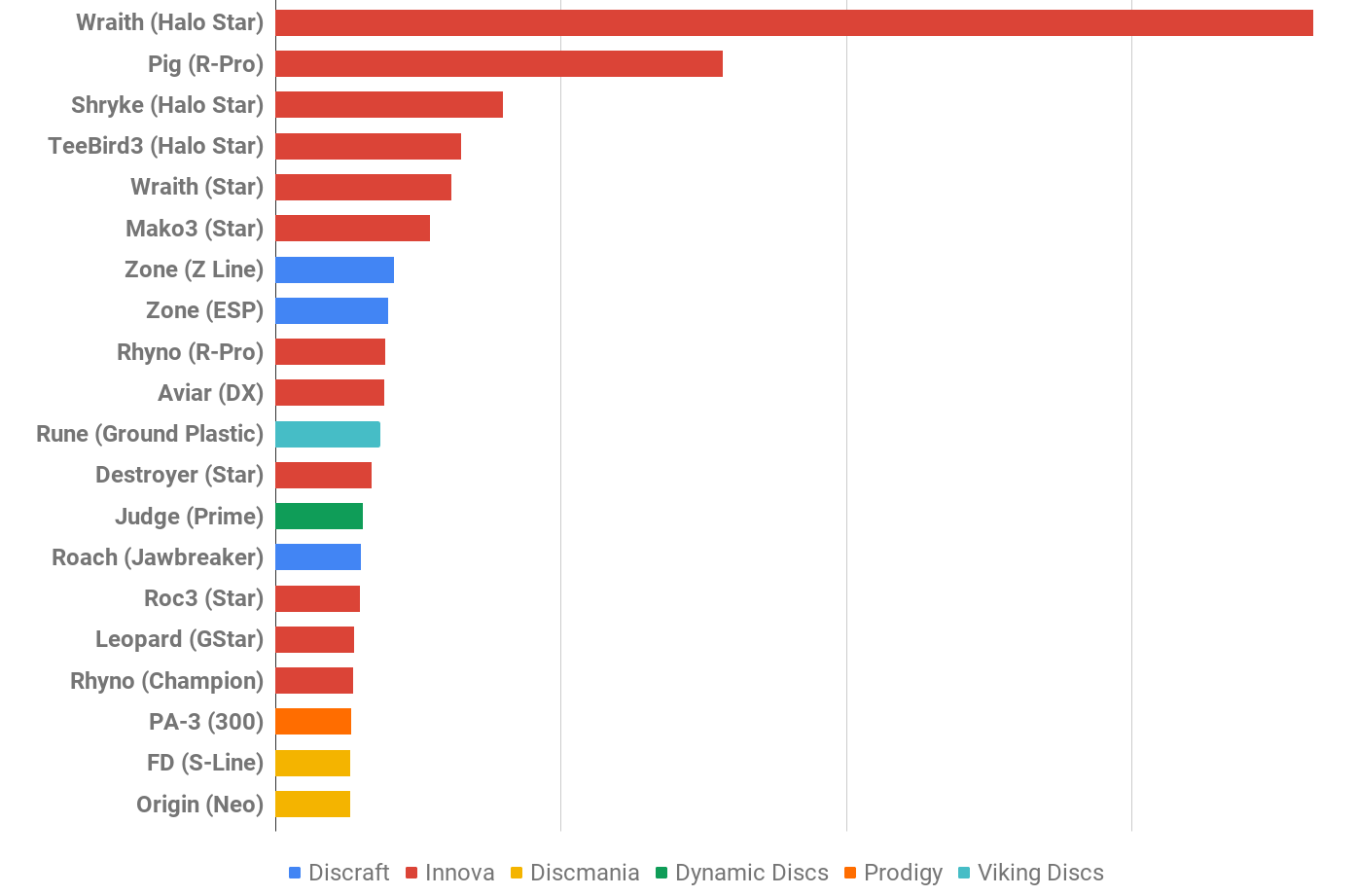 The story on this week's chart is the INNOVA restock that we got here at Infinite Discs, which included some popular HALO STAR discs, like the Halo Star WRAITH which took the #1 spot by a landslide, the Halo Star SHRYKE in #3, and the Halo Star TEEBIRD3 in #4.  The R-Pro PIG also faired well in the #2 spot with a restock of special Pig stamps. Other popular standards from Innova did well in the chart as Innova took 12 of the 20 spots.
The RUNE putter by Viking Discs made a strong showing in the #11 spot as it continues to rise in popularity. The new Neo Origin by Discmania touched the #20 spot as the latest release in their Evolution line.
Here is a look at how many times the different brands appeared in this week's chart: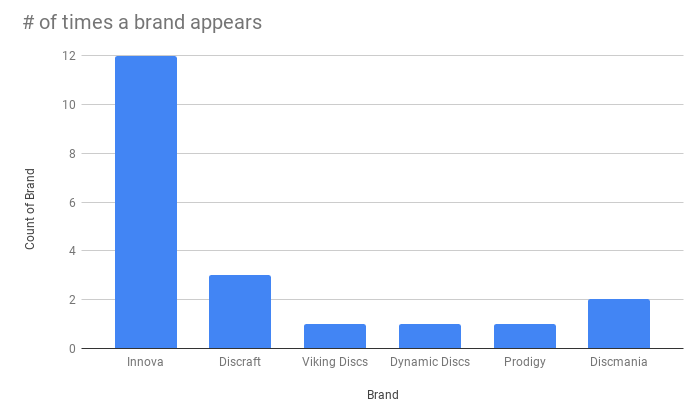 –> Each week we'll invite you to leave a prediction for a certain chart position on next week's TOP TWENTY TUESDAY report. The person to predict that chart position correctly in the comments will win a $10 gift card for the Infinite Discs website.
WINNER – The #11 this was was taken by the RUNE, which nobody guessed. Viking Discs doesn't hit the chart a lot yet, so that was a bit of a surprise, helped by a cool Viking Warrior stamp on the Rune. Give it another try for this coming week!
GIFT CARD PREDICTION FOR NEXT WEEK:  Leave your comment below to guess the #12 spot for next chart.  It will go to the FIRST person to get it right. Good luck!