Tracking Distance Driver Sales for Destroyer, Wraith, & Zeus

We recently took a look at putter sales over the past couple of years. Now, it's time to compare the sales of the top three distance drivers. For this data, we picked the top three selling distance drivers from 2019 and 2020 (so far). These turned out to be the Innova Destroyer, Innova Wraith, and Discraft Zeus.
In the chart below, we'll look at sales from Jan 1, 2019 to August 31, 2020. We will see the impact that Covid-19 had on sales, as well as some supply chain issues.
Here is the chart showing the sales from Infinite Discs: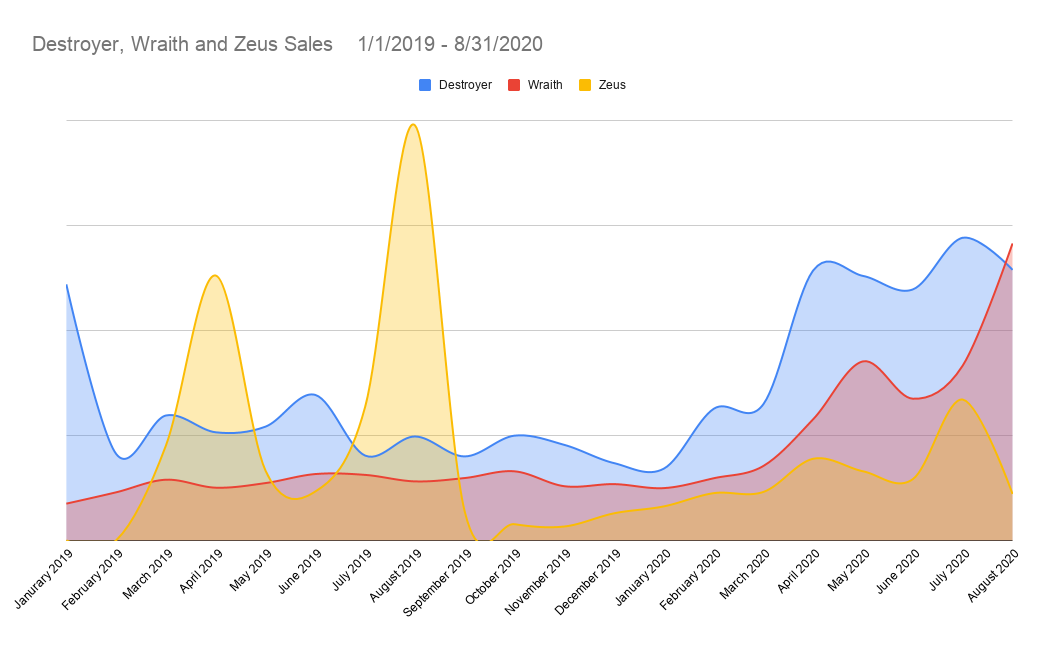 Analysis:
The Destroyer (blue line) has a long history of being the top selling distance driver. For the past two years, this is no different. The Destroyer did lose some momentum right at start of 2019 when the Zeus (Kong, at the time) was released. It then had steady sales with some minor ups and downs. With all three discs, we see a sharp uptick when the pandemic started to take hold.
The Wraith (red line) has always had steady sales; it's a popular staple in a lot of players' bags. However, towards the middle of 2020, it really started to take off. In August of 2020, the Wraith overtook the Destroyer in sales. The release of the "Solar Wraith" stamp definitely gave the Wraith a large boost in August 2020.
The Zeus (yellow line) had a strong start in March of 2019. There were many times when we ran out of stock of Zeus, due to popular demand, causing the sales to drop in some months. The Big Z Zeus was released in August of 2019, causing another massive spike. The pandemic did cause Zeus sales to rise, along with every other disc, but due to supply issues, it never reached it's full sales potential. Even now, the Zeus is out of stock. (Hopefully we get more soon!)
Supply Chain Issues
The pandemic has admittedly helped the growth of disc golf. Every mold went up in sales, the popular molds sold out, and starter sets became very hard to find. You can see on the graph, that the start of the pandemic in March/April of 2020 caused the sales of all three molds to begin to climb. However, in mid-2020, the supply chain started to slow down, and discs became hard to get in stock. Now, in August 2020, we have began to restock many needed molds.
Let us know your thoughts, and/or which discs you'd like to see compared next!