What impact does a World Championship have for a disc golf brand?

With Isaac Robinson recently winning the PDGA Disc Golf World Championships, I was curious to see if we would see an impact on Prodigy Disc sales. I ran the numbers to see if there was any kind of noticeable difference for Prodigy sales during, and immediately following the PDGA World Championships.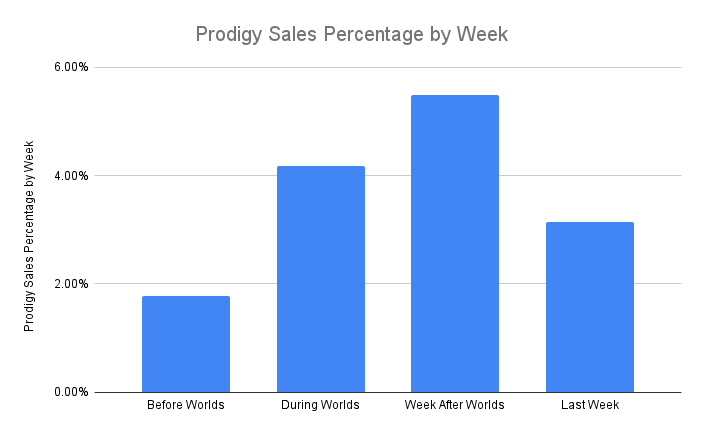 Analyzing sales data from August and September reveals a noteworthy trend. During and immediately following Robinson's World Championship win, there is a noticeable increase in the sales percentage of Prodigy Discs. This percentage more than doubled in comparison to the days preceding the World championships. For the week of August 17th – August 24th Prodigy sales accounted for just 2.04% of all InfiniteDiscs.com disc sales.
On September 3rd, Prodigy Discs accounted for 4.87% of total InfiniteDiscs.com disc sales, marking a substantial uptick from the earlier weeks. This surge continued into the week following the World Championships, with Prodigy Discs maintaining an average sales percentage of approximately 5.89% from September 8th to September 14th.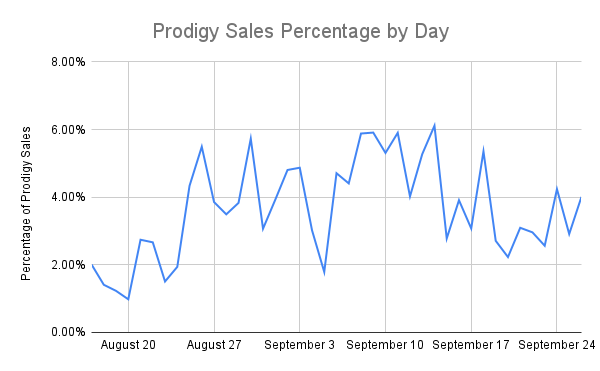 However, it's essential to put this increase in context. The Prodigy Disc sales surge cannot be solely contributed to the World Championship win. There was a surge in Prodigy sales during the World Championships, before the outcome and winner was determined.
Prodigy has consistently emphasized its marketing efforts through professional players. It's reasonable to assume that a significant portion of Prodigy's fan base also enjoys following professional disc golf competitions, and simply tuning in to watch the World Championships may have ignited a desire among customers to acquire their favorite discs. Moreover, the stellar performances of other Prodigy-sponsored pros, Alden Harris and Gannon Buhr, both securing top-10 finishes, undoubtedly added to the overall excitement surrounding Prodigy throughout the week. These Prodigy Pros signature disc sales will likely rise as well.
As of the most recent week of available data, covering September 20th through September 26th, Prodigy Discs continued to maintain a strong presence in the market. The average sales percentage for Prodigy Discs during this period was approximately 3.87%. While it represents a slight dip from the peak immediately following the World Championships, it still indicates sustained interest in their products.
To commemorate the win, Prodigy also released commemorative edition Isaac Robinson discs which are just now being uploaded to our website. These special edition discs should also help to increase Prodigy Sales in the short term.
It's clear that having a player win the World Championship is impactful for a disc golf brand. The question now is whether this boost in Prodigy Discs sales is a temporary bump or if Isaac Robinson's World Championship victory will have a long-term impact?
It will be interesting to monitor Prodigy Discs sales in the coming months to gauge whether Robinson's victory has ignited a lasting passion for their discs among disc golf enthusiasts.
If you haven't tried Prodigy Discs yet, be sure to check out these links for the best Prodigy disc golf discs.
Highest Rated Prodigy Discs
Our highest rated section ranks discs based on review star ratings.
Top Selling
Our top selling pages rank discs based on online disc golf sales with the discs that sell the most displaying at the front of the list.