Winter 2014 Recap & Gift Card Guide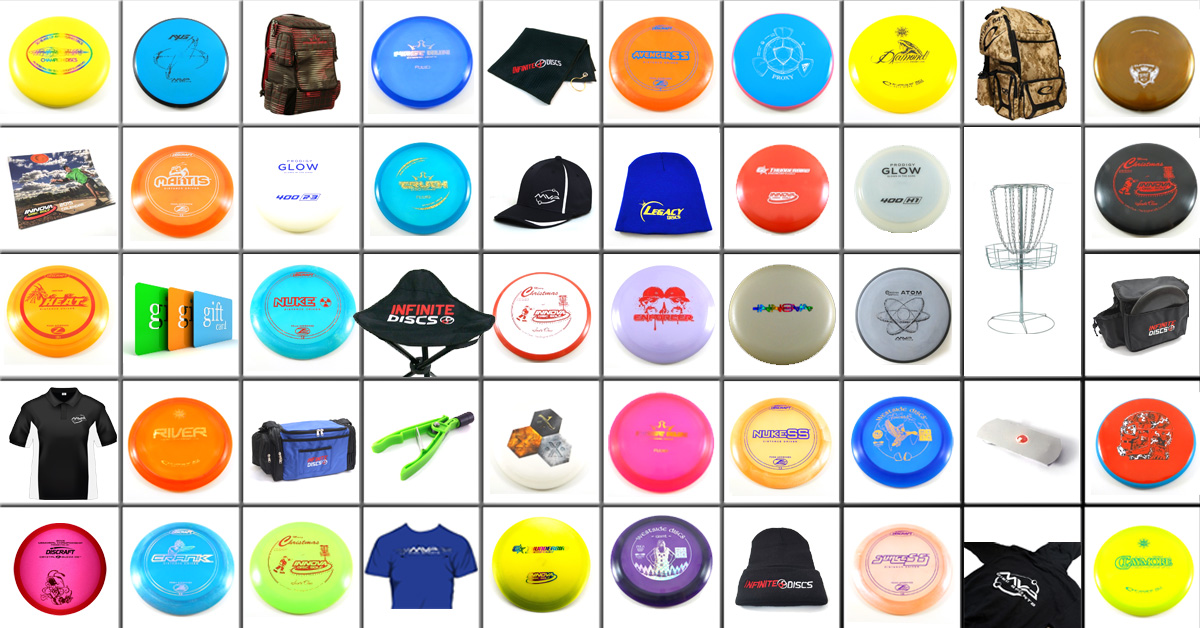 The Holiday Season has moved so quickly we can't believe it's coming to a close. We sincerely hopeful you have a wonderful Christmas, and that 2015 will be an amazing year for you. Within this post, we've included a few sneak peaks into 2015 releases.
In this season whirled by you for as well, we have put together this quick guide to bring you up to speed. Within this guide, 90% of products mentioned were announced or released after November 1st! That's right Business Week, disc golf is not "expired" it's booming.
Gift Card Guide
This guide is also intended to be a useful reference for those who will be spending their gift cards on or after Christmas. If you haven't purchased a Christmas gift yet, you are out of time for a delivery. Go here to purchase a disc golf gift card. which is delivered instantly via e-mail!
Let's check out the latest from the top disc golf brands:
MVP & Axiom
SkullBoy Theory – The most stylish brand meets the most recognized artistry in disc golf. Two stage hot stamping at its finest.
Dri-Fit Teeshirts – Many color options, many sizes.
MVP Polo – Performance polo. Dress professionally while playing professionally (If you have a PDGA# that applies to you).
Hoodies – Super thick 50 cotton, 50 poly. Perfect for keeping you toasty on those chilly days.
Throwback Axis – Artwork from the early days of MVP, on their premium Neutron plastic.
Hats – High quality hats, flex fit, black, red or blue. Besides another color option of orange, is there anything more you could ask for?
Proxy – The Proxy is similar to the Envy, which may be the disc of the year according to the 2015 State of Disc Golf Survey. So far, the Proxy is also off to an excellent start.
Electron Atom – Coming 2015 – MVP's new baseline plastic, with excellent feel, and an attractive price. We're guessing you'll see these in early 2015.
Fireball – Coming 2015
Wrath – Coming 2015
Insanity – Coming 2015
Virus – Coming 2015
---
Innova
Champion Thunderbird – According to All Things Disc Golf, this is the 2014 disc of the year! Just recently released in Jolly Launcher Champion plastic, but is also available in the popular GStar blend.
Innova 30th Anniversary Big Bead (Glow) Aviar – The Big Bead Aviar is also known as the Aviar Driver.
Innova 30th Anniversy XT Aviar – Has it really been 30 years? As for the XT blend, that came out in 2014.
Christmas Atlas – Ho ho ho!
Christmas Destroyer – Yes, it's 12 speed. But did you realize this edition is a 25 glide, 20 high speed turn, and 14 low speed fade?
Christmas Roc – Ready for a Pun? Christmas Rocks!
2015 Calendar – These get better every year.
---
Discraft
Elite Z Heat – The Discraft Ace Race disc is great for newer players, and one of our most popular sellers of the year.
Z Lite Avenger SS – This ultra popular driver for beginners as now even easier to throw.
Z Lite Crank – Last years most popular selling Discraft disc is now lighter. Bomb this baby!
Z Lite Mantis – The popular Mantis, only lighter.
Z Lite Nuke – A Nuke that even average arm players can throw.
Z Lite Nuke SS – It's a lighter Nuke SS.
Z Lite Surge SS – Feel those air bubbles provide easy distance.
LE CryZtal Buzzz OS – These are limited, but we still have a few left in Stock.
TEASER: Semi-Exclusive Infinite Discs Release (Coming 2015) – Have you ever wanted to throw a Titanium Flick? We'll have that and more early January!
---
Trilogy
Fluid Judge – Putt with this popular putter please.
Fluid Escape – Dynamic Discs most popular driver.
Fluid Truth – You've handled the Truth, but can you handle this Truth?
Fuzion Enforcer – What's special about the Fuzion Enforcer you ask? The limited edition run of Eric McCabe is what makes this one special.
Elasto World – Not for the beginner.
Elast Giant – Also not for the beginner. Who else wants to call this the Frost Giant? We do.
DecoDye XXX – For those who love plastic with style.
Gold Claymore – Super popular midrange. Released just this year, and already available in Recycled, Opto, Gold Line and also…
Frost Claymore – See what we're talking about?
Frost Diamond – There is no reason not to get beginners into disc golf this winter.
Frost River – One of Latitude 64's best sellers.
Ranger Bag Restock – It's difficult to say, but judging by this bag nearly always being out of stock, it may be the most popular disc golf bag of 2014. A few of the most popular 2014 colors are now back! Get them while they're available.
Latitude 64 Luxury Bag – Revisions were recently made to make this bag even better, and more luxurious than the first version.
---
DiscMania
CD2 (C-Line G-Line) – Coming 2015
PX1 (Beaded Putter) – Coming 2015
---
Prodigy
Glow H1 – It glows in the dark.
Glow PA-3 – Tacky, durable, glows in the dark. Is this the best plastic ever?
---
Accessories
Retrievers – Get your disc out of any situation!
2015 Disc Golf Calendar – Because the first thing you need to say every day, is a disc golf target.
Disc Lights – There's no need to stop when the sun goes down!
Disc Towels – Because you never realize you need it, until you need it. The question is, were a Boy Scout, and did you learn to be prepared?
---
Baskets
DGA Mach Lite – Our top selling portable basket will be arriving in black in early 2015.