Best Disc Golf Approach Discs

The Christmas Holiday is fast "approach"-ing! Seems like a great time to talk about the best disc golf approach discs! What is an approach disc? for our purposes today, we are going to be talking about the discs you would use inside of your personal driving range when you are trying to set up a nice and easy putt to finish off a hole out on the course.
Before we list our nominees for The Infinite Discs Best Disc Golf Disc: Approach Disc, let's again review what we are looking for when making our selection. Our two key words are popularity and utility. We want to choose a popular approach disc that is utilized and can be utilized in a variety of situations out on the course. We want this disc to be good for short approach shots as well as a driving putter for short disc golf holes. We also are not limiting these discs that are just categorized in the more broad putt and approach classification of discs, but they can be from any of the four traditional classifications.
That being said, we do not track this subcategory in our sales lists, so we will first review the chart we had on last week's post, which is the best selling Putt and Approach discs of 2018 so far:
Top sellers of 2018:
Now, here are our nominees!
Prodigy Disc recognized the difference between putters and approach discs a few years ago with the release of their "A" series of discs. all four discs in the series have been popular, but the Prodigy A2 has been the best seller this year, and it offers a stability that makes it very workable for disc golfers. It is an overstable disc with a more shallow molding that is comfortable in the hand. If you don't put enough power behind it, it can be a bit of a meathook, but when thrown hard with a smooth release the A2 will hold straight and offer a reliable fade at the end.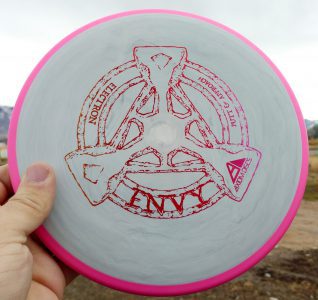 The Axiom Envy was included in our nominees for best putter, and this overstable putter works great for those looking for a nice overstable approach disc that they can also use for putting. It has a nice flat top and a rim that fits comfortably in the hand for both backhand and forehand throws. The Envy is now available in a large variety of Axiom's plastic blends as well.
The Innova Firebird is the only driver we are nominating as an approach disc as it is a commonly used disc especially for forehand approach shots. The Firebird is an overstable disc that is especially popular for those who have a hard time gripping midranges or putters with a forehand grip. It is also a great option for approach shots in a stiff wind.
The Innova Gator is definitely one of the staples of this category. It was nominated in our midrange awards a few weeks ago, but it is mostly used as a true approach disc. The Gator is an overstable disc that features a flat top (sometimes :)) and a noticeable bead along the bottom of the disc. It is a disc that is great in the wind and offers a little more distance than some of the putters we have nominated as well.
The Westside Harp has become one of the most popular discs as Ricky Wysocki has thrown it all over his tour over the last few years. With Latitude 64 announcing that Wysocki will no longer be a part of their sponsorship team, it will be interesting to see if he will still throw the Harp. But either way, the Westside Harp is a fantastic overstable approach disc that has also become a very popular forehand disc. It is available in several plastic blends that offer slight variations in stability and flight that help to make the Harp one of the best approach discs on the market.
Another disc that we nominated in the midrange category, the Dynamic Discs Justice is a beefy overstable disc that is often used as an approach disc. It is great for making an approach when you need to get around a sharp corner. It also holds up in stiff winds. Like I said in the midrange article, pretty much nothing is going to make the Justice turn over in flight.
The Hyzerbomb Mortar was also nominated in the midrange discs, but it is primarily used as an approach disc. The mold is just like an Innova Gator but it has a beadless rim. This makes it more friendly to forehand throws, but it still has a strong overstable flight that is workable from all over the disc golf course.
The Innova Nova is one of only two Innova molds that features an overmold design, and it has grown into one of the most popular discs in their lineup. The Nova is not very popular as a putting putter, but is has one of the most unique flights in the disc golf world. It also has a unique mold and shape that is one of the tallest discs. It is a truly stable disc in that it is very straight with almost no fade at all at the end. It is a bit touchy and can be turned over in the wind or if thrown too hard. But when thrown correctly, it flies so straight and reliable.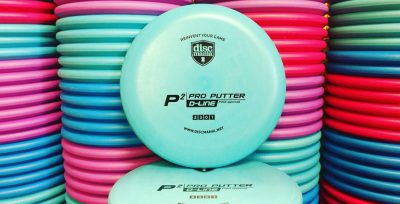 The Discmania P2 was also nominated in our putter category and is currently the best selling putt and approach disc on the market. I mentioned last week that Discmania has done a great job of differentiating be benefits of each plastic type, and that is especially applicable to those who use the P2 as an approach disc. The S-Line P2 is known as the most overstable P2 and the D-Line is one of the more understable versions. Both plastic blends are popular driving putters that can serve different purposes for your approach game.
Best Approach Disc of 2018: WESTSIDE HARP
In this category we nominated putters and midranges ranging from stable to very overstable, and the Westside Harp is the perfect middle ground of all of them. It is an overstable putt and approach disc that disc golfers fall in love with after just a few throws. The Harp's flat profile and smooth rim makes it a great selection for forehand and backhand throws. It has enough stability to fight some wind and provide a predictable fade, but it isn't a meathook that is going to be too much for newer throwers to handle. The Westside Harp is a great addition to any disc golfer's arsenal, and is our choice for the best approach disc on the market.
What are your favorite approach discs?
Which approach disc do you think is the best? Share your opinion by commenting below and telling us which disc you think is the best approach disc in the world and why!