Best Disc Golf Beginner Discs for 2019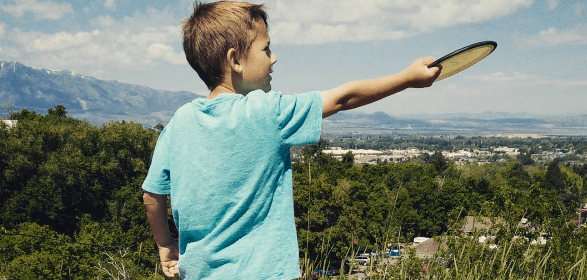 As we enter the new year it's the perfect time to discuss the best disc golf discs for beginners! What is a beginner disc? Today we are looking for discs that you would purchase for someone who has never thrown a disc before or maybe only played a handful of times.
Like always, the two key words we use when choosing our best discs are popularity and utility. We want to choose a beginner disc that is popular and can be utilized by many disc golfers. Since this category is beginner discs, the last key word is kind of baked into the name of the category. It is vitally important that the best beginner disc can be utilized by beginner disc golfers (obviously…).
So, without further ado, here are our nominees:
Discraft Archer
Dynamic Discs Breakout
Latitude 64 Diamond
Discmania FD
Latitude 64 Jade
Innova Leopard
Innova Mamba
Innova Roadrunner
Innova Sidewinder
Best Disc Golf Discs for Beginners
The Discraft Archer is one of the newest discs on this list as it was recently the disc featured in the 2016 Discraft Ace Race. The Archer is kind of a hybrid between a midrange and control driver featuring a small rim that fits comfortably in all sizes of hands. As will be the case with all of our nominees today, it is an understable disc. The midrange in the disc allows it to glide and hold straight in the air with minimal fade at the end.
A few of our nominations today are discs that were designed and made specifically with the beginner in mind, and the Dynamic Discs Breakout is one of those discs. The Breakout is available in a few plastic types, but it is only made in lighter weights. It is not the most understable of the beginner made molds, but the lighter weight allows the disc to perform more understable and makes it a great choice for the first driver for newer as well as younger players who do not have the arm strength of an adult.
The Latitude 64 Diamond is also a disc designed for the beginner disc golfer. The Diamond is available in several plastic types but again, it is not available in heavy weights. The Diamond is one of the most understable discs on the market, and when you combine that with the lighter weights it is made in, the Diamond becomes a great choice for people who have never played disc golf before.
The Discmania FD is a beginner disc that players can grow their game around as it is still a popular disc among experienced disc golfers as well. As mentioned in previous posts, Discmania does a good job of differentiating different runs and plastic blends for each disc, and the D-Line FD is noticeably more understable than the other plastic types, making it a great choice for beginners.
The Latitude 64 Jade is kind of the cousin of the Diamond. Both discs are only available in light weights and designed specifically for beginner disc golfers. The Jade offers a little more stability than the Diamond, but it is still a great choice for an understable beginner driver. So if you tried the Diamond and think you'd want to try something with just a hair more stability, the Jade would be a great next disc for you.
The Innova Leopard was featured as one of our fairway drivers nominees, and like the FD it is also a disc that players can learn to build their game around. The DX Leopard is featured in the popular Innova Starter Sets, and is one of the most used discs for beginners as it is widely available in sporting goods stores. It is also popular as it is one of the least expensive plastic blends, so folks who are maybe just wanting to give disc golf a try will choose a cheaper disc like a DX Leopard.
This is by far the highest speed disc on our list today. Generally distance drivers are not great beginner discs, but the Innova Mamba is so understable it has been a popular choice for beginners for a long time. The Mamba is also a popular second or third disc choice for beginners, and is a great first distance driver for those who are trying out the higher speeds for the first time.
These final two nominees are pretty similar, and players who haven't used either of them often get them mixed up. But the Innova Roadrunner is the slightly more understable of the pair of discs, which in some ways could be used to argue that it is also more beginner friendly. Another nice thing about the Innova Roadrunner is beginner disc golfers can learn to continue using this disc as their game improves.
The Innova Sidewinder has been around for a long time, but has definitely seen a resurgence in the sales charts. Part of this could be because of its increasing popularity as a roller disc. But the Sidewinder also has always been a popular choice as a beginner disc with an easy to use understable flight that is easy to learn and grow with.
And those are all of our nominees! Check back next week to find out our choice for the winner!
THE BEST DISC GOLF DISC for Beginners 2019: Latitude 64 Diamond
This category was difficult to choose a winner in. All of our nominees and many others that were not nominated are great discs for beginners. But the Latitude 64 Diamond is one of the few disc golf discs that is manufactured specifically for beginners, and it has become one of the most popular and loved discs in that category. The Latitude 64 Diamond is one of the most understable fairway drivers on the market, and it is only manufactured in lighter weights which gives it more understability. This in turn makes it one of the easiest drivers to throw for players who are just learning how to throw disc golf discs. It is also a great selection for weaker arms and children who are starting to play disc golf. If you are new to disc golf and have struggled throwing some of the old discs that your friends have let you borrow, grab a Latitude 64 Diamond and give it a try. 
Beginner Sets
Are you looking for a disc golf starter set for beginners? Check out this article highlighting the best starter sets of 2019 or shop our available starter sets for sale here. 
Share Your Opinion – Best Beginner Discs
When you were a beginner, what golf discs worked best for you? What discs helped you break through to get more distance and take your game to a new level? Share your opinions in the comments below.