Best Selling MVP, Axiom, & Streamline Discs – October 2020 Edition

Best Selling MVP, Axiom, & Streamline
It's time again to look at the best selling disc golf discs from MVP, Axiom, and Streamline! All three of these brands are made at the same location, under the general brand of MVP. On the chart, each disc will be color coded to its brand, and each bar represents the sales of that disc.
Disclaimer: All data is from October 27, 2019 to October 27, 2020 from InfiniteDiscs.com sales figures. Due to rules and regulations, we cannot show exact numbers, but can show the comparison in sales between all molds.
---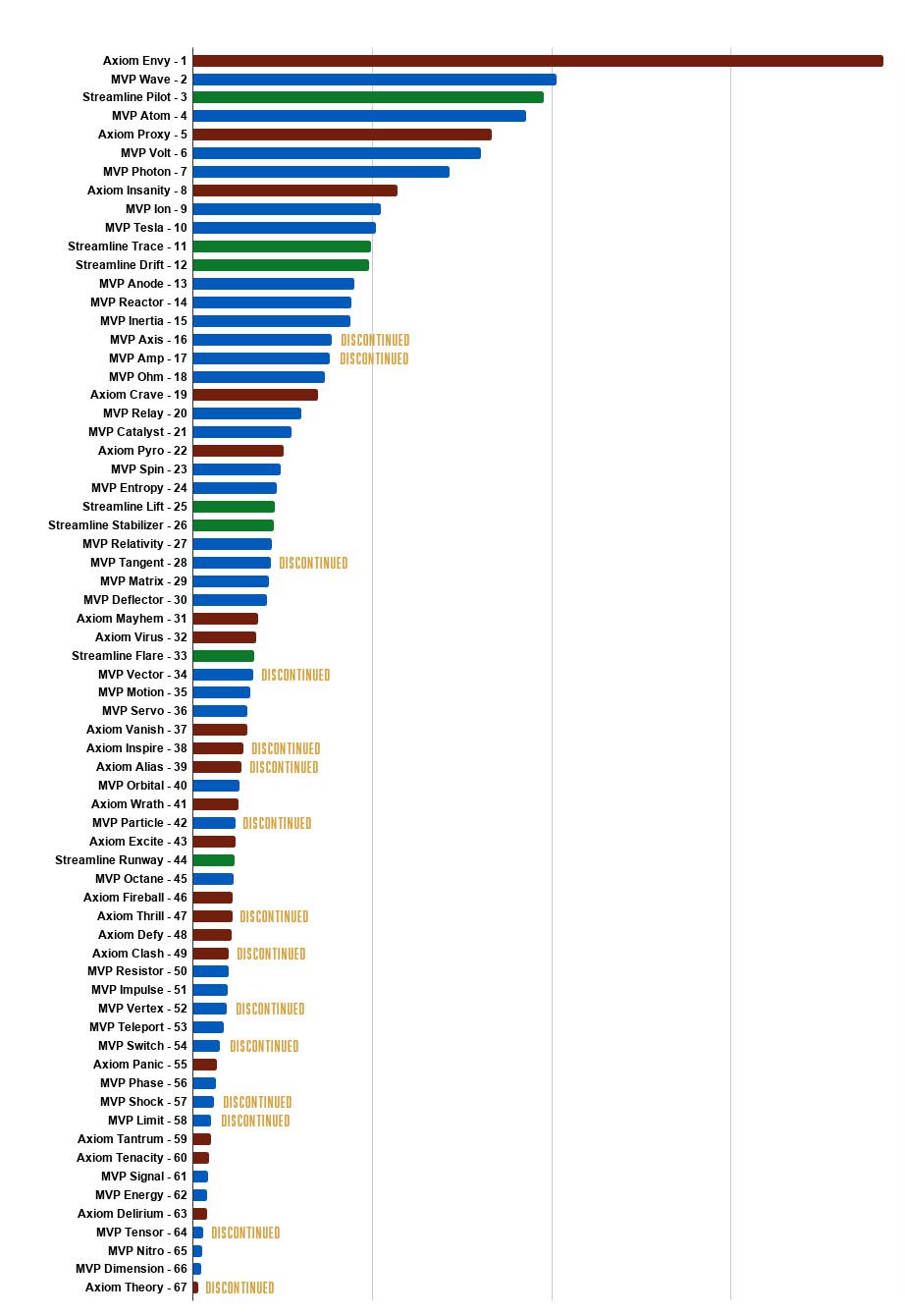 ---
The Top Sellers
For the third year in a row (since doing these charts), the Envy takes the #1 spot! Not only did it take the cake, it sold nearly double the amount of the #2 spot, the Wave. The next couple of spots where close: the Pilot took #3, the Atom took #4, and the Proxy followed up with #5.
It is great to see that each of the top 3 spots where taken by a different sub-brand. Each sub-brand was also spread out throughout the chart, showing that each brand has some strong selling molds.
---
Discontinued Molds
All of these discontinued molds were announced in August of 2019, but we have been selling the remainders of them for the past year. The MVP Axis and Amp are the highest ranking discontinued molds, taking the #16 and #17 spots respectively. We have had a lot of the Axis and Amp in stock over the past year, but soon they will be gone for good.
---
Your Bag?
Let us know what you are throwing? Where do your discs fall in on the chart? Do you prefer the lesser-known discs or the ultra-popular ones? We'd love to hear from you!