TOP-SELLING DISCS OF September, 2023
Welcome to the top-selling discs report! At the beginning of each month, we will take a look back at the previous month to calculate which discs sold the best. You have a chance to win a $20 gift card each month if you correctly guess a certain spot for the next month (see below for more details).
Each month, we look at the top 50 disc sales data for mold AND plastic-type to see which disc rose to the top. Due to this, it is possible that a single model could show up on the list several times, each representing a different plastic type. This also helps us to know which disc in which plastic are the most popular among our customers.
Here is the breakdown of the top 50 molds from September 2023 at Infinite Discs:
#1 – MVP Neutron Soft GLITCH
#2 – Innova Star ROLLO
#3 – Discraft Elite Z 2023 BUZZZ
#4 – Discmania S-Line DD
#5 – Innova Star DESTROYER
#6 – Innova Star WRAITH
#7 – Infinite Discs D-Blend X-out ALPACA
#8 – Innova R-Pro PIG
#9 – Infinite Discs Halo S-Blend MAYA
#10 – Innova GStar DESTROYER
#11 – Axiom Neutron HEX
#12 – Finish Line Discs Forged RALLY
#13 – Infinite Discs D-Blend ALPACA
#14 – Infinite Discs Halo S-Blend AZTEC
#15 – Axiom Eclipse 2.0 INSANITY
#16 – Infinite Discs I-Blend SPHINX
#17 – MVP Neutron WAVE
#18 – Innova Glow Halo Champion FIREBIRD
#19 – Infinite Discs Halo S-Blend EMPEROR
#20 – Latitude 64 Royal Grand GRACE
#21– Innova DX LEOPARD
#22 – Infinite Discs I-Blend X-out EMPEROR
#23 – Latitude 64 Gold Orbit DIAMOND
#24 – Infinite Discs Luster C-Blend PHARAOH
#25 – Innova Gtar WRAITH
#26 – Latitude 64 Opto RIVER
#27 –Axiom Eclipse 2.0 ENVY
#28 –  Innova GStar MAMBA
#29 – Clash Discs Steady WILD HONEY
#30 – Discraft Z Glo BUZZZ
#31 – Infinite Discs I-Blend PHARAOH
#32 – Axiom Fission CRAVE
#33 – Infinite Discs Swirly S-Blend SPHINX
#34 – Thought Space Athletics Ethereal SYNAPSE
#35 – Innova Champion EAGLE
#36 – Thought Space Athletics Nebula Aura PATHFINDER
#37 – Discraft Signature ESP ATHENA
#38 – Innova GStar MAMBA
#39 – Discraft ESP BUZZZ
#40 – Clash Discs Steady VANILLA
#41 – Discmania Horizon S-Line FD1
#42 – Discraft Z Fly Dyed BUZZZ
#43 –Clash Discs Steady SODA
#44 – Innova GStar SHRYKE
#45 – Latitude 64 Opto PEARL
#46 – Prodigy 300 Firm PA-3
#47 – Thought Space Athletics Nerve MUSE
#48 – Infinite Discs Halo S-Blend X-out PHARAOH
#49 – Wing It Disc Golf Lift STRATOSPHERE
#50 – Innova Star TEEBIRD
*All this data comes from Infinitediscs.com sales ONLY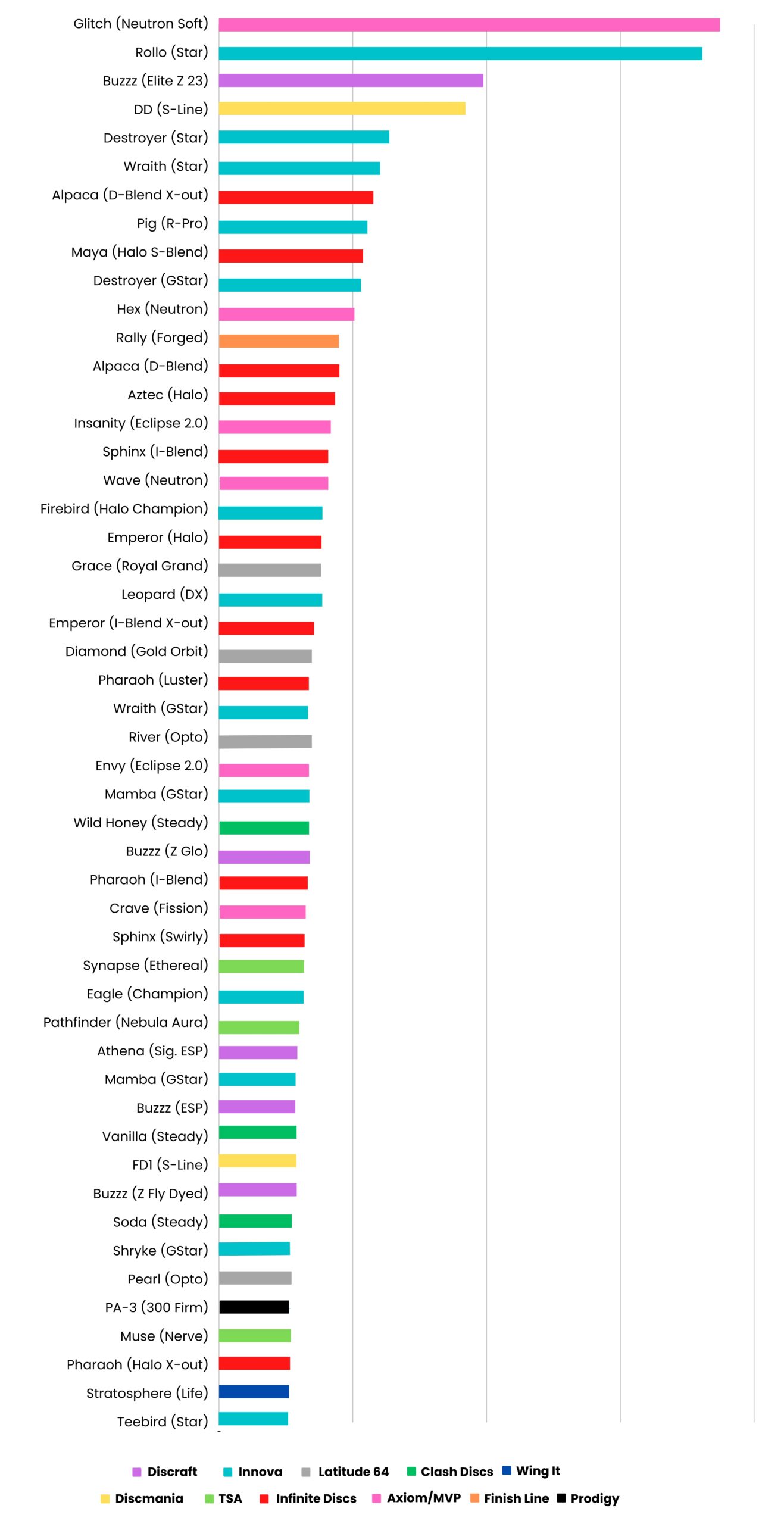 Latitude 64 sales have been increasing, most likely due to the incredible success of one of their sponsored pro players, Kristin Tattar! You can see here that the following molds found their way into the top 50 last month: Grace, Diamond, River, and Pearl. If you haven't had a chance to try any of the Latitude line up, make sure you give one of these popular molds a throw!
Another interesting piece of data pulled from last months sales is the popularity of the Pharaoh. We have the Pharaoh listed here three different times in three different popular plastics! We have recently been restocking a lot of Infinite molds, and we see that you are all happy to have these regulars back in stock!
The NEW Innova Rollo made it to our #2 spot! We were very interested in the mold designed specifically for roller shots! Several of our employees go out and try it for themselves. Many of them liked it, and may easily put it into their bag! We highly encourage you give the Rollo a try if you want a mid-range roller or if you don't have the arm speed for a more overstable midrange.
Here is how many times each brand appeared in the line up: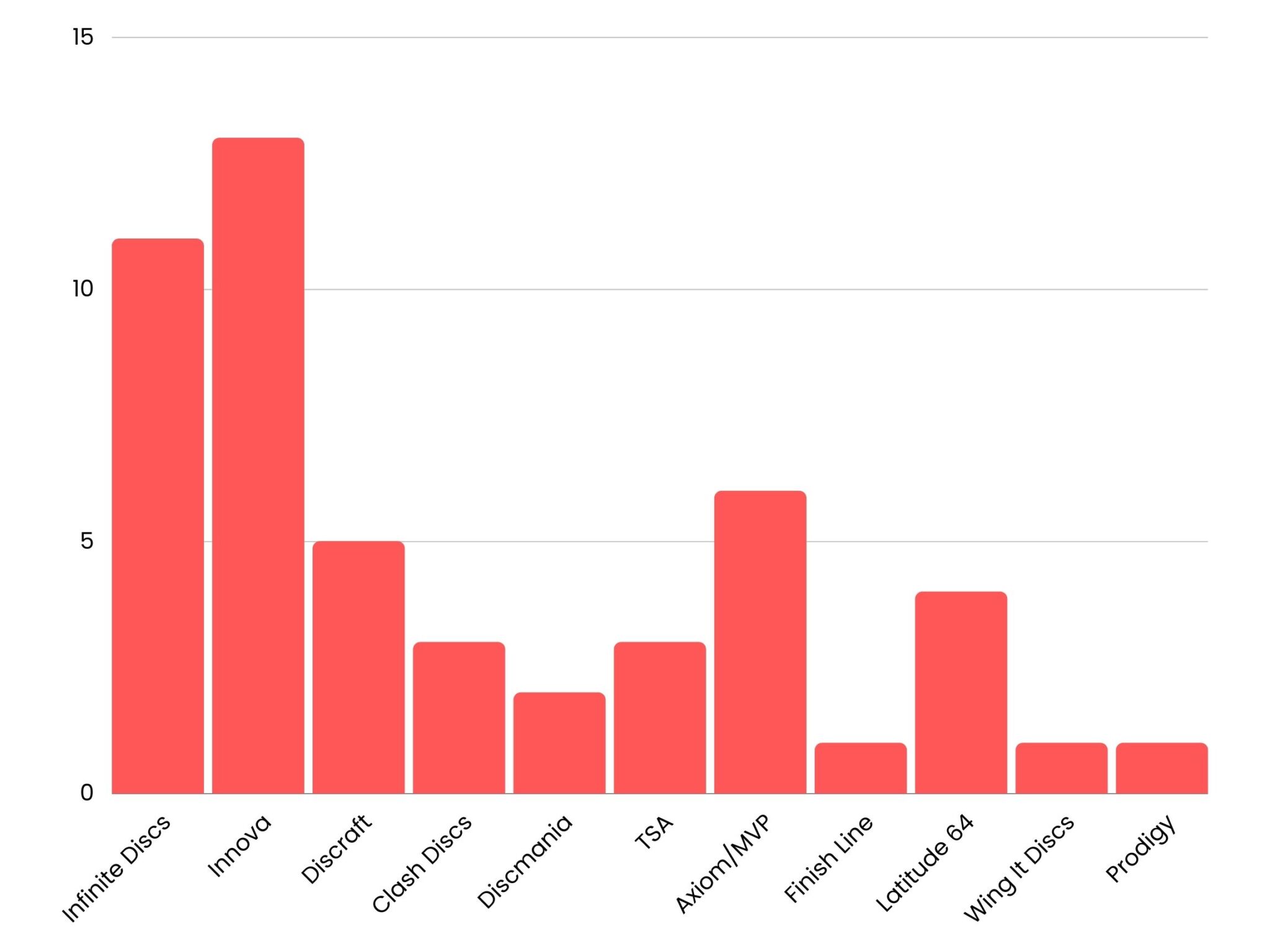 Interested in More Top Selling Disc Golf Products?
Check out these top selling disc pages, automatically populated by our website for the:
Looking for discs of a certain flight path, check out these lists of best sellers for last month:
The Guessing Game
Every month you'll be able to place your guess for a certain spot on the chart for the next month. The first person to guess the disc and plastic type correctly for the named chart position will win a $20 gift card for the Infinite Discs online store.
PLACE A GUESS for next month. If you can by the first to guess the #3, #27, #39 spot for September then you can be a winner. Leave your guess in the comments on this blog.
Thanks! See you next month