Custom Disc Golf Discs

So You Want a Custom Disc Golf Disc?
You've seen them before. Those colorful discs with intricate designs that make them stand
out from the rest. Perhaps you've even been tempted to purchase one, but you weren't quite sure what they were all about. Well, wonder no more! We'll explore the world of custom disc golf discs and everything that goes into making them. From UV printing to fabric dyes, there's a lot that goes into making these discs unique. And with so many professional dyers out there, the possibilities are endless!
The first step in creating a custom disc is starting with a premium plastic disc golf disc. If
you're looking for a premium disc golf disc, look no further. We have the largest selection of premium plastic discs available. Use the advanced search tool to isolate white premium
plastic discs or select from already dyed discs you can purchase immediately.
Fabric Dyes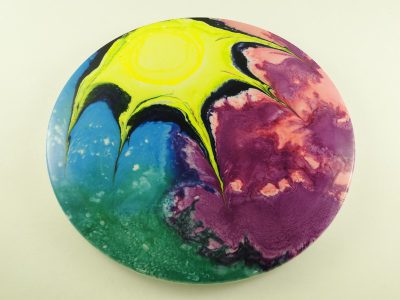 The most popular method for customizing discs is through the use of fabric dyes. This
method allows for a wide range of colors and designs to be applied to the discs. Fabric dyeing is often done by professional dyers who specialize in this type of work.
We've worked with several different dyers over the years to provide a unique selection of completely custom disc golf discs.
If you're looking to create a custom disc golf disc, look no further than Jory Reid. He's a professional dyer with years of experience in the industry and a large selection of colors and designs to choose from. His discs are made with high-quality materials and attention to detail, ensuring that your disc will be one-of-a-kind. Check out current Jory Fly Dye discs for sale here.
Hot Stamped Discs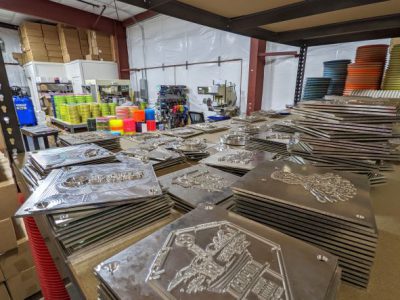 At Infinite Discs we have two different hot stamping machines. A traditional single foil machine and a custom built three foil machine that allows us to have three different foil colors on each disc. This allows us to create some unique custom options. Anyone can order custom stamps as part of our custom stamp program here.
The disadvantage of hot stamping is that their is a substantial cost to each stamp plate. It currently costs about $100 for each stamp plate, which means an up front cost of $300 for a triple foil job. Because of this significant up front cost, custom hot stamping doesn't make a lot of sense unless you plan to do large quantities of discs.
Custom Hot stamping is an excellent choice for tournaments and special events. To be cost effective, you typically want to order at least 100 hot stamp discs.
UV Printing on Discs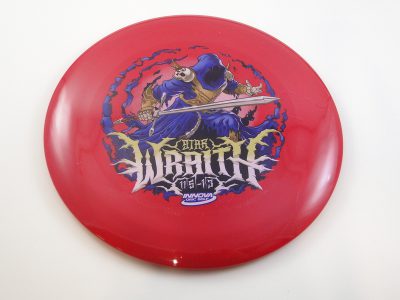 Another popular method for customizing disc golf discs is UV printing. This involves using a
special printer to apply a design to the disc. The design is then cured with UV light, which
makes it permanent. This method is great for complex designs or for reproducing logos and other images on discs. Innova uses this popular method to create their latest full color
InnVision stamps. Check out the Invision Wraith here.
Some sites allow you to create and upload a specific design or photo for a full-color custom disc golf disc. Infinite Discs has plans to make this an option on a variety of different blank discs in 2023. We should have lots of fun possibilities available at low quantities with this exciting technology.
If you're looking for a truly unique disc golf disc, there are plenty of options available to
you. From UV printing to fabric dyes, there's a lot that goes into making disc golf discs one-of-a-kind. And with so many professional dyers out there, the possibilities are endless!
Find or create your perfect custom disc today!