Dave Feldberg Blog Post #1

So I have decided to have a blog this season , but I am not sure I can type up everything going on in my life. This has been one of the most eventful years of my life and I can barely come up for air.
Welcome Leomax Feldberg #22626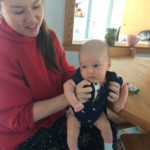 On a personal level Synthya and I had our first child Leomax Feldberg #22626 on 2/18/19. He is a blessing and very healthy. We are so lucky to have him in our life and are looking forward to watching him grow and sharing many great experiences. Synthya and I bought a house where we have no relatives or close friends near by and so we are doing this ourselves and she has been a rockstar to say the least.
Next Gen Tour 2019
On a business level Next Generation Tour is having a banner year with the expansion of 10 disc manufacturers, 10 other new sponsors, a new NG team, relocating the National Championships, and partnering with Infinite Discs to make it all happen. We are seeing a lot of positivity out there and we are doing all we can to deliver the best amateur tour out there. It will only continue to get better. We have some big announcements coming!!!
Disc Golf an Honest Take Podcast
I have started my own podcast called "Disc Golf an Honest Take". I will be reviewing existing products and new releases while covering a little NG and history of our game. The first one is in the editing stage and will be out very soon (hopefully Monday).
Tournament Schedule 2019
On a playing level I have decided with all that is going on, that I had to cut back on my schedule of events I compete in. I will still be competing at many of the larger events, but I will not be playing as often. Below is my proposed schedule for this season:
Super bowl scramble – 3rd place
Full Monty Doubles- Galloway as partner 1st place
Jonesboro PT
Huk Central A -tier
Trailblazer A Tier
Great Lakes Open PT
Pro Worlds Presented by Infinite Discs
Masters Worlds
Tim Selinske
USDGC
Delaware NT
Augusta NT Final
Linton Park Open – B-Tier
Sandy Creek Sling- C-tier
Building the Mixed Bag for 2019
It has been exciting to be able to throw any disc that I want to throw. There are so many choices out there nowadays it is incredible. Back in the day we had very few choices compared to today.
So I had to start somewhere. What I have done to start the season is take the Trilogy and Innova discs I loved for many years and picked out some solid choices. I stuck with the Sinus, BT Bard, XXX, and Ballista Pro. I brought back my Aviars, Rocs, Eagles, and Destroyers. That alone made my game stronger right away. Now I wanted to experiment with the other manufactures that are supporting the tour. So I have started by incorporating one new disc from each brand. Here is what I have so far.
Discraft – I am messing around with the Kong, Comet, Heat, Vulture, and Crank. They all fly well just trying to see where they fit my bag. I have added the Zone as I always wanted to throw that disc.
Prodigy– I have been testing almost all there molds and I have liked the D2 and D3 and found that the M3 is a good over-stable midrange. I have added the 300 A2 to my bag as this plastic feels feat and I love short over-stable flying discs.
MVP– I also tested many of there molds and found that the Resistor and the Octane are very good flying discs and the Resistor, I have having a hard time resisting. I have added a Mayhem to my bag as I like this distance driver. It is not over-stable or under-stable. It flies long and straight and I can make it fly almost any angle I want.
Gateway– I have been testing most of there line and the Apex and Illusions have stuck out as really consistent fliers that I can use between full high speed and fairway drivers. I have added a Diamond Prophecy to my bag as this is a really good Hyzer midrange that I throw fairly often.
Legacy– I just received their box of testers, but will say right out of the gate, that I am liking there new plastic, I will update Legacy more in the next blog.
DiscMania – I have tested a few of their discs in the beginning when I played for Innova. I am awaiting a box of testers, but I am excited to test the new Cloud and Instinct co branded Latitude fairway driver. I will update in my next blog.
Kastaplast– I have been testing most of their line of discs and I will say I was very impressed. The feel was great- shiny discs that were not slippery. I am looking forward to some rain to see if it performs as I think it will. The Kaxe was a unique mold I wanted to test and I found it to be the rare disc between a midrange and a fairway driver. I like the Stahl and it is in a final battle with the Mvp Resistor to see who makes the bag. I have added a Falk to my bag as it is a great late flip under-stable fairway driver that just seems to fit my game.
Infinite – last but not least I have been testing our discs often. I have found that the Myth putter is growing on me and that I like the plastic lines we make. I have added a glow metal Flake Pharaoh to my bag as this thing goes far, only about 5-10 feet less than a Corvette but feels like a Destroyer in my hand. I have also added a RA to my bag as this disc has this unique nova type flight where it doesn't move to the left it just holds and then drops predictably. I am also starting to test my signature disc which will be a Splatter Emperor. I am excited as it has been described to me as an Eco – Destroyer which I like but don't want to pay 100 or more dollars for.
So I think that is good for my first blog, now out to the field to test some more plastic!!!