Disc Golf Tournament Necessities On Sale

DISCS GOLF TOURNAMENT ITEMS ON SALE
Summer is just around the corner, and that means disc golf tournament season is in full swing! To celebrate, we are having a BIG sale on tournament necessities. Check out what we have available for all your tournament needs:
Do your hands get sweaty while playing? Maybe it's hot, or maybe you get nervous during competition. Either way, getting yourself a grip enhancer can help restore your hands and give you maximum grip so you can crush those drives and sink those putts.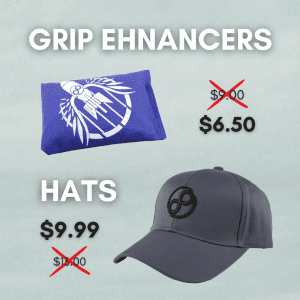 Summer means sun, and you don't want to worry about squinting through the bright sunlight when approaching the basket. Get yourself an Infinite Dad Hat to block out that pesky sun so you can clearly see the target.
Getting backed up during a tournament is not uncommon. There is usually a lot of sitting around. To save your feet from being sore, get yourself a tournament seat! It collapses down for easy carry and even has a strap to sling over your shoulder. This seat is made with excellent quality material, making it durable for any type of weather or terrain.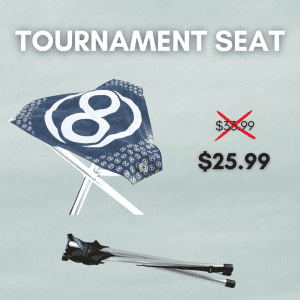 Knowing the exact distance to the basket is very helpful when determining what disc you need to throw. The Apex Rangefinder is a very accurate piece of equipment with excellent reviews. It shows length in both feet and meters and has multiple modes to give you the most accurate measurement.
Sometimes we run into some bad luck or have a bad throw, and we need some extra length to get our disc from hard-to-reach places. Retrievers are a must-have while in a tournament so you don't lose a disc you need. The Infinite Discs Retriever offers an extended reach of 16 ft. and has two hooked claws for maximum grip.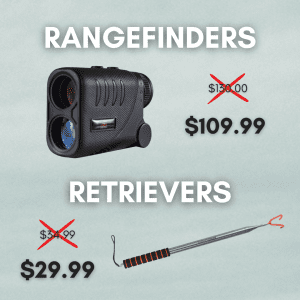 Infinite Discs Metal Mini: Add some solid gold to your bag, because this Infinite Discs Metal Mini is the real deal. You might not need to get a new mini ever again due to the durability and weight of this mini.
Infinite Discs Stress Mini: It can be frustrating to miss a much needed putt. But when you have this stress mini, it can help you move forward to play great on the next hole. It is also very helpful when you have some uncomfortable kneeling putts to make.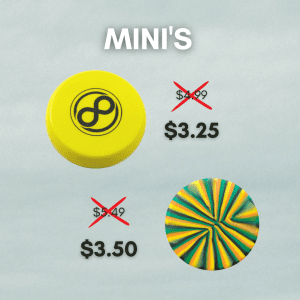 Infinite Discs Bomber Wood Mini: Get yourself one of these genuine hardwood Infinite Discs Mini. These minis feature an engraved Infinite Bomber logo on stylish rubber wood.
Mini Alpas Rubber Mini: The Mini Alpas is a rubber mini marker that takes after the shape an material of the Divergent Discs Alpas. This mini is made out of colorful, bendable silicone rubber- making it a fun way to mark your lie out on the course!
Infinite Flick Flyer Mini: These fun little mini discs are made out of silicone rubber and are shaped to fit in your fingers for long-distance flicking. You can use them to mark your lie during your disc golf round, or to kill a little time while waiting during a back up.
Make sure you capitalize on this sale while you can! It starts today (22nd) and ends next Friday (29th).
Best of luck out there on the course!