Best Disc Golf Cart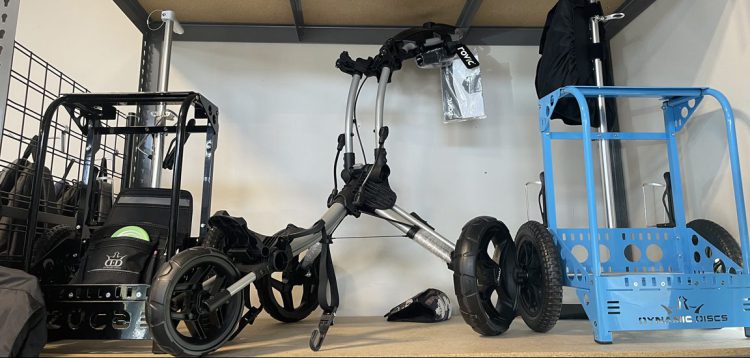 Several years ago I got my first disc golf cart. Up until then I had been lugging around a bag without any problem, and it seemed silly and unnecessary to have a cart. I might have never gotten one, but I had just sold a ton of used discs and I had some store credit to burn so I thought 'why not?'
First Cart
I got my new cart between rounds at a tournament in Salt Lake. During the lunch break, I put the cart together and prepared to take it on its maiden voyage. I had been carrying my bag the first round, so I figured it would be a great back-to-back (pardon the pun) round comparison.
I don't want to sound too hyperbolic with my experience with the disc golf cart, but the clouds parted and a beam of light shined down on my new, favorite piece of disc golf equipment! Ok, there is a tad bit of hyperbole in that statement, but just a little bit. I instantly became a convert to cart-ism, and I've been a fan ever since.
Best Disc Golf Cart For You
In this blog we will examine the benefits of using a cart, then we'll look at a variety of carts, and talk about the pros and cons of each. We'll also talk about the best carts to suit individual needs. This will help you find the best cart for YOU.
Benefits
When I had my cart epiphany, I was amazed at how much I didn't miss hauling my bag around. I was playing at a park course and even with the few hills and trails on the course, I could tell I was expending less energy than on the round that I carried my bag. Plus, I would be able to carry even more stuff with about the same amount of effort.  I could carry extra discs, extra food and water, an umbrella, a retriever, etc., Plus, I had a cart with a seat!
Down Side To Carts
Before we talk about cart choices you have, let's discuss the down sides to owning a cart. First, there is the extra cost. Carts cost several hundred dollars, not to mention the cost of possible accessories such as a seat cushion (Recommended!), putter pouch, wheel cover, fenders, etc. Second, not all courses are cart-friendly. Trying to take a cart on a hilly course with narrow trails may cost you much more energy than carrying a bag. If you get a cart that holds discs, you may still need to get a bag for courses those non-cart courses. Third, they typically take up much more room in your vehicle than just using a bag. If you have limited space in your vehicle, you may have a difficult time getting a cart to fit.
Bag or Bagless
First, let's look at the two general types of carts on the market: Those which require you to provide a bag, and those that come with built-in disc and accessory storage. The carts that require you to supply the bag can also be broken down into two sub-categories: Those where your bag rests or hangs ON the cart, and the ones where your bag sits IN the cart,.
The carts that have their own built-in disc carriers come in a few different designs. The thing they have in common is that they are self-contained carts. In other words, you don't need an additional bag to hold discs. They hold 15-30+ discs and have room for accessories. The problem with that type of cart comes when you play a course that isn't cart-friendly, such as heavily wooded or hilly courses. Then you will need to have a bag, and transfer all of your discs from the cart to the bag. Here are a few examples of this type of cart.
Note: all of the two-wheeled card have common benefits, such as an adjustable, telescopic pole and handle, and available accessories, such a umbrella/retriever holder
ZUCA Trekker and Trekker LG cart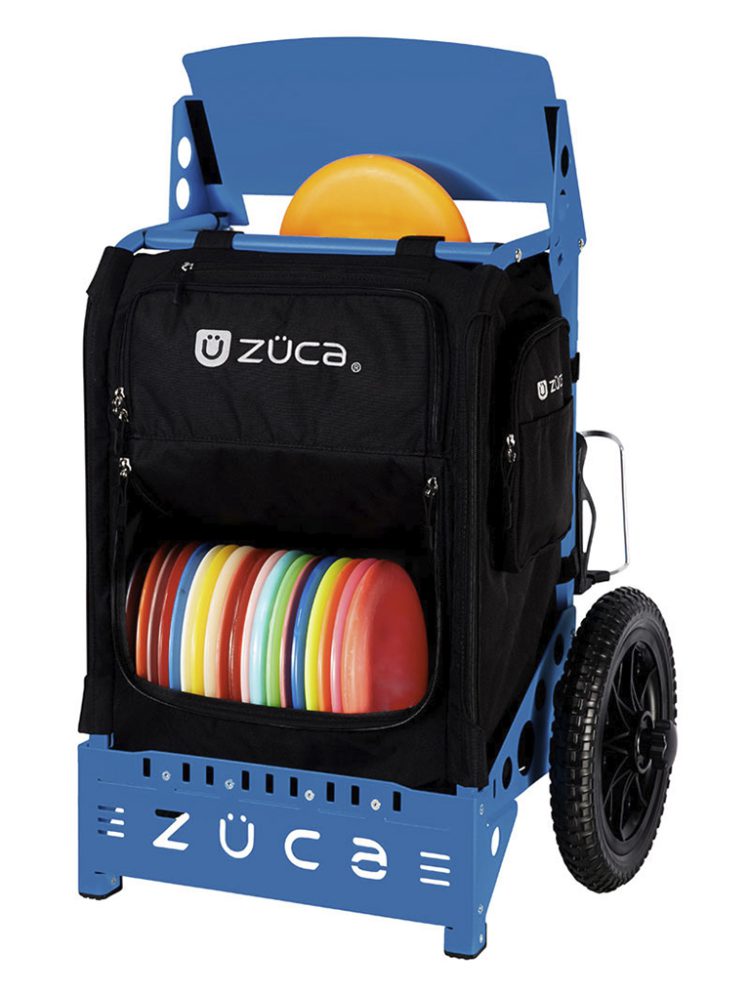 This cart is based on the ZUCA Backpack and Backpack LG. The 'LG' stands for Large and that model is slightly larger than the regular Trekker/Backpack cart. The Trekker has a 22" axel (which means the cart is 22" wide) and carries 20-25 discs, while the LG has a 24" axel and holds up to 30 discs. They both have a telescoping handle and a built-in seat that supports up to 300 lbs.
Pro:
Built-in Seat
No additional bag needed
Con:
An additional bag would be needed for non-cart courses
Takes a lot of space to transport
ZUCA Compact cart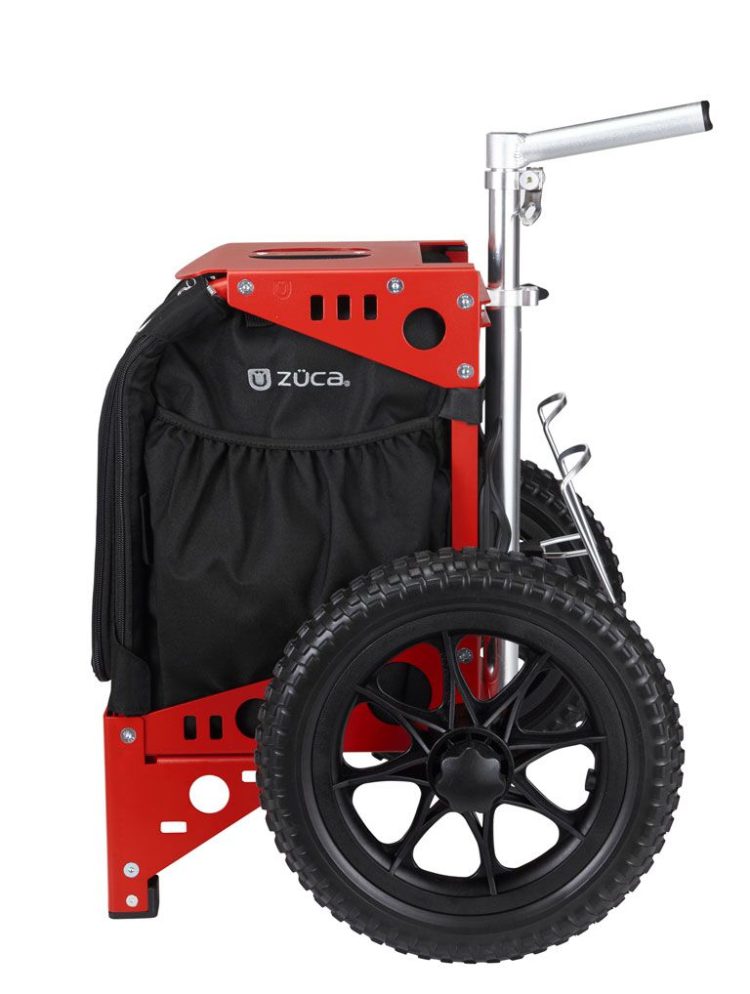 The Compact is for people who don't carry as many discs, and who don't need as much space. It sits a little lower, but still has the 22" axel for stability. It also has a built-in seat, which sits a little lower than other carts.
Pro:
Smaller, lighter cart is easier to move and transport
Built-in seat
Low center of gravity
Con:
An additional bag would be needed for non-cart courses
Limited space for extra discs and accessories
ZUCA All-Terrain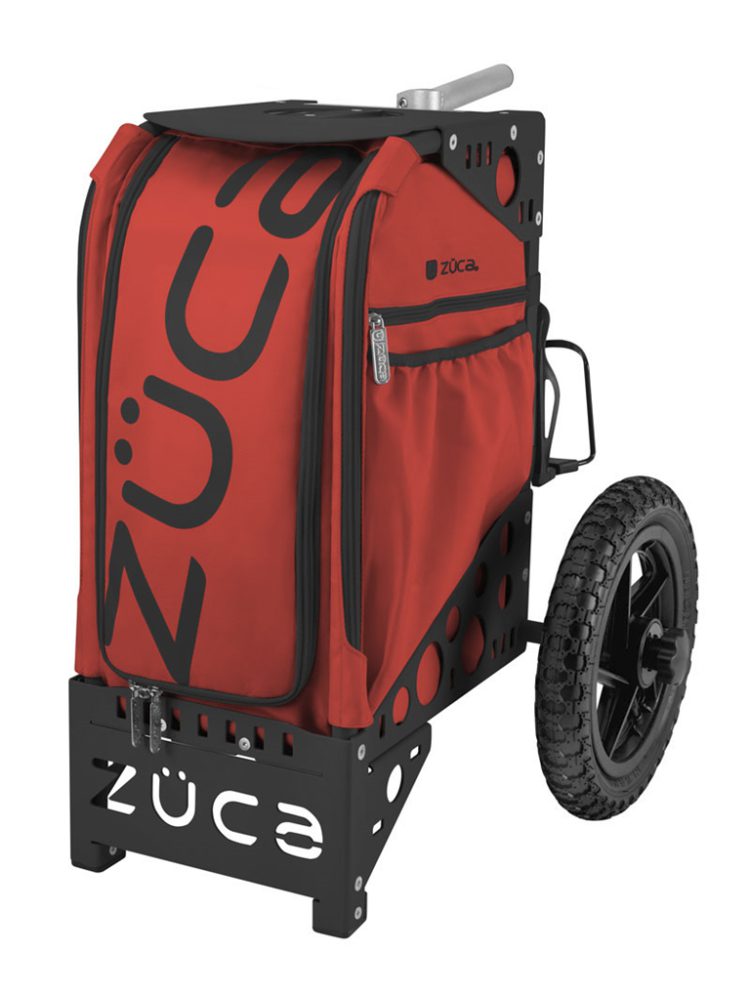 The All-Terrain is a larger version of the Compact cart. It carries up to 32 discs, with side pockets and interior storage. It has a built-in seat and a 22" axel.
Pro:
Built-in seat
Lots of storage space for discs and accessories
Con:
An additional bag would be needed for non-cart courses
ZUCA Transit Cart

The Transit cart has a built-in bag for discs, and also has storage space below the bag. It has a 24" axel and a built-in seat. The Transit Cart holds up to 25 discs.
Pro:
Built-in seat
Extra space for storage or a cooler bag
Con:
An additional bag would be needed for non-cart courses
Limited space for extra discs
The other kind of cart is one you use to transport an existing bag. The bag will go on or in the cart. These kinds of carts vary in size and style. Some have seats, while others don't. Some have two wheels, and one model has three. Here are some of these carts where you need to provide a bag:
ZUCA Backpack and Backpack LG
These are bag carts that have a seat, telescoping handle, water bottle holders, but no extra storage space. All of the storage must come from the bag used in the cart. The Backpack cart has a 22" axel, the LG's is 24".
Pro:
Easy to remove your bag for non-cart courses
Built-in seat
Con:
Larger cart to transport
Additional cost of buying a bag
Storage space is limited to the size of the bag
MVP Rover Cart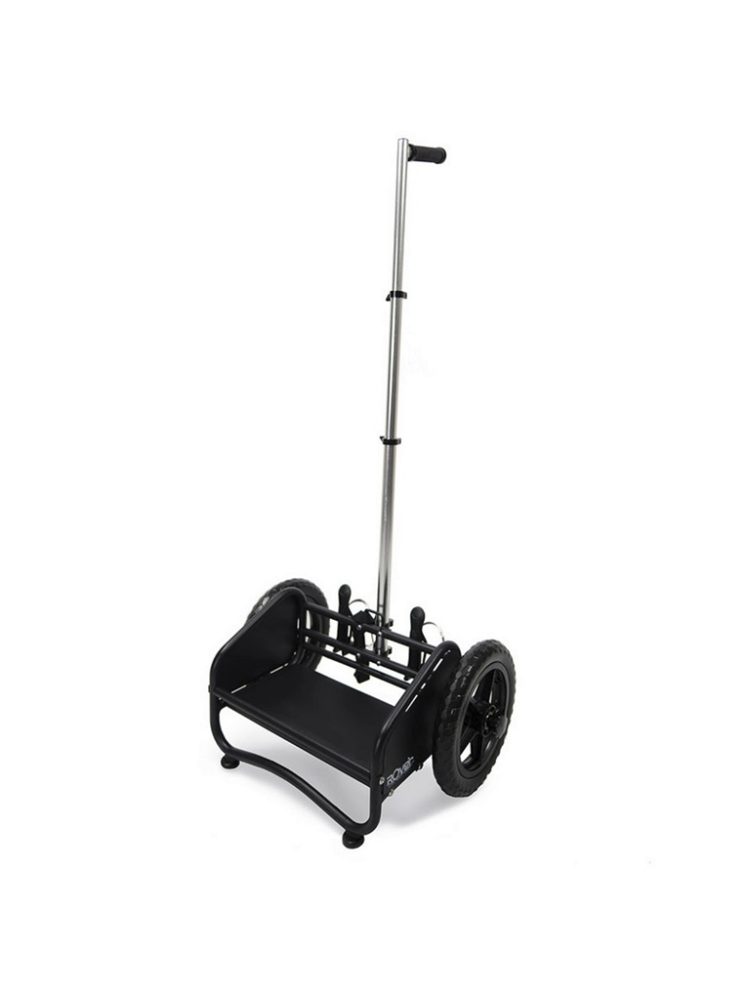 The Rover Cart is a small cart and the most compact of any cart. It does have water bottle holders and a telescopic handle, but no built-in seat. It has a low center of gravity, making it easy to move and maneuver.
Pro:
Easy to remove your bag for non-cart courses
Low center of gravity for ease of moving
Small cart to transport
Con:
Additional cost of buying a bag
Storage space is limited to the size of the bag
ZUCA EZ Cart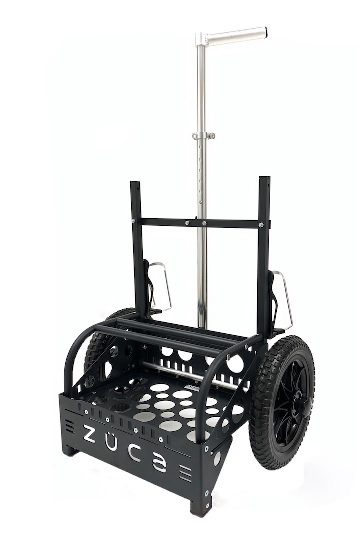 The EZ Cart has a shelf for your bag to sit on, and a little storage area under that shelf. Like the Rover Cart, it doesn't have a seat, so you would need to carry one. It has a 24" axel.
Pro:
Easy to remove your bag for non-cart courses
Low center of gravity for ease of moving
Small cart to transport
Extra storage space for accessories or a cooler bag
Con:
Additional cost of buying a bag
Rovic RV1D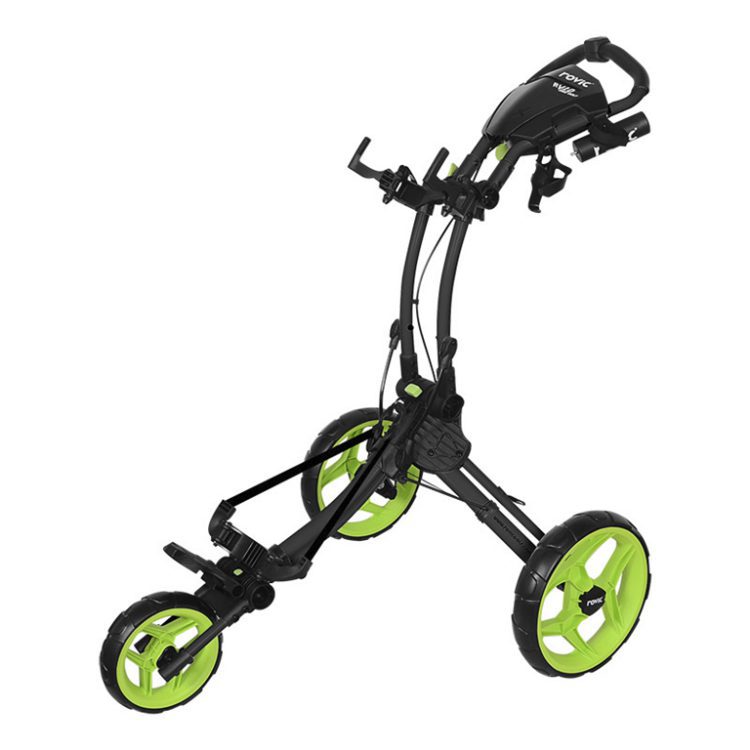 This is a foldable cart from ball-golf cart maker, Clikgear. It will hold any bag. The Rovic has a locking brake to prevent the cart from rolling away on an incline. There is a small storage area for snacks, keys, etc. It comes with drink holders, an umbrella storage loop, and a place to hold your umbrella when it's up. There are many accessories available, including a seat with cushion, insulated storage bag, and mitts for cooler weather. The cart doesn't push well on bumpy, uneven ground, but you can simply pull the cart over those sections of the course. The large handle makes it easy to get the cart up curbs and over ditches. I was concerned that the cart has plastic pieces, but I've been using one year 'round for three years (including in the winter) and it has held up perfectly.
Pro:
Easy to push: I never thought tipping back a two-wheeled cart to get it to roll was a big deal. But, when I didn't have to do it, it was really nice!
Accessories available to increase storage space, give you a place to sit, and make your life a little easier on the course.
Very Compact. Folds up into an impressively small space.
Holds your bag higher, so you barely have to bend over at all to retrieve a disc.
Con:
Since the front wheel doesn't pivot, you have to tip the cart back to turn the cart. By mounting your bag a little higher, it makes the tip-to-turn a little easier.
The accessories are an added expense.
The cart fold up very small, but if you add the dimensions of your bag and accessories, the total space is comparable to a large cart.
The included water bottle holders are too small for larger water bottles to fit.
The BEST Disc Golf Cart
Now that you know the pros, cons, and features of these disc golf carts, you can narrow down your selection by considering your disc golf needs.
Do you play most of your rounds at courses that are cart-friendly?
Do you enough room in your vehicle to transport a cart?
How much extra space will you need for accessories, food/water, and extra discs?
How often will I be using the cart at tournaments? (Tournament needs are different than casual-round needs. You'll want to make sure you can take food, water, chair, repellant, sun screen, umbrella, raingear, etc.)
How much can you spend for the cart and all the accessories you'll need?
Do you want to be able to sit during rounds?
Once you answer these questions, you'll start to see which cart makes the most sense for you. Then you can further refine your choices by looking at available colors and styles.
Carts FTW!
I've heard many times how glad people are that they bought a cart! With all of the benefits a cart provides, it really is a game changer for many of us. Use this guide to help you decide which cart will be best for you, then check out the selection at Infinite Discs HERE.
Win a $50 Gift Card from Infinite Discs!
We want to hear from YOU about your thought on carts. Do you have a cart? Let us know which one (or, which one is your favorite if you have more than one). Don't have a cart? Tell us which one would best suit your needs. Won't ever get one? Tell us why.
We will select one lucky commenter at random and send them a $50 gift card for anything at Infinite Discs.