Focus Friday – Infinite Discs Ruin

It is that time once again, happy Friday. I'm pretty stoked and happy that it is Friday. The weekend should make for a good time. For this Focus Friday we will feature one of our own molds: the Ruin. Use FOCUSRUIN to save 20% on all Ruins over the weekend.
Infinite Discs Ruin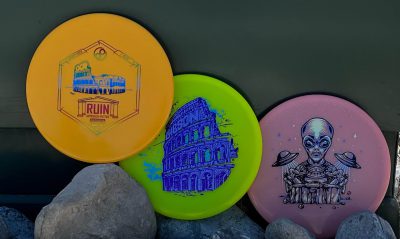 The Ruin is a pretty useful approach disc. It is an overstable mold that can handle power and can withstand the wind. Making it an excellent utility disc, or a reliable approach disc. Providing an overstable flight path with a hardy fade at the end. This has a unique rim to it, and an incredibly flat top. Fitting in the hand fairly well regardless of a forehand or backhand grip, providing good control over the disc.
I've used this mold for a large variety of approach shots. It's been quite useful for the simple approach, a headwind putt, getting around an object, for drives, and for some flex shots. It has a lot of uses out on the course, it is a lot of fun to throw. Because of its dependable flight, it is quite useful.
Now is a great time to get you some Ruins, as you can save 20% on all Ruins. Check out all the reviews of it to see if it is a good disc for you or not. After all, now is a great time to get one to try out, or to simply get a backup or two.
The Discount code
Here is the deal, head over to our website and check out the Ruins and select the ones that you want and any other item that you want or need. Once everything is in your cart, you can apply the discount code FOCUSRUIN and get 20% off all Ruins in your cart.
Additionally, check out this page, to see all the items that are on sale for the week.
Note: After placing your discs in the shopping cart and before checking out, click on the "Discount Code" box under the shopping cart and enter that code. Then proceed to checkout.