Focus Friday Puzzle Edition & Giveaway

Happy Friday all! This week will be a little different than others, as we'll focus on all puzzles. To make it even more interesting, we'll do a giveaway to accompany this Focus Friday.
The Giveaway
The entry for this giveaway begins today and will continue till January 31. There will be five winners who will receive a $15 gift card. To enter this, you will simply need to share a picture of you doing the Hye8Dye 500 Piece puzzle on Facebook, Instagram, or Twitter with the #InfiniteDiscsPuzzle. Have fun with this, and show us your puzzle skills!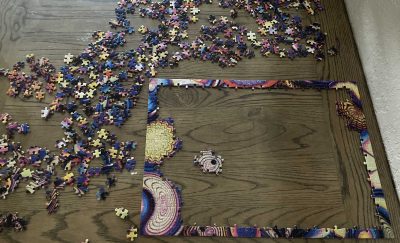 The Discount Code
While it is too cold to play outside all day long, use the promo code to get yourself a disc golf puzzle. It'll be almost as good as playing golf outside. The discount code FOCUSPUZZLE will give you 20% off all puzzles. Make sure to get the Hye8Dye puzzle so that you can get a chance to win a $15 gift card.
You can select the Hye8Dye 500 piece puzzle by clicking here and the Infinite Discs 500 piece puzzle here. Once everything you want is in your cart, you can apply the discount code FOCUSPUZZLE and get 20% off all puzzles in your cart.
Note: After placing your discs in the shopping cart and before checking out, click on the "Discount Code" box under the shopping cart and enter that code. Then proceed to checkout.