Focus Friday – Viking Discs Ragnarok
Happy Friday! Does this Viking (discs) look ready for Ragnarok?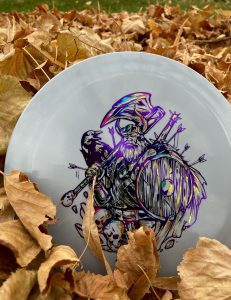 This week we are focusing on the Viking Discs Ragnarok. Use the promo code below to get a 20% discount off all Viking Discs' Ragnaroks.
This is an 11 speed distance driver, that bridges the gap between distance and fairway drivers. As a stable driver, this is manageable to throw for distance and control. Throwing it will provide a nice slight "S" line as it goes through the air. The storm, armor, or viking air plastic are all nice and durable, as well as comfortable to hold. We thought it would be awesome to add a few of these Viking Warriors to the Ragnarok line up for this Focus Friday. Head on over to InfiniteDiscs.com to pick up your Viking Warrior Ragnarok today. What type of shot does the Ragnarok fill in your bag?
Head on over to https://infinitediscs.com/Viking-Discs-Ragnarok to select your Ragnarok. Once everything you want is in your cart, you can apply the discount code FOCUSRAGNAROK and get 20% off all Ragnaroks in your cart.
Note: After placing your discs in the shopping cart and before checking out, click on the "Discount Code" box under the shopping cart and enter that code. Then proceed to checkout.