Have You Heard Of These Disc Golf Brands – State of Disc Golf Survey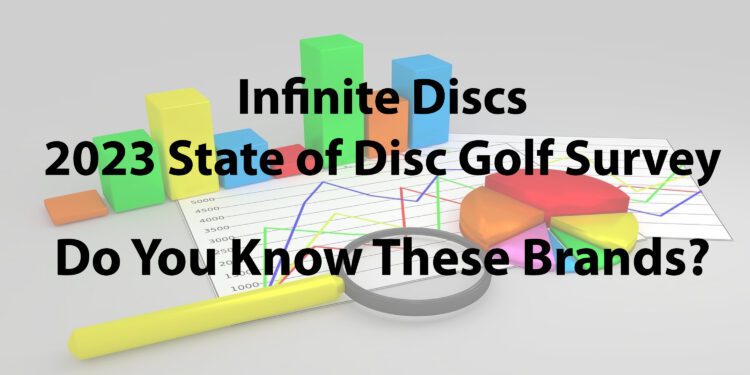 Although the sport of disc golf has been growing steadily for over a decade, none of the growth compares to the explosion in popularity that occurred during the pandemic. Disc golf was the perfect activity for social distancing, and many people discovered the sport during that time.
In addition to the increase in the number of participants of disc golf, we have also seen a growth in the number of new brands hitting the market. There have been new brands rolling out with regularity over the past decade, but the explosion in popularity of disc golf also saw a rapid increase in new disc golf brands. A quick check of the PDGA approved discs list (HERE) and we see that already this year there have been numerous new manufacturers getting molds approved. Even in the past month we see a couple new brands. It will likely take some time before people know about some of the new brands and the molds they are producing.
Which Brands Do We Know?
In the State of Disc Golf survey, we asked if how well everyone knew some of the newer brands on the market. We asked you to rank how well you knew each of 14 new brands. You could rank your knowledge from "Not aware of them" to "I regularly follow this brand". Let's take a look at which brands you know best and least.
Who Are They?
Let's begin by discussing how you ranked each brand that you were unfamiliar with. Part of the challenge in starting a new brand is getting the word out about your molds and plastics. That can cost a lot of money that newer companies might not have. You can't rely on a pro getting an ace on video using your disc, like Cole Redalen did with Wild Discs' Sea Otter. Here is a graph showing how many of you didn't know these brands.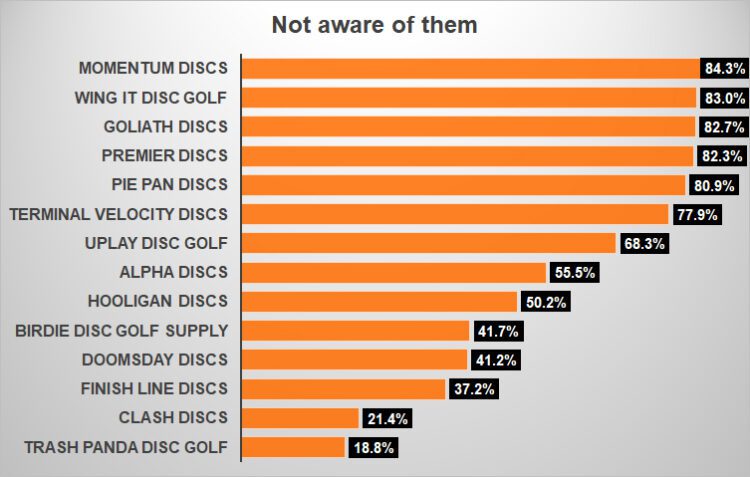 Five brands have a similar percentage of individuals who are not aware of them. Momentum Disc Golf (Now Momentum Discs), Wing It Disc Golf, Goliath Discs, Premier Discs, and Pie Pan Discs are all within a couple of percentage points from each other. All of these brands are just a couple of years old, and only have a few molds. As they grow and add more molds to their lineup, maybe they'll get more recognition. Word of mouth about a great disc can give a young company a big boost. Hopefully this blog will get people to check out these brands.
Sounds Familiar
Next, let's look at the brands that people had at least heard about.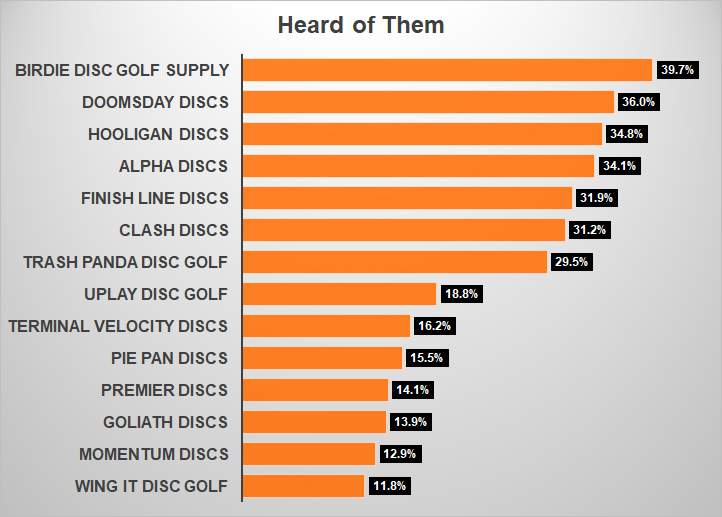 Birdie Disc Golf Supply and Doomsday Discs are two of the 'most heard about' brands on the list. Both of these brands have been featured in Infinite Discs' blog series about smaller brands that we carry. Birdie is a Delaware company, and Doomsday is a very, very unusual company that is headquartered in Wyoming (I think) but uses a variety of manufacturers and distributors (Including Infinite Discs) around the world.
Check out the Birdie Disc Golf Supply blog HERE.
Check out the Doomsday Discs blog HERE
Joining Momentum at the bottom of the list is local (to Infinite Discs) manufacturer, Wing It Disc Golf. Check out the Wing It blog HERE. Only a small percentage of us have heard of these two brands. It will be interesting to see how they grow and become more well-known.
Know A Bit About Them
Moving on to the third level of knowledge about brands, we'll look at how many of them we know some things about. Maybe we've been to their website or checked out discs that they make. Here is the chart: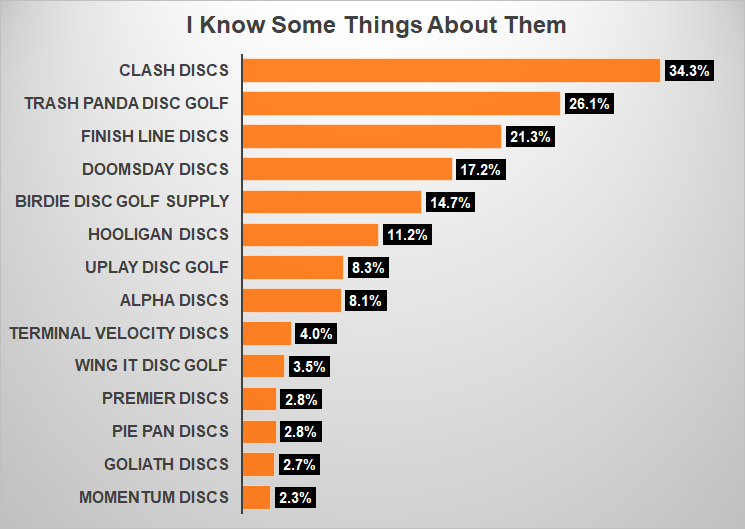 At the top of the list we have two brands that have garnered some attention lately. Clash Discs has announced some big name pros that they are sponsoring. The move ensured that their name would be known among anyone who follows pros to any degree. They also advertise on live events, getting their molds in front of a big audience. Check out our blog featuring Clash Discs HERE
Trash Panda Discs had a decent-sized following long before they released their first disc. Jesse, the founder of Trash Panda, had a stated goal of manufacturing and producing discs that are made from recycled plastic and are fully recyclable. He achieved that goal and is now working to expand his lineup. I interviewed Jesse before Trash Panda was even a year old. Check out that interview HERE
Finish Line Discs is just a year old, but many of us know about the brand because it was started by one of the top touring pros, Drew Gibson. That certainly helps get exposure for a new company with just a few molds.
Let's Chat About Them
Knowing about a company, and holding a conversation about the company, are two different things. To hold a conversation about a brand takes more than just seeing a commercial, watching a pro who throws the disc, or seeing one of their discs in someone's bag. If we know a brand well enough to converse about it, that means that we've at least spent time checking out the company or listening to a buddy who throws their plastic. Here are the numbers: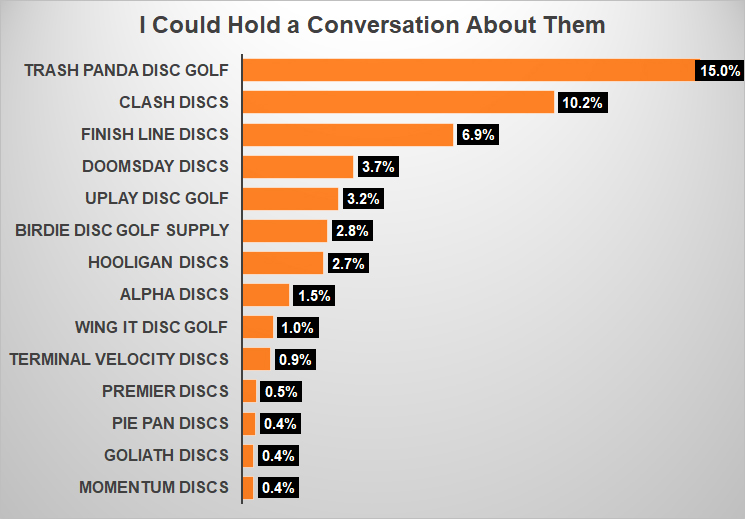 Once again, Clash and Trash Panda are at the top of the list. UPlay made an appearance in the top five companies. That is the brand started by Infinite's Zoe Andyke. UPlay has one disc, the Zeal. Their focus is on growing the sport of disc golf by introducing it to kids of all ages.
I Know Them Well
The final category which indicates the level of understanding is which brand we follow. These are the brands whose molds we are familiar with, and maybe we even throw some of their discs. Let's look at the results.
Once again, Trash Panda has the highest percent. Over ten percent of survey respondents indicate that they regularly follow this brand. Since Trash Panda has a popular Youtube channel and a mission that resonates with a lot of people, it is not surprising that they are in the number one spot. The large gap between Trash Panda and the second place spot IS somewhat surprising. Their 10% number represents hundreds of people who took the survey. Well done, Trash Panda!
If we look at the number of people who either knows about the brand, can converse about the brand, and regularly follows the brand, we can find the brands with the most exposure to the disc golf public. Given the top two  brand in the last couple of graphs, the winner pretty much comes down to two brands. Drumroll, please…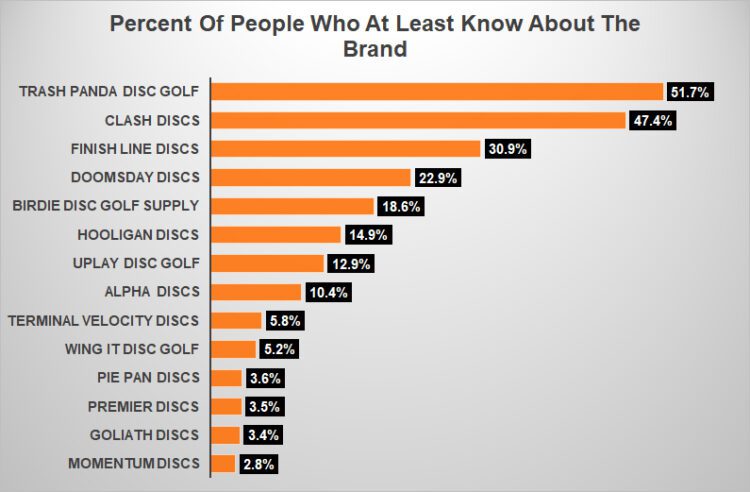 Trash Panda edges out Clash by just a few percentage points! Both of those brands can feel proud about the attention they've been able to draw to their brands in an ever-growing competition for attention. Congrats to both brands!
Check out Infinite's selection of the brands mentioned:
Trash Panda Disc Golf
Clash Discs
Finish Line Discs
Doomsday Discs
UPLAY Disc Golf
Birdie Disc Golf Supply
Hooligan Discs
Terminal Velocity Discs
Alpha Discs
Wing It Disc Golf
Pie Pan Discs
Goliath Discs
Premier Discs
Momentum Discs
Check back next week for more State of Disc Golf Survey results.