Introducing Doomsday Discs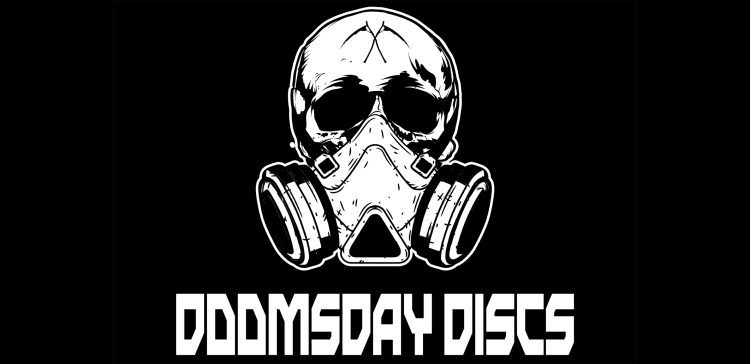 In my series focusing on the smaller brands that we sell at Infinite, I started each blog by highlighting where the company was headquartered. I've written blogs about disc companies from numerous US states and countries around the world. However, that tradition comes to a screeching halt with this blog, because I have no idea where Doomsday Discs is located! That specific question is on the list that I send to each company. But, they didn't answer that question. I didn't even get the name of the founder!
Here are the answers that I did receive. They will help you get a glimpse of this unusual company. Do yourself a favor and check out their website after you read the blog. You could even join their team and give input on future releases. For now, let me introduce Doomsday Discs!
Introducing Doomsday Discs
When did your company begin, and who started it?
The company conceptually started during the heart of the pandemic– a natural time for a brand built upon the pending apocalypse and a survivalist attitude. It was founded by a small group of anonymous disc golf enthusiasts and preppers who have come to accept the inevitable.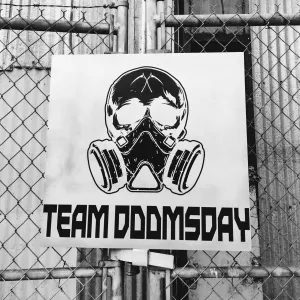 However, the "who runs this company" has always intended to take on a decentralized focus, where the fans of the brand become the team that ultimately runs the brand. We see it as the first brand run by the people, for the people, as least as long as there are people around to do so.
Can you give a brief history of your company?
We saw a need for new sources of essential items like food, water, fuel, and flying plastic. We began taking steps to fill that need by introducing new sources of discs to the market. Team Doomsday was initiated and is still growing daily. To join the team, interested participants simply need to visit the doomsdaydiscs.com website, enter the store, and purchase a Prepper Team Pack. They will then become a part of the brand's early history.
Where is your headquarters located?
The founders are located in an undisclosed bunker. But since our focus is to make Team Doomsday into the driving force behind the brand, the headquarters can be anywhere, and will be everywhere.
Which were your first few molds?
We currently use five different plastics manufacturers, four of which had never made discs before. So it has been a long process to get from concept to mold to prototype and to final product. A lot of our disc concepts are still in those different stages. Some of the first prototypes to be available to our team were the Plague, Famine, Blackout, Flat Earth, and Land Mine.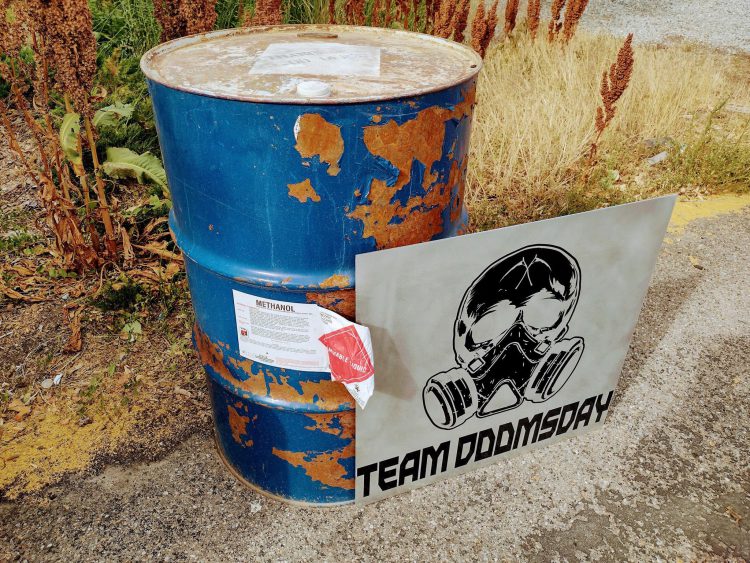 There's more expected in the coming weeks and months.
How did you choose the names for your molds?
We came up with some of the initial names of our prototypes. A few of those have been kept, but others were renamed by our team. Since we want the members of Team Doomsday to make a lot of the decisions, we encourage ideas and names on the Doomsday Discs Discord server. For example, two of our discs were originally called the Can Lid and the Hubcap while in the design phases, but the team members chose to change the names to the Land Mine and the Frag, as part of the "Munitions Line" (also their idea). Mold names, plastic names, different lines, and flight path numbers…all now have the input of Team Doomsday members.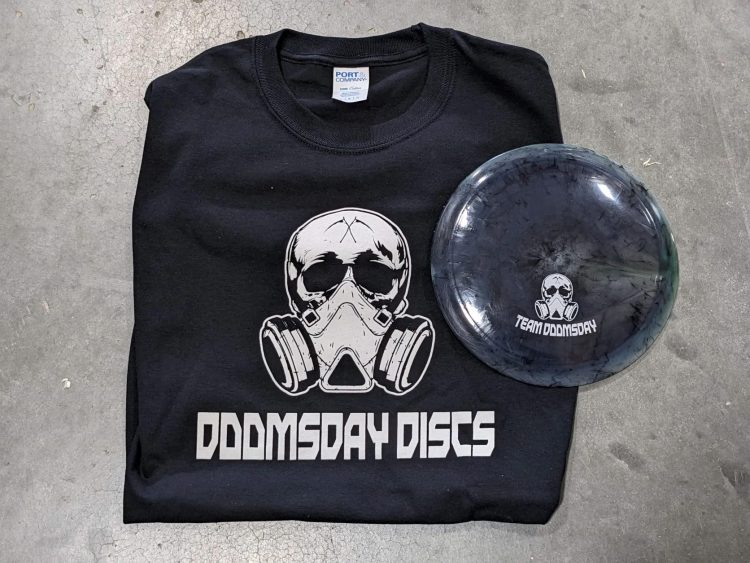 Which are your three most popular molds?
Since the Blackout is the proto that was shipped to the team members with their team shirt, it became one of the most loved. But almost every time we introduce something else, it seems to find an audience of fans. The Land Mine will probably go through a wave of popularity due to its very unique shape and dependable flight characteristics.
What plastics do you offer, and what is your most popular plastic?
Since we have several different disc lines from the different manufacturers, there will be many different plastic types in play. We have some names decided and others undecided. The Catastrophic Line has plastics like Meltdown, Uranium, Toxic Waste, and Fallout. The Munitions Line has plastics like  Weapons Grade and C-4 (soft). Prepper Line will have Ration, Survival, etc. There will be a lot of plastics to keep track of once things get rolling.
Can you tell us about some upcoming releases?
Almost everything is still upcoming. We're excited about the Land Mine since it is so unique as far as an approach disc goes. Plus the Frag is super overstable, to a ridiculous level, which makes it fun.  But I think the real workhorse discs that are coming soon and we're excited about are the Bleak putter and the Dystopia driver.
We've also started developing an oversized driver that will be epic.
Who are some pros or other players that you sponsor?
We do not currently have sponsored, touring pros, though we are excited about our entire team, from the ones that are highly rated to the ones who throw lower-speed discs and light up the course with their Doomsday swag and fun personalities. We believe everybody who wants to be on the team should be, and if they're on the team, they are valuable and appreciated. After all, when the doomsday comes, every human relationship and interaction will be precious.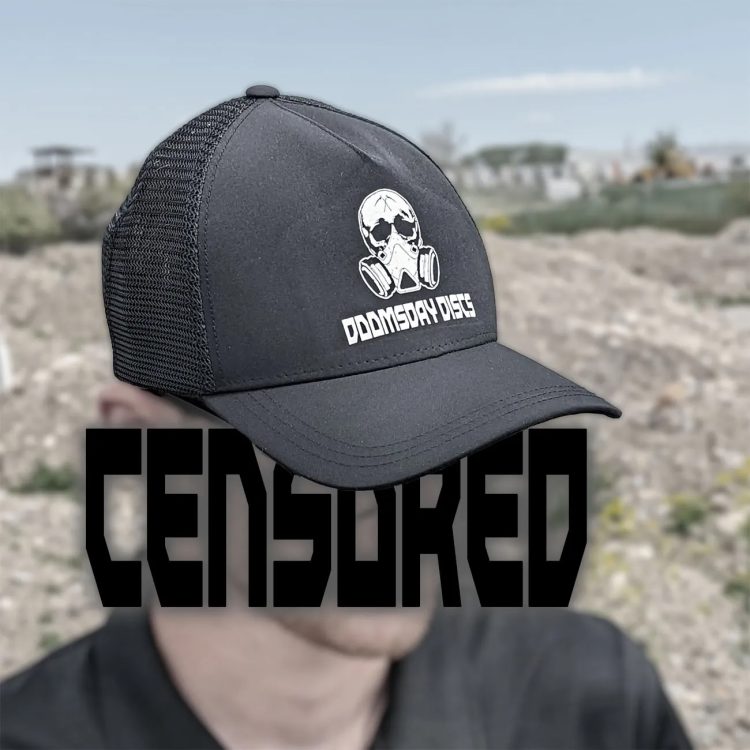 What does the future look like for you?
The future in general may be bleak…even hopeless…but we are optimistic that a lot of people will find a lot of joy throwing and storing up Doomsday Discs in the present and into the future. Whether chucking your disc across a Dystopian landscape, or using that disc to eat your cold squirrel stew, we feel like the future will be better if a lot of our discs make it into that future.
What will disc golf look like in the future?
In the near future, hyper growth. In the long term, maybe something like this (see photo below).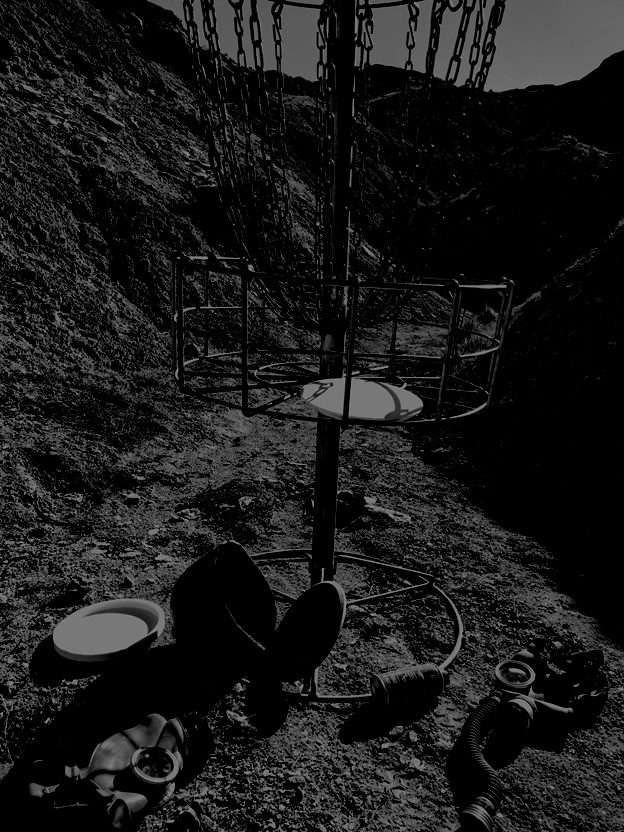 What is something unique about your company?
We feel like Doomsday Discs will be one of the most diversified and decentralized disc golf brands in the world. Discs will be sourced from many places, released in many forms, and we hope that many players will embrace it. We hope that many players try the brand for the love of that variety and their desire to be a contributing part of the brand image and growth. Who knows…maybe we'll be the last brand standing after the sun goes micro-nova, the earth's magnetic field collapses, and we no longer have the same rotational axis.
—- Dr. Death
Check out the Doomsday Discs website HERE
Check out Infinite Discs' inventory of Doomsday molds HERE
Let us know what Doomsday molds you've tried
Have you tried Doomsday Discs? Post below and let us know what you think about them. Haven't had a chance to try them? Post below and let us know which ones you would like to try.
Congrats to our random disc winners:
Joe
Tyler
Dan