How Stable Are Your Discs?

The State of Disc Golf 2021
The Stability of Discs in our Bags
In our continuing series highlighting the results of our annual State of Disc Golf survey, this week we take a look at the stabilities of our discs. We will also discuss the term stability and how the language of disc golf can be unclear in regards to the stability of a disc. Then we will take a peek inside our bags to see the discs we throw and how stable they are.
Learning the Flight Ratings
One of the things we learn about discs when we are starting out playing disc golf is that the flight of the disc is important, and we need to learn about the how ours fly. Depending on how much coaching we got when we first started, a lot of us went for the 'fast' or 'high speed' discs because we wanted the

discs to fly out of our hands at a high rate of speed. Since we were selecting our molds randomly, we undoubtedly ended up with discs that would do nothing but hang a sharp left turn (for right-handed players who throw back-hand shots, or 'RHBH'). Over time, we learned that discs have a general flight rating and found out that the common four-number flight rating or the single digit flight rating can be used to tell us how our discs will fly. Most of us came to embrace the rating system and would frequently use it to guide our purchases. No longer were we buying discs because of the flight description stamped on the disc. Instead, were now using those flight ratings to help us fill gaps in our bags. No, the flight numbers are not always exactly how the disc flies. But it's the best we have.
Learning the Language
In addition to the variability of flight numbers versus the actual flight of the disc, the sport's lexicon has a glaring issue that regularly calls for clarity. That is the issue of 'stability'. If someone comes into Infinite Discs and tells us that they are looking for a new midrange that is a little more stable, we don't exactly know what they are looking for until we find out what they are replacing. Is there old midrange worn and too flippy, and they are looking for something a little less understable? Or, are they throwing a Justice that they just can't get any distance with, so they are looking for something less overstable?
Although typically, what people are referring to when they say more or less stable is 'straighter'. We would still need to clarify exactly what they are looking for, rather than selling them an Anubis and sending them out to play.
In Our Bags
For our survey, we wondered what the make-up of people's bags were as far as the stability is concerned. We let participants decide what is overstable or understable. The same disc has different flights for different people. We broke the categories into disc types: distance drivers, fairway drivers, midranges and putters. We asked 'What stabilities of discs are in your bag? [for the given disc type]'. Let's look at the results.
Distance Drivers
The first type of disc we'll look at is distance drivers. We asked how many of each of five stabilities do you carry, from Very Overstable to Very Understable. Since most people carry a variety of distance drivers, people were allowed to select all stabilities that applied to them. This chart shows the percentage of people who carry at least one of these stabilities. As an example, the survey shows that 69% of us carry a straight/stable distance driver, as show in the chart below. Here are all the distance driver results: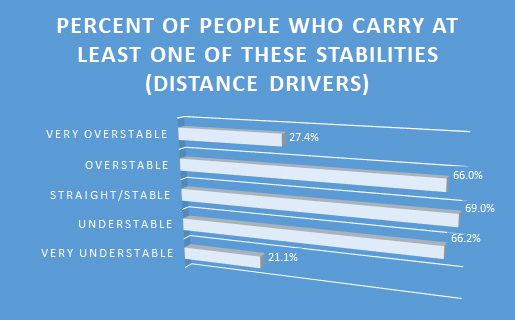 It is not too surprising to see that a majority of us don't carry the extreme stabilities. Most of us can come close to mimicking the flight of a very overstable or very understable disc, with something close. Even so, that leaves a lot of us that just want that ultra-meat hook or ultra-flippy disc. I broke the numbers down to see what percentage chance we have of carrying discs with the given stability and here is what I found. Naturally, the chart will look similar to the previous one. This just gives us a snapshot of an average individual bag.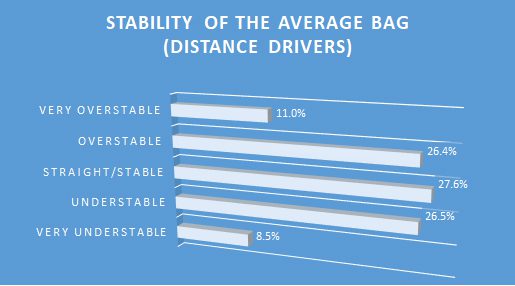 One and Only Stability
In looking at the spreadsheet with the data, I was curious about how many of us carry drivers with only one stability. I was surprised at how big the number was. It was a lot more than I see with our club members. Here is the chart with the date: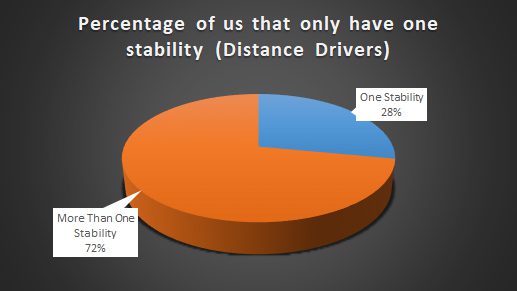 My first thought was that there were a lot of beginners who just didn't carry a lot of discs. So I broke the 28% down into reported skill levels and found out that I was pretty accurate in my assessment. People who called themselves Beginners or even Intermediate made up 85% of the people who only have one stability for their distance drivers. Here is the chart: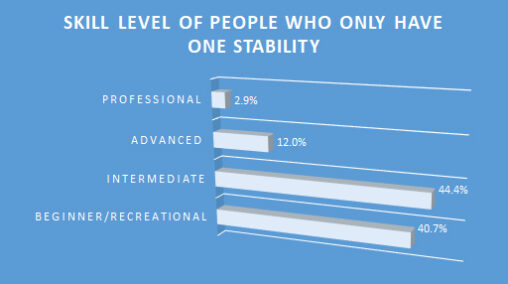 Control Drivers
Now let's look at the data for fairway drivers.  There were slightly fewer people who carry over and understable discs, and a decent amount more that carry straight/stable discs. The extreme stabilities are the outliers again, with similar numbers to the distance drivers.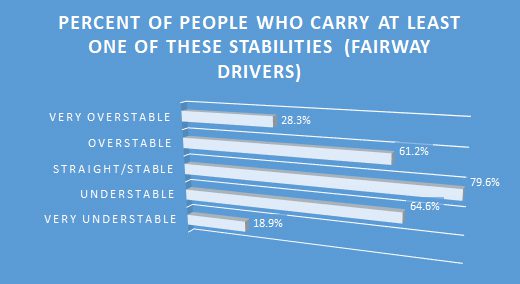 And again let's look at what makes up an average bag with fairway drivers. Again, similar to the chart above. And not a huge difference between fairway and distance drivers.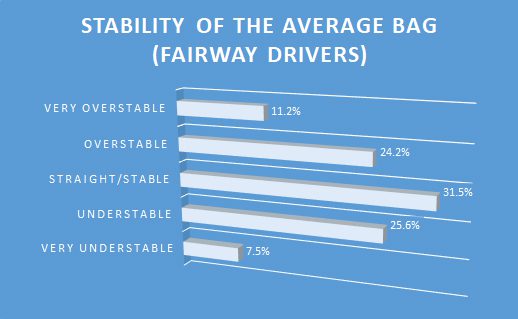 Midrange Stability
Let's see if midranges tell a different story. The chart below indicates that there is a bit more difference when it comes to the stability of midranges. Straight/stable mids reign supreme, but with even larger numbers. And mostly at the expense of the extreme stabilities again. Far fewer people throw very understable mids.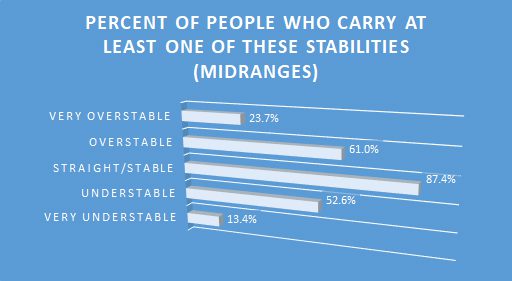 Distilling those numbers down we look at the average bag for mids: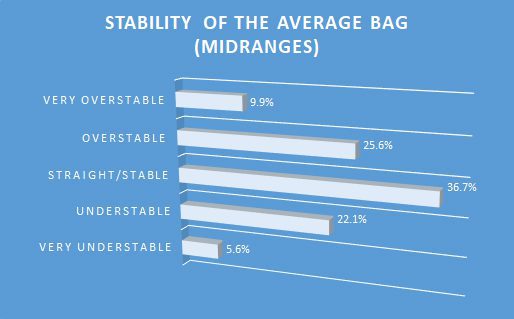 The Kon Tiki
With over 27% of us throwing understable to very understable discs, it will be interesting to see the reception for the new understable Infinite mold, the Kon Tiki. I assure you, the timing of this post was purely coincidental! As of this writing, the Kon Tiki is a brand new release
Putt Putt
Moving on to the category I was most curious about, the stability of putters. As you can see from the chart below, the straight/stable category is closest to 100% of any disc type. Based on the guys I throw with, that seems spot on. So do the very overstable/overstable categories, which represents a combined 70% of us. The 'very understable' is the smallest of all the disc types.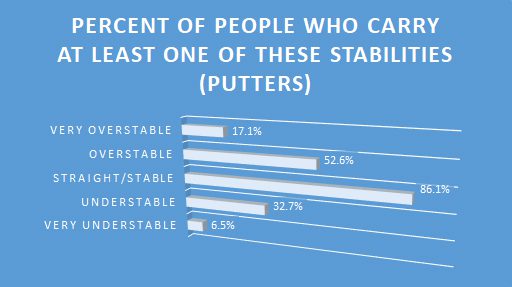 Using the information to graph an average bag, here are the results.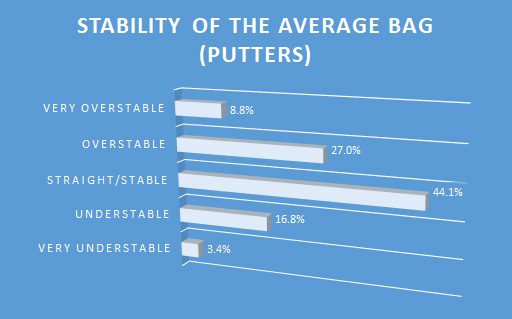 I thought the 'very overstable' category might be a tad higher, and I wouldn't have been surprised if it were a lot higher, due to how many people drive with putters, and like them as stable as can be. Like so many categories we've looked at, I think people go with the overstable disc and just make it work. Also, putters had the highest number of people who only throw one stability, with 40% of us only bagging one. That includes me and my R-Pro Dart!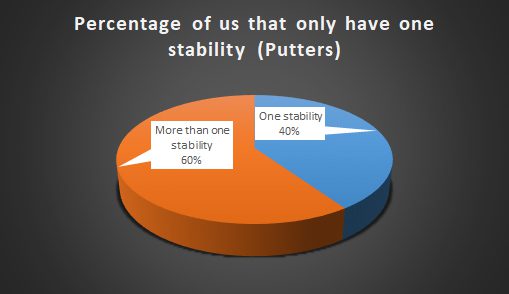 There is a look at our bags and the stabilities we carry. There are sub-categories that we could explore, such as the make-up of a pro's bag vs a beginner/rec player's bag. But, we'll have to address that in another blog. Until then, throw what you love!
Comment below and let us know about the stability of discs in your bag. Do you have Very Overstable or Very Understable discs?