Infinite Discs RA Release + All Weekend Infinite Discs SALE!

Introducing the Infinite Discs RA
We're pleased to announce the newest midrange disc in our lineup, the Ra. The stock edition Ra is now available in C-Blend and Metal Flake C-Blend plastic, and to celebrate, we've created quite the deal for you!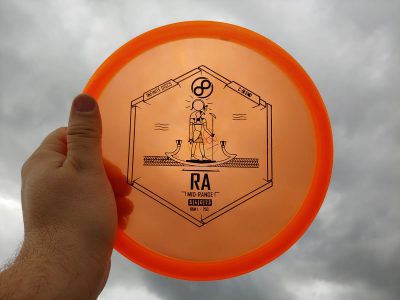 But first, let's talk about the Ra: The Infinite Discs Ra is a moderately overstable midrange with a very flat top and comfortable, beaded rim. It feels and flies perfectly for both backhand and forehand players. It is difficult to find a midrange that is so easy to control and so precise under multiple course conditions.
Now here's the deal:
This weekend (4/5/19 – 4/8/19) we're putting the entire Infinite Discs lineup on sale. This includes the new Ra, allowing you to try it for a discounted price. But wait, there's more! If you use the discount code RARARA you'll get an additional 10% off of your Ra!
If you need a new mid to try, today is the day!
Out of the hand, even when thrown with power (or torque) the Ra is quick and straight. As the Ra begins to slow, the fade kicks in. It is neither dumpy nor gradual…the "sweet spot" of fade. This disc is also great for forehand shots. – BigCountry83
The feel of the Ra is fantastic. I have always wanted to like the Roc family, but I despise the rim on them. Mixing the VRoc bottom on the Rocx3 top made for the perfect feel in this disc. The Ra is one of the best feeling midranges in my hands. – Jordan Miller
This a very controllable, stable mid-range, that can definitely fill a slot in your bag if you need a mid that can combine distance with dependable fade.  If you like Roc3-esque discs, this is for you. – BobbyGitr