Introducing CHEENGZ
CHEENGZ
Infinite Discs carries over 55 brands of discs! We started this blog series to introduce you to some of the brands and molds that you might not be as familiar with. Each week we will spotlight a different company and tell you a little more about them. Because of Covid shutdowns our supply of discs was severely affected. Therefore, we may not have all of the molds from all of the brands we will talk about. But, it might put a few more molds on your radar for the future. This week come back to the USA to check out CHEENGZ.
In the northern part of Georgia lies the city of Atlanta. Among its many suburbs is the city of Marietta, Georgia. Marietta is near the Kennesaw Mountain National Battlefield Park, site of an 1864 Civil War battle. And it is home to disc golf manufacturer, CHEENGZ.
Southern Folks
CHEENGZ was started in 2016 by canine disc competitor turned disc golfer, Troy Burns. The sound the disc makes when hitting the chains was the inspiration for the brand.  Troy came up with idea of spelling it 'CHEENGZ' during a round of disc golf. Troy and his wife, Karen, had been entrepreneurs since 1997, running a variety of businesses, from online marketing to importing chandeliers from the Czech Republic. With his new found love of disc golf, Troy initially started a company selling sportswear for disc golfers. He was bothered by the fact that companies selling shoes and apparel to disc golfers without promoting the sport.
In addition to selling apparel, Troy also wanted to use CHEENGZ to grow the sport. He set goals to add baskets to parks, and improve existing courses. One example of improving courses was Frog Rock disc golf course in Austell, Georgia. CHEENGZ helped the city buy and install 18 additional baskets and an additional tee pad, giving disc golfers plenty of options for play.
After the course improvements, Troy starting working to grow the sport by holding parent/child doubles disc golf tournaments. The clever format ensures that parents are involved in the sport with their child. Only the youth member of the team is allowed to throw from the tee pad. After the drive, the parents can then contribute to the team effort. The events were hampered by COVID19 restrictions last year, but are already being scheduled for this year.
Reconnecting With A World Champion
Although Troy was retired from canine disc sports, he went to the Skyhoundz World Canine Disc Championship where he reconnected with World Frisbee and World Canine Disc champion, Peter Bloeme. (Incidentally, Peter's PDGA number is #123!) Troy ended up doing some video production for Peter and floated the idea of working together to make a golf disc. Much to Troy's surprise, Peter told him he already had one!
Peter Bloeme had been involved in disc sports since he was a kid. Along the way he got involved in canine disc sports, and eventually started manufacturing his own dog discs under the name, Hyperflite, Inc, along with business partner Jeff Perry. Hyperflite is in Roswell, Georgia. The two men had designed two molds several years ago, a dog disc and a disc golf disc. After growing uncomfortable with
their business manufacturers overseas, they had the molds shipped to them in Georgia, and began manufacturing the Z-Disc (dog disc).
Dog Discs to Disc Golf
Once Troy found out the disc golf mold existed, he had Hyperflite make a prototype and really liked how it flew: straight! It was a 100g prototype, but flew straight and never faded. He knew at that weight it would be great for kids and beginners. And if he could get the weight above 170g, it would be great for anyone in disc golf. He had a heavier prototype made and it flew straight as well. On December 30, 2020, Hyperflite received PDGA approval for their mold. That mold became the I-One.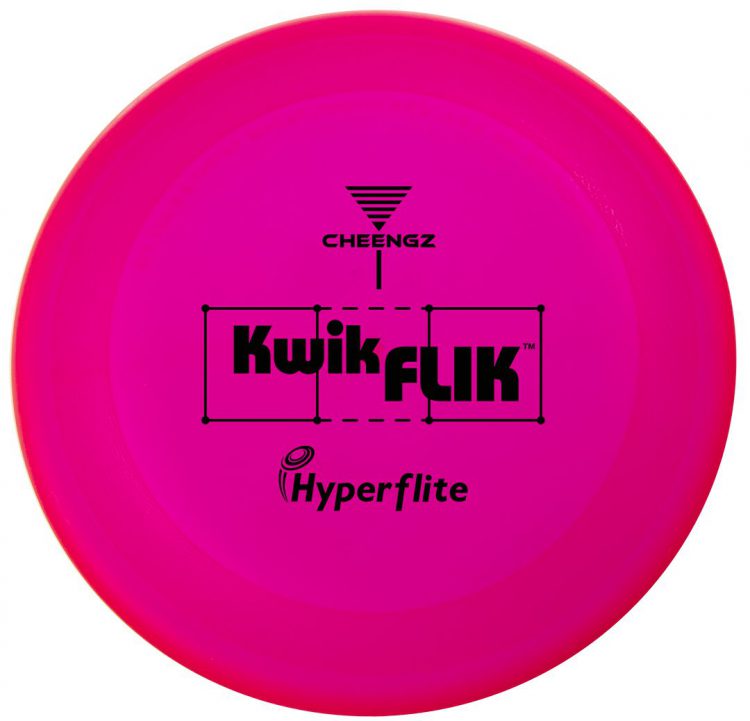 Hyperflite, Inc. has been producing dog discs for a couple decades, so it was not a big leap to make disc golf discs. They started manufacturing in 2000 with their mold, the K-10 a 8.76" disc. After that they released the Pup disc, a 7" diameter disc similar to the K-10, but made for smaller dogs. That mold was excellent for kids with smaller hands, so Troy rebranded it the Kidzee for younger kids learning to throw.
Other Products And Events
Some new products available soon from CHEENGZ are the Puttmaster and their new card game, Cheat Sheetz. Cheat Sheetz are used while playing casual rounds to make the round a little more interesting. Puttmaster is a game that teaches accuracy as a first skill for disc golfers. It is a freestanding pole marked with three scoring zones. Players get points based on where they hit.
Coming up for CHEENGZ is a really fun, family-friendly event, the Flying Disc Festival. Troy wants to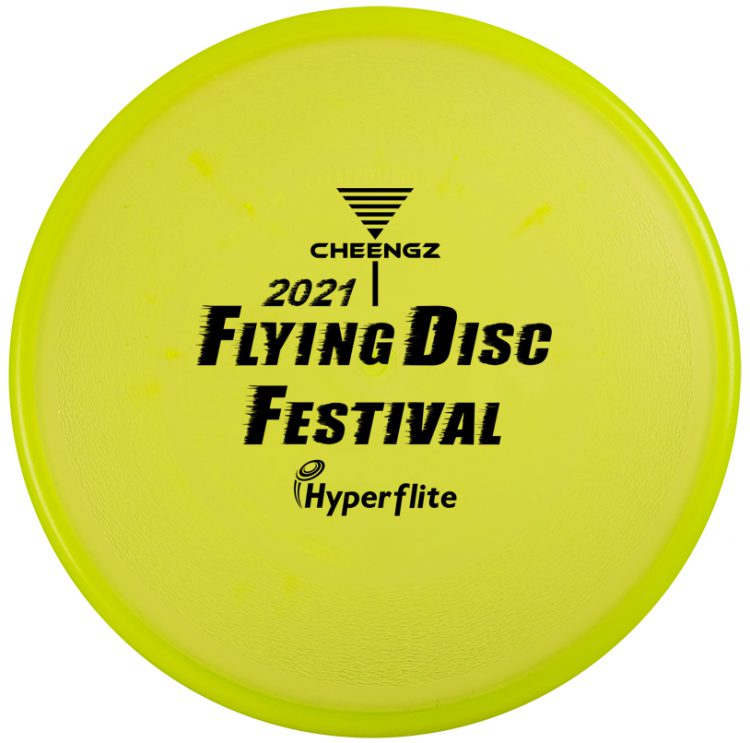 give kids under 16 and their parents an opportunity to participate in a disc golf event that focuses on the fundamentals of disc sports: disc golf, accuracy, and freestyle development with a new game called KwikFlik™. The game of KwikFlik™ is played on a field by two players who throw discs back and forth and earn points in the process. There is a link to their website, which has information about the Flying Disc Festival and the rules of KwikFlik™.
With Peter's connection to the canine disc community, he was able to arrange for an exhibition from the local Dog and Disc club. That will introduce a lot of people to that sport. The first Flying Disc Festival is scheduled for May 29, 2021 at Frog Rock. The event will be filmed to produce a media kit for promoting future Festivals.
Helping You To Grow The Sport
CHEENGZ would also like to encourage other people to hold their own Flying Disc Festival. They are willing to teach and help anyone interested in holding one. Troy is happy to be giving people an opportunity to participate in disc sports. When he was growing up, he never even got to see events like those that Peter Bloeme won. With the Festival, kids will even get to participate! That will do amazing things for our sport!
Supporting Disc Golf
CHEENGZ doesn't have sponsored players yet. They are too new for that. They do have disc golfers that love their molds, but no official sponsored players yet. Besides, they look at their role as more of a sponsor of the sport. Their focus is to grow the sport and introduce young people to disc golf. With that goal in mind they will continue to offer events for families with kids.
Troy is optimistic about disc golf in the future. He believes the sport will become more diverse and courses will be more common. He thinks the growth trend will continue, forcing more communities to explore options for disc golf courses, including pay-to-play courses. And CHEENGZ and Hyperflite will be there encouraging and contributing to the growth. Troy and Peter both agree that they are in this business for the sport. Our growing sport can certainly benefit from people who have that motivation.
See Infinite's selection of CHEENGZ discs here:
https://infinitediscs.com/category/CHEENGZ
Check out CHEENGZ website here:
And Hyperlite's line of dog sport products here:
Check out some Bounty Aces here (Check out the CHEENGZ website for Bounty details):
https://www.youtube.com/watch?v=1Q_mPQq3DAE
https://www.youtube.com/watch?v=s5jllrbk510
https://www.youtube.com/watch?v=zztmw1WTuq8
Comment About CHEENGZ

We want to hear from you about CHEENGZ! We'll give a CHEENGZ disc to three random commenters. To be eligible, answer one of the questions below:
If you've thrown a CHEENGZ disc, how did you like it?
What disc in your bag would the CHEENGZ I-One replace?
We will choose the winners and post them next week when we feature our next disc golf brand.
Last Week: Fourth Circle Discs

Last week we looked at Fourth Circle Discs. We selected three random people who commented on that blog. Here are the winners:
Sean N
Brian F
Doug D
Congrats! We'll ship your disc out shortly.