Introducing Mint Discs
Disc Golf Manufacturer Spotlight
Infinite Discs carries a large selection of brands and we wanted to introduce you to some of the brands and molds that you might not be as familiar with. Each week we will spotlight a different company and tell you a little more about them. Because of Covid shutdowns, our supply of discs was severely affected. Therefore, we may not have all of the molds from all of the brands we will talk about. But, it might put a few more molds on your radar for the future. For the last couple of blogs, we traveled overseas to check out a couple of brands. This week we come back home to visit a company in Texas, and introduce Mint Discs.

Mint Discs is an Austin, Texas company started a few years ago by friends Guy Boyan, Zach Jansen, and Chris Herbert. The trio were avid disc golfers and in 2015 had a thought about a disc golf business that undoubtedly many others have had about their passion: Why aren't we doing this?! That conversation led to a years of work and planning, and it culminated in the release of their first disc, the Alpha.
Minted In The Heart of Texas
Mint's first release, the Alpha, was released in April, 2017, and was their sole mold for a couple of years, until their next few releases, the Bobcat, the Freetail, and the Profit. That added a midrange, a distance driver, and a putter to their catalogue. Those three molds were all PDGA approved in 2019, and have been released.
Last year, another batch of three molds was approved by the PDGA for Mint Discs: the Mustang, Bullet, and Lon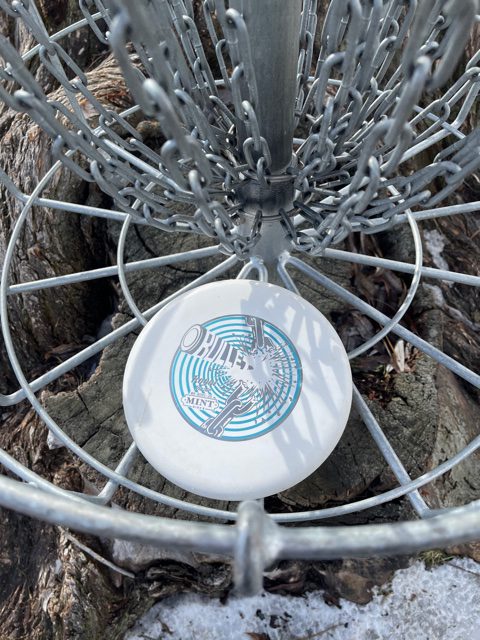 ghorn. That gave them another mid, another putter, and another distance driver. Mint already has one disc approved for 2021, the Jackalope. The Jackalope is a control driver with a little more turn than the Alpha, and will be released in the spring or summer.
Choice of Plastics
In addition to offering a variety of molds, their company has several plastic types to choose from. When Mint releases a mold, they usually do so in a variety of plastics, giving the thrower choices. Their plastics include, Apex, similar in feel to Star, Neutron, and ESP Plastics; Eternal, similar to Champion, Opto, and Lucid Plastics; Nocturnal, which is their glow plastic; Royal, a more firm plastic, similar in feel to DX or Prime Plastics; and Sublime, which is similar in look and feel to Plasma plastic.
Mint Discs Molds
Let's take a look at the molds offered by Mint Discs to see how they fly. Starting with the putters, the Bullet and Profit have a similar flight, with the Profit being a slightly faster mold. It is comparable in flight to the PA-2, Atom, and Infinite's new release, the Alpaca. The Bullet is one speed slower. The Profit got its name from the Estimated Prophet at Moody's Disc Golf Ranch in Texas. It is one of Mint's favorite courses.
For midrange molds, the Mustang is most like the popular EMAC Truth. It has good glide and a solid fade. Need a little more dump at the end for precision shots? Check out the Bobcat. It has a little less glide and is a little more overstable than the Mustang. Perfect for when you want a disc to fly as long as it should, and still finish strong. Infinite will be releasing a limited edition of the Bobcat on February 4.
Newest Kid on the Block
As mentioned earlier, the Jackalope will join the O.G. mold, the Alpha, in the fairway driver slot for Mint. The Jackalope will have a little more flip than the Alpha, making it more of a candidate for tailwind or shaping shots. The Alpha, on the other hand, has the straight, wind resistant flight found in molds like the Teebird3 or DGA Pipeline.
Doing the heavy lifting for Mint are their distance drivers, the Freetail and the Longhorn. The flippier of the two, the Freetail, is a great mold for those who need a little more turn in their flight, or for rollers for the big-arms. In premium plastics, the Freetail will take a little longer to 'season'. But, once it does, it will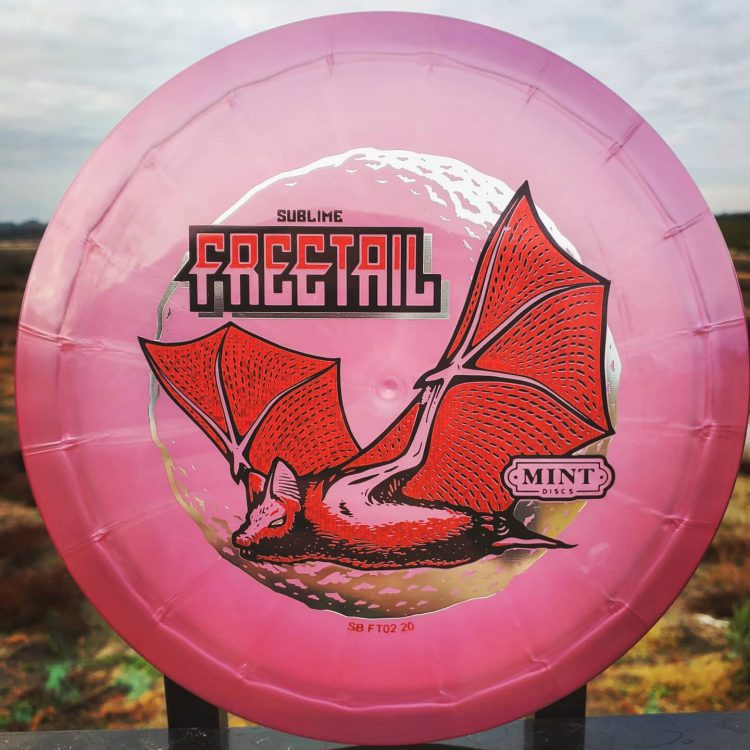 have a nice, long flight. The Longhorn is a great driving disc with the turn and fade similar to the Wraith.
Sublime Freetail
Coming up shortly, the Sublime Freetail will be released. Although that mold has been released in Sublime before, this time it will feature a stamp from artist Levi Whitpan. The folks at Mint say it might be their favorite stamp they've ever printed! Look for that disc to drop on February 9.
Texas Disc Golf Scene
The disc golf scene in Texas is thriving, and Mint is happy to be in the middle of the growth. They strive to support local disc golfers and local tournaments. Team Mint is made up of local 1000+ rated players, Master's players, and Legends. One of their team members is FPO player Krissie Fountain. Last year, she won numerous tournaments while watching her PDGA rating rise, and plans on touring even more this year. Check out Fountain in action at the Jonesboro Open last year with Ellen Widboom, here. https://www.youtube.com/watch?v=t424vRh_9f8
New Year, New Opportunities
Although 2020 was an interesting year for all of us, Mint Discs included, this year is already off to a great start for the company. Mint has already had growth opportunities this year, and doesn't look to be slowing down any time soon. In addition to always having new molds in the works, Mint recently moved into a new warehouse. The expansion will come in handy as they take over a local tour series, the Heart Of Texas Tour (HOTT). The tour series includes the popular tournament, Capitol of Texas Open, which will be the 30th year of that tournament. Mint is thrilled to be running the competition. They hope to elevate some of the tournaments into NT and A-tiers events.
Mint Disc's Unique Serial Numbers
One of the unique aspects of Mint Discs is their serial number approach to identifying the year and run of any of their discs. They keep a database on their website that lists the serial numbers of all of their runs. The serial number indicates the plastic, mold, run, and year of their disc. The database also lists the stamp used, the available colors, and the artist who created the stamp. That is perfect for people who want a disc from a specific run. It is also interesting if you want to learn more about their stamps and the people who designed them.
The people at Mint Discs are thrilled to be a part of our sport, and excited about the future. They love the fun and passion that can be found in disc golfers. From the post-production videos covering tournaments, to the accessibility of touring pros, ours is a great sport, and Mint Discs are happy to be helping it grow.
Popular Mint Discs for 2020
Taking a look at the sales for Mint Discs last year, we see that the Mustang was the best selling mold for the year. The Mustang and the Freetail accounted for half of the disc sales. In third is the putter, the Bullet. Here is the breakdown of mold sales for Mint Discs.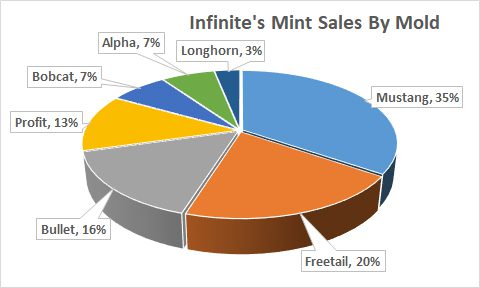 Infinite Discs would like to give a couple Mint Discs to random commenters to this blog post. Answer one of the questions below with your opinions of Mint Discs.
Do you throw Mint Discs? Tell us which mold is your favorite.
Never tried Mint Discs molds? Tell us which mold you would like to try.
We'll pick the random winners and post the results next week when we look at another brand we sell.
Check out Infinite Discs' selection of Mint Discs molds here:
https://infinitediscs.com/category/Mint-Discs
Check out Mint Discs here:
Last week we looked at Guru Discs. We selected three random people who commented on that blog. The winners will receive a Guru disc. Here are the winners:
Kjell R.
Derek H.
Paul T
Congrats! We'll get your disc shipped out shortly.