Is Disc Golf a Team Sport? A Look at Our Current Disc Golf Team Culture

Is Disc Golf a Team Sport?
This seems like a silly question doesn't it? Disc golf, like traditional ball golf is generally a one man or one woman show. It's you against the course. It is an intimate mental battle. You aren't relying on others to play their part to bring home a team win. Unless we are talking about a unique format like doubles or team match play, disc golf is a competition between individuals. And unlike other singles sports like tennis, the performance of each competitor does not directly influence anyone else's performance. The golfer before you on your card could throw out of bounds or a hole in one. Either way, you have the exact same shot to throw. The course and elements are not changed. Golf in all forms—disc, ball, foot—is a lonely mental battle.
So why is it that this time of year our social media feeds are filled with news about disc golf "teams" and disc golfers of all skill levels announcing their allegiance to these teams?
This off-season has been especially exciting with big names like Paul McBeth and Ricky Wysocki announcing that they are switching teams. Paul McBeth signed a contract worth a cool $1 mil. to join Team Discraft while Raptor Legs Ricky jumped over to Team Innova and took Paul's old spot on the stock stamp of the top selling Star Destroyer.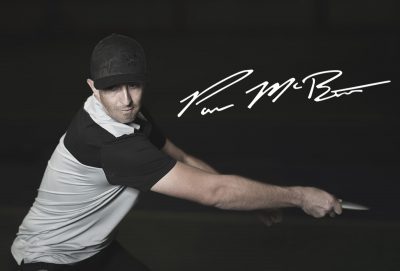 Now the mass response to these moves has been…interesting to say the least. There have even been folks selling their entire Innova stock of discs and searching for "the Discraft equivalent" discs to change their entire bag. While extreme responses like this may not be the majority, we at Infinite Discs have already seen an uptick in Discraft sales as can be seen in our recent top selling Tuesday posts as well as our report on the best selling discs of the fourth quarter of 2018.
So why do we respond this way? And where do our true loyalties lie as fans and players of the sport—with the pros or their disc manufacturers aka "teams?"
Indoctrination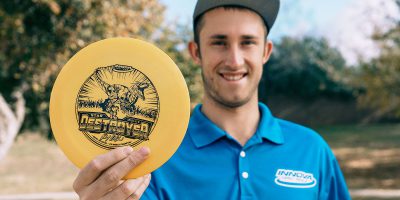 Over the last 5 years of working at Infinite Discs, I have spent a lot of time manning our storefront. That has given me the opportunity to watch the spark of joy in new players who first come in buying cheap misprint beginner discs, and then come back again and again over the next few weeks asking me what discs they need to continue to improve. I love being a part of these new players' start on their disc golf journey. Before long, they build up the courage to come out to the local weekly leagues and make new friends.
And then, there is a common trip to the shop that usually happens a few months after the first visit. These new players walk in with their first putters and favorite drivers and ask me, "Okay, what is the (Insert disc manufacturer here) version of this disc?"
I usually respond with a few similar discs, but I try to explain to them that if they like the disc they are throwing, the disc that is going to be most like it is that exact disc. But usually this is fruitless. They buy the similar disc.
Then on the next visit, they have a list of discs all from that same manufacturer that they got from an "In the Bag" video from their new favorite disc golf pro. And I think you can figure it out from there.
Jokingly, I call this the "Indoctrination Process," and disc golf companies are getting pretty good at it. I think my journey into the disc golf world was just before the indoctrination and team disc golf culture hit disc golf hard. But how did it become that way?
I'm no expert, but I can share my story. I began playing disc golf in the Spring of 2010 and I was hooked. I bought my first disc—an overpriced DX Innova Aviar from my local Sports Authority. After that I became a frequent shopper at a small shop called Soccer Rockers. Soccer Rockers was a soccer shop that slowly saw disc golf expand from a small wall display to an entire room dedicated to the sport. With the help of my friends and the shop owner, I developed my 4 disc repertoire that I thought I'd never need to change. They were all Innova discs because I found their flight ratings system easier to understand and navigate than the former Discraft one. I also did some research online and discovered a some YouTube tutorials and learned about a few disc golf pros like Ken Climo and Nate Doss. At that time, I thought there were only two disc golf manufacturers in the world—Innova and Discraft.
Then I took off for two years to serve as a missionary for my church. I got the chance to play a round here or there, but for the most part I was disconnected until the start of 2013. I returned to my hometown and returned to Soccer Rockers and began expanding my disc choices. I also began attending local leagues and getting more involved in the community. At Soccer Rockers I learned about new brand names like Latitude 64. There was also this new funky putter and midrange company that made discs with a different outer rim called MVP Discs. And then there was a company that was taking the disc golf world by storm—Prodigy. I stuck with Innova discs until it was time for me to pick a new putter. I remember spending nearly an hour at the shop agonizing over the decision, but the owner helped me decide to give a Gateway Wizard a try. I consider this one of the best and most influential decisions of my young disc golf life. I fell in love with the disc.
That fall I moved to Logan, Utah where I began attending the local league and met the owners of this new online shop called Infinite Discs. I decided to check out their warehouse one day, and I thought I'd walked into heaven. Discs…everywhere. I didn't start working there for another few months, but I became very close to the operation and learned a ton about discs and decided to try out all sorts of discs, and the rest is history. I have been a mixed bag player ever since. I have my favorite molds and plastic blends, but any sense of loyalty to a specific manufacturer has felt pointless. If I find a disc I love, why should I care who makes it?
Oh, and this is when I really learned about the pro game. After my mission was when Paul McBeth mania was just getting started, and it was hard to not be a fan. I have since made friends with several professional disc golfers, so choosing a favorite is a little more difficult, but just as a pure fan of the sport, there was nothing like watching Paul McBeth do work at that time. However, I think I was in the game enough before watching McBeth that it didn't really change what I was throwing. But I could tell that the culture of disc golf and the relationship with disc manufacturers had changed since before my mission.
How Did We Get Here?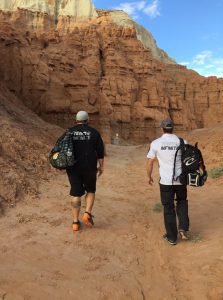 I think that the extreme brand loyalty that we see in today's disc golf culture can be traced back to three main events in disc golf history.
First, the launch of Prodigy Disc was huge. Prodigy hit the shelves in 2012, and at that time there still were really only 2 big names in the game, especially in sponsoring professional disc golfers. But what Prodigy Disc did was a game changer. They didn't just offer cash sponsorships for their players, but they offered them stock in the company. So the players who joined the new Team Prodigy weren't just getting support on tour, but they were personally invested in the company. Naturally, these players were pushing their brand with more motivation than ever before because their own money was at stake.
And these weren't just small name regional pros. Some of the biggest names in the sport at the time jumped on board. The original Team Prodigy featured touring pros like Will Schusterick, Paul Ulibarri, Catrina Allen, Paige Pierce, Nikko Locastro, Jeremy Koling, Garrett Gurthie, and a little known up and comer named Ricky Wysocki.
Another event that happened around the same time (we can call this event one and a half) was former World Champion and long time Innova team member Dave Feldberg joined team Latitude 64 to help promote the growing Swedish company. Also in 2012, Jeremy Rusco and the Dynamic Discs team joined forces with Latitude 64 to begin manufacturing discs under the popular Dynamic Discs name. So around this time we have all these moving parts helping to dismantle the two horse race between Innova and Discraft that had dominated disc golf sales for years. And most noteworthy for our purposes was Prodigy Disc getting professional disc golfers literally invested in disc sales as well as their own performance on tour which they were already invested in.
Our second event that has led us to our brand loyalty and team culture is Paul McBeth's extremely dominant 2015 season. This was the Grand Slam year, meaning McBeth won all five of the PDGA Majors held in 2015 including the one that had gotten away from him every previous year—the United States Disc Golf Championship. Before this season, we all knew Paul McBeth was a special talent winning two straight World Championships and recording the highest PDGA rated round ever, but 2015 propelled him into a class of his own. As a fan and spectator of the sport, it was truly amazing to witness.
So how did such a dominant season contribute to brand loyalty? Well you have to look at the framework of what happened leading up to this season. Paul McBeth won the 2014 PDGA World Championships in a playoff against Ricky Wysocki, who was having a breakout year for himself.
This leads us to our third event—Ricky Wysocki left Prodigy Disc to join team Latitude 64. This was one of many moves in the world of professional disc golf endorsements that Latitude 64 made during this time including adding several former Prodigy Disc players, but Ricky Wysocki was the most influential. Almost instantly Wysocki became the darling of the Trilogy family (Latitude 64, Westside Discs, and Dynamic Discs for those unfamiliar with that term).
So a rivalry that was developing on the course between two competitors on the disc golf turned into a rivalry between brands. I believe 2015 was the season that we started to look at wins for individuals as also wins for their sponsors. When Paul McBeth and Ricky Wysocki faced off, for some fans it was the same as Innova facing off against Trilogy. And in a lot of ways the narrative fit. McBeth was the established champion and Wysocki was the newcomer trying to prove that he could compete on the same level as the reigning champion. Innova was the established disc golf powerhouse, and the Trilogy brands were trying to challenge the establishment. But as McBeth dominated on the course showing Wysocki and the world that he wasn't backing down, so did Innova send such a message to the smaller brands that were growing over the previous few years.
And then, of course, if 2015 was the year of McBeth, 2016 was the year of Wysocki with Ricky winning his first ever PDGA World Championship putting a stop to McBeth's 4 year reign as the world champ. If we want to stick with this brand vs. brand narrative, this was also a win for Latitude 64 and the collective rest of the disc golf world.
All of this was setting the stage for years dominated by products featuring signatures and tour series fundraiser discs. These were especially popular from Innova and their Factory Store including discs made with "McPro" plastic—a plastic blend literally named after a sponsored player. This wasn't necessarily groundbreaking for Innova (see the KC, JK, and Yeti Aviar), but it again shows the efforts being made by the disc manufacturers to assimilate the identities of their pros with their brand identity.
A Look Outward
For those of us who work in the industry and those who eat sleep and breathe disc golf, it's easy to just kind of go with it. The comparisons aren't perfect, but still if we take a look outward, the disc golf community's relationship between disc manufacturers, professional players, and consumers is a bit of an enigma.
First let's look at one of the oldest industries in American sports to navigate the professional endorsement game—basketball sneakers. It is a dream for many young ballers to one day have a shoe made with their name on it, but the bigger dream is sustained success at the professional level and taking home championships. On this level, the disc golf world is similar. Signature discs are great, but success on the course comes first.
Now when we add the third element of the consumer is where things get interesting. For our purposes, we will look at two loyalties of the consumer. There is the consumer loyalty which is the side that purchases sneakers and other products, and there is the fan loyalty which is the side that cheers for the athletes and teams.
The easiest way to analyze this for me is to look in the mirror a bit. I am a huge fan of LeBron James. I am also a huge fan of the Utah Jazz. Whenever LeBron is playing, I cheer for him and the team he is playing for unless he is playing against the Utah Jazz. My loyalty to my favorite team is stronger than my loyalty to my favorite player which I'd imagine is common in the basketball world as well as in other team sports.
On the consumer side, LeBron is sponsored by Nike. I'm no sneakerhead, but overall I have had good experiences with Nike and would consider them a favorite brand. However, I am not one to purchase a product just because of a professional endorsement. That doesn't mean those endorsements don't work—in fact they do work. Nike just signed LeBron James to a lifetime contract, and Under Armour has had a lot of success breaking into the market since partnering up a few years ago with an undersized up and coming guard in the league you may have heard of, Steph Curry.
But this is where disc golf steps it up a notch. Do fans of basketball watch in hopes that the Nike sponsored athletes will outperform the Adidas athletes? Are Steph Curry fans happy when Joel Embiid has a good game because he is also sponsored by Under Armour?
Now a common explanation I have been given when bringing this up to other disc golfers is simply, basketball is a team sport, so of course we will cheer for the teams. I have also been told that the disc golf manufacturing team support is often fueled by sports fans' desire to bring that team element that they like in other sports to a singles sport. I think these explanations are fair, but it doesn't check out when we look at other singles sports like tennis or our closest relative, golf.
I grew up during the heart of Tiger-mania. I have lots of memories of watching Tiger Woods on Sunday afternoons with my family. The world of professional golf has evolved over the last few years without Tiger, but with Tiger winning the tour championship in 2018, we are already seeing that he may still have a few more years left.
For our purposes, Tiger Woods is a perfect case study because Nike Golf was a brand built entirely around Nike's relationship with Woods. Nike began manufacturing clubs after they signed on Tiger when he first turned pro in 1996. But as Tiger fell, so did Nike Golf who discontinued their club and ball manufacturing in 2016. Nike still sponsors Tiger as an apparel sponsor, but he now is endorsed by Taylor Made for clubs and Bridgestone for golf balls. Obviously the story of the success and failures of Nike's endeavors in the golf industry is more complex than just Tiger Woods, but it does illustrate the influence these endorsements can have for companies.
And we see a lot of the same elements in the golf endorsement game as we do in basketball and disc golf. Consumers will buy products with signatures, custom logos, and names that feature their favorite athletes. Some may even develop an allegiance to the brands that sponsor their favorite athletes. But how far do they take that brand loyalty with them when they are watching the pros compete? When watching the Master's this year, will the hardcore  Tiger Woods fans who have developed a brand loyalty to Nike also cheer for Rory McIlroy or Jason Day just because they also wear Nike Golf apparel? You really don't see that very much in golf.
To be fair, another element that does bring in a team aspect to golf is country. I remember as a kid my dad who was a casual fan of the sport would often cheer for the American and Spanish golfers over all the others. He was an American obviously, and he lived in Spain for two years as a missionary. It is common in golf media coverage to see the flag of a golfers home country next to his or her name on a scoreboard.
But here is where it comes full circle again. Where that home country's flag is in golf coverage, the disc golf manufacturing sponsor's logo has been showing up in recent disc golf coverage.
A Personal Experience
I am going to keep this pretty general to protect the identities of everyone involved, but I was watching the final round of a bigger disc golf tournament a few years ago. I was following along in the gallery with a few people including a friend of mine who was a newer fan of the sport. This young fan fit the mold I described earlier about newer disc golfers who would jump all in on a disc golf brand of their choice. Also in our group of people watching the end of the tournament happened to be a touring pro who was sponsored by the same brand my friend had allegiances to.
This final round we were watching ended in a tie between two competitors and went to a playoff. The first competitor was sponsored by the same brand while the second was sponsored by a different company. In the end, the first of these two won the tournament.
As we were walking back to tournament central, the sponsored pro who was in our group made a comment that they were happy that the first competitor won.
My friend responded, "Yeah, go team (blank)!"
The sponsored pro immediately said, "Oh, no! I don't care about that at all," and explained how the first pro was just a friend, and it had nothing to do with their common endorsement.
I have always found this experience interesting because it shows that the team sport culture and mentality that we see and develop as fans doesn't necessarily carry over to those who compete in the sport at the highest level. Friendships and support for one another are not formed just because you throw the same brand of discs. And this should be obvious right? Even in team sports, just because you are on the same team doesn't mean you automatically get along and are best buds. I think the current state of the Pittsburgh Steelers in the NFL is enough to prove that point.
So, What?
In simple enough terms, we have created a team sport culture in a sport that has no teams. Is there anything wrong with that? What's the big deal?
Well, I think that depends on who you ask and in what context we are talking about. Obviously for the disc golf manufacturers, they are never going to complain about brand loyalty, and if the team loyalty that fans experience in other sports are being assigned to their brands, that has to be a dream come true.
Think about that one for a second. I think team loyalty is one of the strongest bonds in sports. You may love an athlete, but if they do something controversial or under-perform, as a fan you can just cut ties, and we do cut ties to athletes who break the law or cheat like Tom Brady…well, I guess not all of us, but you get my drift.
But if your favorite team hires a terrible head coach and makes a foolish trade and finishes the season worst in the league, are they still your team? In Cleveland, team loyalty had them burning LeBron's jersey after "the decision," and some of us in Utah are still pretty hurt after Gordon Hayward left because we are loyal to our team. Like I mentioned earlier, I love LeBron, but I always cheer for my team when they play, and that can be said for any of my favorite players and teams in any sport. The team comes first.
So if disc golf brands can get fans of the sport to develop that team mentality and loyalty to their "teams," then that's a huge win for them.
Ironically enough though, the team culture may not be so positive for the professional disc golfers. They are the ones who are doing the work that the disc manufacturers try to reap the benefits from. Don't misunderstand, professional disc golfers benefit financially from endorsements as well, but money from disc sales go first to the disc manufacturers, and how much of that gets kicked back to the pro depends on the exact terms of their contract. There have been some rocky relationships between companies and disc golfers in recent years resulting in endorsement changes. Paul McBeth has made it clear that his main reason for leaving Innova was money.
During free agency periods in team sports, we often see players make moves from one team to another because of money, but I think this is especially pertinent in disc golf because it is still a small sport with less money. Also, in singles sports, your success is not predicated by which team you are on, so equipment endorsements–which is really all these "teams" are for the players–come down to the financial benefit and viability for the players.
And if you think that it has anything to do with the actual products available from each manufacturer, you are wrong…mostly. If they feel like they have a full repertoire of discs available to them, disc golfers will follow the money. Again, there still isn't a lot of money in disc golf, and that includes tournament payouts.
So for these professionals who are trying to make disc golf their full time job and pursuit, they have to jump at the opportunities to make more money. Those who hope or expect these professionals to make their decisions based on "team" loyalties are going to be disappointed as the sport grows.
Which brings us to my personal number one concern for the sport. How does a team sport culture in disc golf influence the growth of the sport? Let me grab my soapbox really quick…
In my opinion, disc golf needs to and will outgrow this "team" phase that it has been in for nearly ten years. Does that mean I want to be rid of manufacturing sponsors? No, of course not. I believe that disc manufacturers will always have their personal "team" of players. But as we grow we will also see apparel and other equipment endorsements make their mark on the sport. We have already seen this sporadically with companies like Adidas, Keen, and Oakley. So in the next few years we could see professional disc golfers become members of a variety of big name "teams." These additional endorsements will help make the current team structure irrelevant to the fans of the sport.
Personally, when the news broke that Ricky Wysocki would no longer be sponsored by Latitude 64, I was so hopeful that he would be joining Paul McBeth at Discraft. How would the fans have responded to the two biggest rivals in our sport now competing for the same "team?" Well, the ironic thing is that they wouldn't be competing for the same team. Disc golf is not a team sport. They would be competing for the same team, themselves. They would just be using discs manufactured by the same company.
But that didn't happen. Ricky Wysocki will be throwing Innova and Paul McBeth will be throwing Discraft this season. I think one of the most interesting demographics in the sport to take a look at are Paul McBeth fans who chose to throw only Innova discs when they play disc golf because of that fandom. What do they do now? Do they stick with Innova because they truly believe they are the superior manufacturer? Or do they jump ship and change their entire collection of discs because their favorite pro is now using different discs?
Again, a quick jump to golf—do you think fans of Tiger Woods who bought Nike Golf golf clubs a few years ago would get rid of their perfectly functional clubs just so they could get Taylor Made golf clubs to match what Tiger is now using on tour?
The Ricky Wysocki fans are also facing an interesting predicament because Ricky has joined the "team" his rival was on. So do they stick with their trusted Trilogy plastic, or start throwing discs from a company they had viewed as being "the dark side?"
To those who may be struggling with these or similar dilemmas, here is my advice—just do you. Throw the discs that you have the most confidence in, and don't worry about what everyone else is doing. I'd also recommend deciding who you cheer for on the tour based on something more than what discs they are throwing. There are a lot of great guys and gals out on the tour right now who deserve support regardless of who they are sponsored by.
The Times They Are a Changing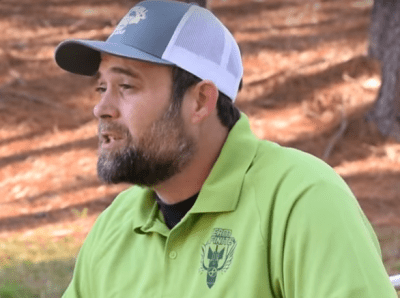 Some of the sentiment expressed in that last paragraph was also expressed by Dave Feldberg in the video we just released announcing him as a member of Team Infinite this year. Part of the agreement with Dave joining Infinite Discs is that he can throw any disc he wants regardless of manufacturer. This is a crucial part of the agreement with the direction he is taking the Next Generation Tour, and it works well with us and our standing policy for members of Team Infinite.
I also think in some ways Paul McBeth joining Discraft helps in moving disc golf away from team allegiances. I mentioned that the two big names for a long time were Innova and Discraft, but in recent years Discraft sales took a hit as Trilogy, Prodigy, and other manufacturers got into the market. They also had a relatively quiet team presence in the disc golf world, but as they make waves again with new stamps and of course new endorsements, their sales numbers have already seen an increase.
In a lot of ways, I think all of the moves this off-season gives us a chance to reevaluate our disc golf culture. As we collectively think about our identity as disc golfers, are we divided into many tribes within the culture, or are we one big family focused on growing the sport as a whole? There has been a lot of talk about the perils of tribalism in our society today, and I hope that we can choose to come together as a disc golf family. Of course, we will always be individuals with our personal preferences, and I think rivalries and competition are great for the sport. But that shouldn't change our common goal to grow the sport together.
So, is disc golf a team sport? No, of course not. A few years down the road we may look back and remember how much we used to care about the "teams" we were a part of or that we supported. But I believe disc golf as a whole will be on to bigger and better things.