Disc Golfer Demographics: Location, Age, Gender and Brand Preference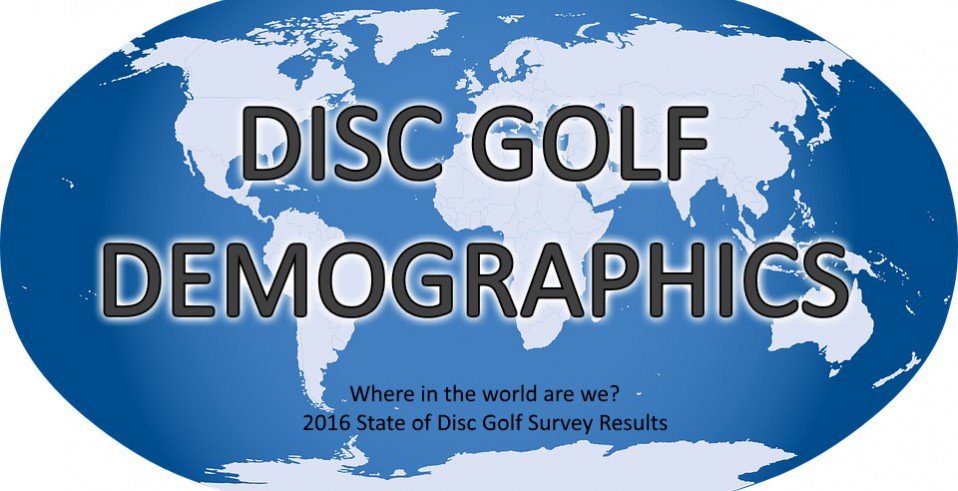 For this blog post we want to continue to look at who we are, and comparing that with our favorite brands. Our goal is to see if there are certain segments among us that favor certain brands. Then we can see how those opinions change over time.
Where Do We Live?
It's nice to have disc golfers from all over the world respond to the survey. While most of us live in the U.S., the percentage of us that live outside the country increased a tiny bit to 9%. With Major tournaments, some of the top players, and a few manufacturers in other countries, ours is truly a world sport. That is great news to the 78% of us who want the sport to become mainstream, but not so good for the 4% who don't (18% have no preference). As the sport grows, it will mean more courses, clubs, tournaments, and products. Toward that end, we are encouraged by survey participation around the world. With that in mind, we will begin by looking at graphs from survey results that show where in the world we are from.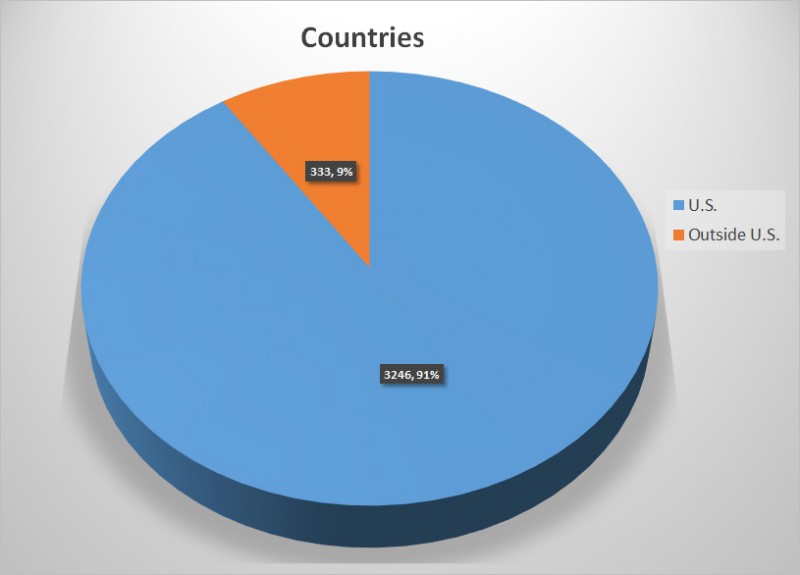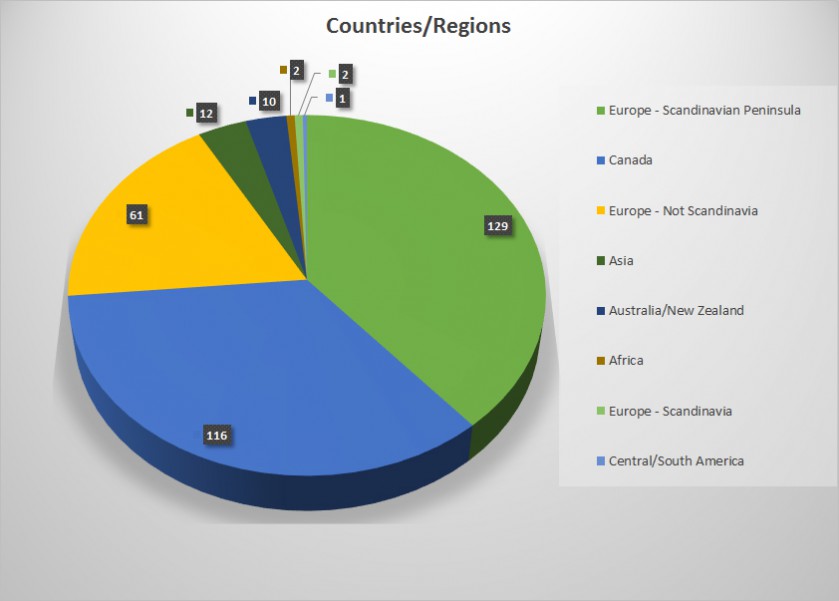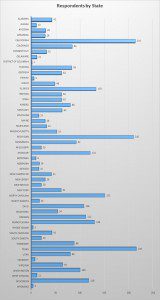 Gender Make Up
Past surveys have shown that a majority of us are male and around 30 years old. This year was no different. The percentage of female respondents fell slightly, with 4% of disc golfers filling out the survey being female, versus 6% last year.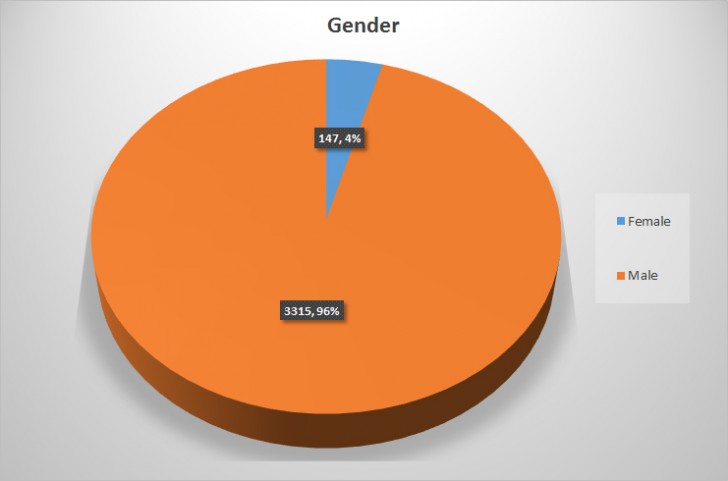 Age
In some areas of the country, such as college towns, the average age of disc golfers will vary slightly from the rest of the country. The club I belong to fits that description. However, when I look at the clubs outside of my immediate area, their member's ages align better with survey results. According to the survey, the average age of all disc golfers falls in the 30-35 year range. Same with last year. Perhaps at that age people are more established in their careers and feel like they have more time to play disc golf. Most of the time families have been started by then and are either getting to an age where they can join a parent on the course, or are at least more independent, allowing the disc golfer more opportunity to play. Whatever the reason, that age group continues to lead the survey.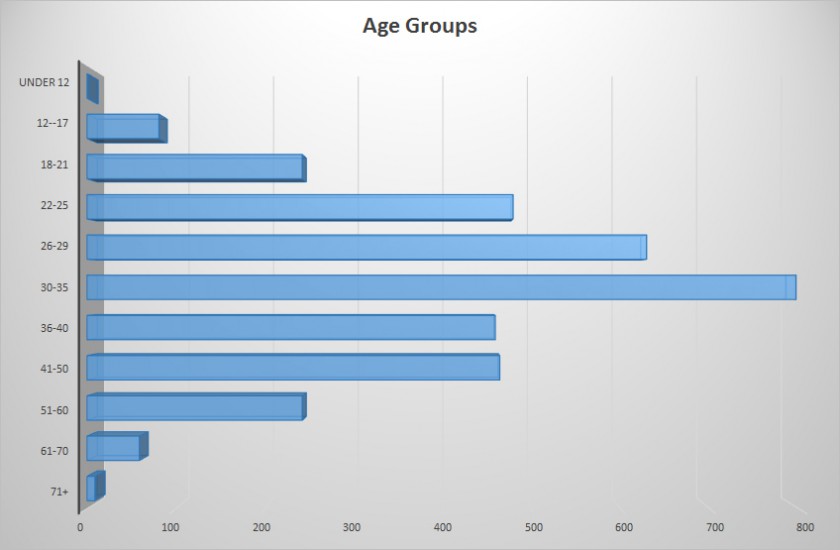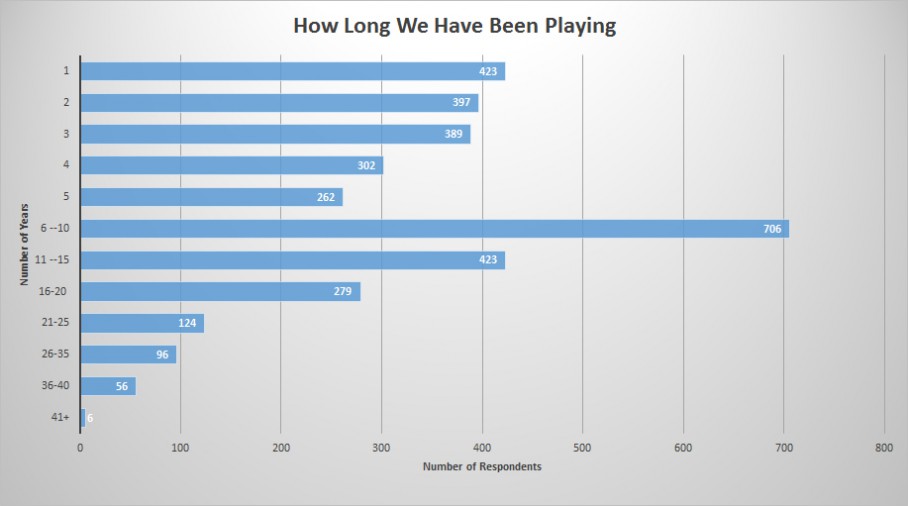 It will be interesting to see how that group ages and if they keep playing in large numbers. With cries of '60 is the new 40', maybe we will see current members of that age group continue to play, and older groups have the largest number of members. I hope so. I also hope the younger age groups balloon. It is great to see such talent coming from young golfers. Think about Eagle McMahon, or last year's Amateur World Championships. Not only is it impressive to watch such talented young people, it will help our sport continue to grow.
Summary?
As was mentioned in the opening paragraph, in addition to finding out more about who we are, another goal of this blog was to break down the demographics and find out what groups favored which brands. Our hope was that we could find some interesting data, such as finding certain groups (age, experience, geographic location) that favored certain brands. Let's just say that the results were underwhelming. Not that I have a problem with nearly every state, region, age, gender, and experience level choosing Innova as their favorite brand. It just becomes so redundant to write about. So, let's just look at the few locations that didn't choose Innova as their favorite. (Or tied with them).
Location                                      Total Respondents             Favorite
Arkansas                                      28                                          Dynamic Discs
Asia                                               12                                           Discraft
Australia/New Zealand             10                                          Discmania
Hawaii                                           5                                            Discraft/Innova
New Mexico                                 20                                          Discraft/Innova/MVP
Vermont                                        7                                            Innova/Westside
And there you have it. With less than half of all respondents choosing Innova as their favorite brand, we hoped there would be more groups that would favor another brand. While that aspect of the blog didn't turn out like we thought, at least we can learn about us as a group along the way.
For the next blog we will continue to find out more about us, such as education, occupation, etc., and about our disc golf habits.