Newly Stocked Infinite Discs X-Outs

X-outs are pretty awesome. For those who do not know, an X-out, or Factory 2nd, is a disc that during the manufacturing process ran into some sort of imperfection. These imperfections can be large or small, the disc can have one or many. However, regardless of these imperfections, the disc will still fly just as good a "perfect" disc. What does this mean for you, you may wonder. It means that you can get X-out disc at a discounted price. Which helps you to save money, and still throw the disc that you want with just as good of a flight as the "perfect".
We have recently added a lot of new Infinite Discs X-Outs to our disc selection. So, if you like X-Outs, check out our most recent restock of our Infinite Discs X-Outs: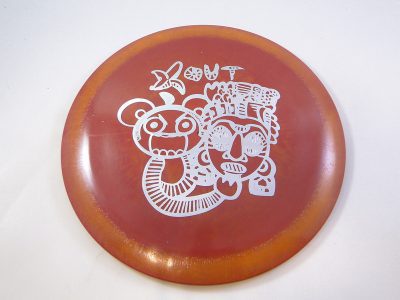 Aztec in Splatter S-Blend and I-Blend
The Aztec is a speed 10 driver, flying straight with a little bit of fade at the end. Don't let the speed 10 fool you, the Aztec will bring unexpected distance and accuracy to your game. This disc has a skinnier rim than the big distance drivers, making it more comfortable for most disc golfers. The Aztec is said to be a longer Exodus or Sphinx.
Tomb in I-Blend
The TOMB is a flat-topped, low-profile, putt-and-approach disc with a comfortably smooth, beaded rim. The Tomb has just the right amount of stability to cover ground while threading the needle on approach shots, whether thrown forehand or backhand. It can also be used as a crossover mid-range, driving putter, or to hold the line while putting for distance or in moderate winds.
Exodus in Splatter S-Blend
The Exodus by Infinite Discs is a stable, controllable fairway driver. The comfortable rim design and manageable speed are perfect for players at all experience levels. The Exodus is a trustworthy disc on the fairway and excellent for navigating wooded courses.  It has a precise, long flight pattern with a consistent fade, plus it can also handle all the power you can give it for long-distance flights. All Infinite Discs branded discs are manufactured by Innova Champion Discs.
Alpaca in Splatter S-Blend
The Alpaca is the quintessential beadless putter. While the Infinite Discs Cohort has a somewhat low profile rim, the Alpaca presents a deeper rim for more of a traditional putter feel. Whether thrown at the basket or lofted high for approaches and drives, the Alpaca will carry your workload with ease.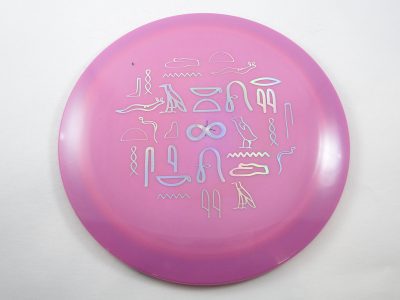 Pharaoh in Swirly S-Blend
The Pharaoh is the quintessential distance driver, built for a high speed release and maximum distance. The fade is not overpowering, making this a distance driver that will work wonders even for intermediate players. Throw the Pharaoh off the tee when you need to cover as much territory as possible. Rule your local disc golf course with the Pharaoh!
Centurion in D-Blend Glow
The Centurion is a workable fairway driver. It is a straight-flying, precision driver that will fit into the bags of both novice and professional players. All players can count on the Centurion to hold whichever line they put it on with only a slight end fade. It is a workhorse control driver for precise placement on the fairway.